Paradigm Founder 100F Loudspeaker Page 2
The 100F claims a 90dB sensitivity, although Paradigm's 'compatible with 8ohms' impedance suggestion is rather optimistic. I partnered them with some robust Arcam Class G amplifiers, and followed the suggested placement guidelines of a minimum 20cm rear-wall clearance and even more to the sides. Once you factor in the cabinet depth of the 100F itself, you have a set-up that's not likely to disappear into the average room.
On The Nail
If I was compiling a wish-list for a mid-priced loudspeaker, Paradigm's 100F would pretty much nail every category. Big and bold? Check. Open and detailed? Check. Rich in bass and crisp in treble? Again: check. It's a consummate all-rounder, with just a hint of warmth that invites you to listen for extended periods.
Guns n' Roses' 'Locomotive (Complicity)' [Use Your Illusion II; Geffen 24420], is an eight-minute funk-rock epic of soaring guitar solos, propulsive basslines and multi-tracked vocals. With it, the 100F proved its mettle, delivering weighty, hard-hit drums, highs that sparkled, and a captivating midrange presence. The chorus lays on vocalist Axl Rose simultaneously across three octaves, and this 1990s production trick was beautifully exposed, each element easy to discern. In fact, the whole concoction sounded tight – a trait I will assume is in part down to good pair matching and the company's rock-solid cabinet design.
More than satisfied that the 100F could rock out – by way of a diversion through The Who's 'Won't Get Fooled Again' [The Ultimate Collection; Polydor 065 234-2], where Roger Daltrey's iconic scream made me jump – I turned to something a little trickier, in the shape of Kate Bush's multi-instrumental 'Babooshka' [Never For Ever; Rhino Records]. Bush's idiosyncratic soprano voice can sound strident in the wrong hands, but while it revealed a tilt towards brightness here, it was free of overt edginess and emerged from a soundstage of exemplary depth. Plump, warm tones of fretless bass sat behind heavy, resonant piano and the image was centrally focused, occasionally expanding far left and right of the speakers.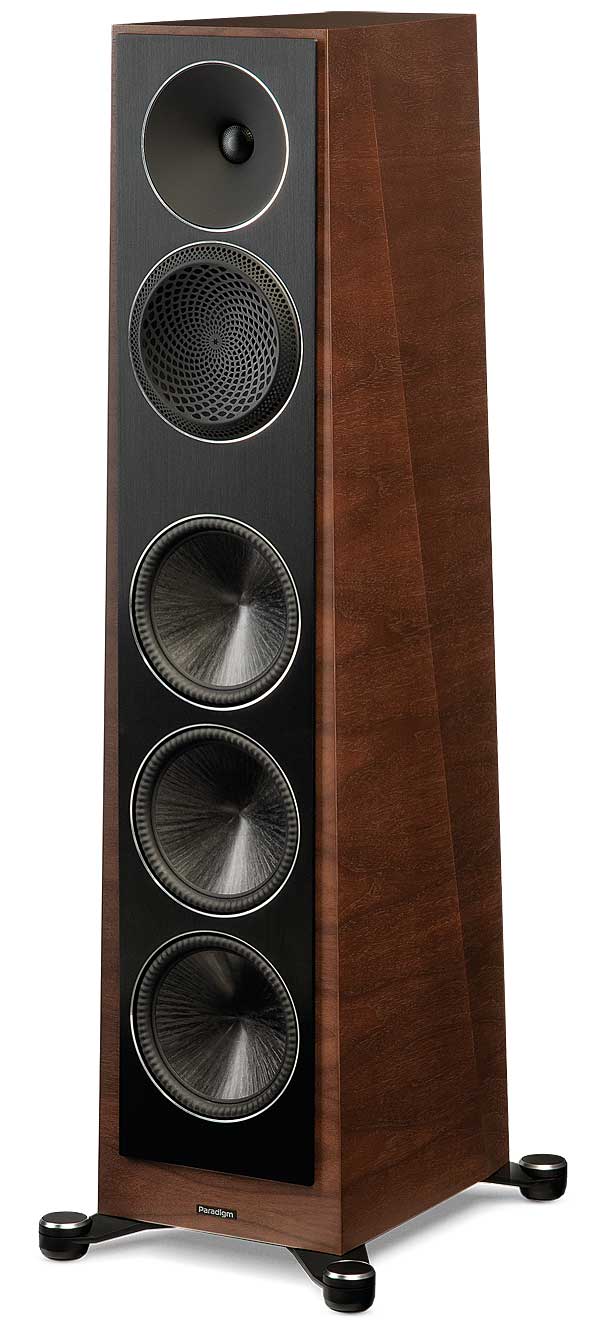 With sufficient solid-state grunt behind them, the 100Fs proffered a forceful low-end when needed, such as the juicy rhythm section in Daft Punk's 'Get Lucky' [Random Access Memories; 88.2kHz/24-bit FLAC], but was also ready to pounce into action with more dextrous material.
The production of Muddy Waters' 'My Home Is In The Delta' [Folk Singer, Geffen; 96kHz/24-bit FLAC] is deceptively dynamic, and this lively loudspeaker dug into each snare hit, aggressively-picked steel guitar note or vocal emphasis, while conveying the track's quieter aspects with delicacy. Space between instruments was beguiling, as was the blend of softness and aggression.
Fast 'N' Loud
The more time I spent with the 100F, the more I realised there was no flavour of music with which it really struggled. Fed the ethereal, electronic textures of Jean-Michel Jarre and Hans Zimmer's 'Electrees' collaboration [Electronica 2: The Heart of Noise; Sony Music] it was all smoothness and light, with a purity to its midband that encouraged a game of 'how loud can these go?'. The answer was 'plenty loud enough' for my circa 4x5m space, with no subjective trace of them losing their composure before I lost my nerve.
The track 'Exit' was faster, synthesisers acquiring a nastier edge and the 100F locking in step with the pounding techno rhythms. At the opposite side of the spectrum, my enjoyment of The Royal Festival Orchestra's rendition of Vivaldi's 'Four Seasons – Winter' [Stradivari Classics; Tidal] was dependent on the 100F's presentation of the strings. I won't insult your intelligence by saying they sounded like 'the real thing', but this lilting, layered piece came across with wonderful timbral detail.
Hi-Fi News Verdict
It says a lot about the performance of Paradigm's new three-way floorstander that my only gripe is the faceted enclosure style, and that's just my personal taste. Find the necessary space and amplifier power for the 100F and you'll be rewarded with a detailed, inviting soundstage and a voicing that works across a wide range of material. With its Founder Series, Paradigm has surely found a winner.