Ortofon MC Diamond Cartridge
As the 'Anna' is dropped from Ortofon's MC Diamond, its new flagship retains the sintered titanium body and diamond cantilever but adopts a Verismo-like suspension...
It's long been said that 'diamonds are a girl's best friend' but, according to Ortofon, they also have the potential to be the number one chum of any vinyl fan. While diamonds have been used for styli for decades, few manufacturers have the skill or, indeed, the budget to implement them elsewhere. Enter the Ortofon MC Diamond – the company's new £7349 flagship low-output moving-coil that features not only a diamond stylus, but also a diamond cantilever.
Now, if you're thinking that this cartridge and name seem familiar, then you wouldn't be wrong because the MC Diamond is the third generation of a design that first saw the light of day in 2012. This was the MC Anna [HFN Oct '12], dedicated to the famous Russian operatic soprano, Anna Netrebko. This original cartridge sported Ortofon's Replicant 100 stylus profile on a boron cantilever and remained in pole position until 2018 when the limited edition MC Century, developed to celebrate Ortofon's 100th birthday, knocked it off the top spot.
Jewel In The Crown
Skip ahead to 2019 and the technology that made the MC Century so special was trickled into the MC Anna Diamond [HFN Oct '19]. This swapped the boron cantilever for a diamond rod and moved the company's game forward once more. In 2022, the association with Ms Netrebko ended but it's fair to say that Ortofon's new MC Diamond is far from just an MC Anna Diamond with a word crossed out…
Retained from the previous model are the Replicant 100 stylus and diamond cantilever. As it's impossible to 'cut' a cantilever and stylus as a one-piece item, the two must be glued together – a feat achieved here with extreme delicacy. Also, the MC Diamond's outer shell and generator are largely unchanged aside from putting on a little extra weight at 17.5g. The cartridge body is made from titanium, laid down in fine layers using Ortofon's Selective Laser Melting (SLM) process, analogous to 3D printing, but using metal. This allows the density of the material to be adjusted as it is laid down, optimising the damping properties of the body. Any resonances, within the shell or travelling in via the tonearm, are also combatted by the thermoplastic elastomer that forms the bottom third of the MC Diamond's body.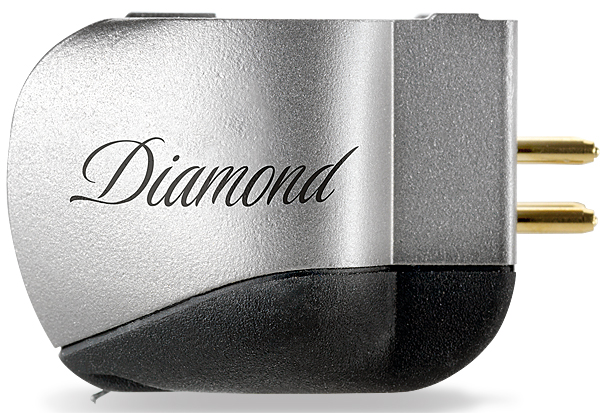 Special Relationship
The motor system is still based around a non-magnetic armature that extends beyond the coils, which are wound with ultra-pure OFC wire. The cartridge also still uses Ortofon's WRD (Wide Range Damping) system for the armature, where a platinum disc is sandwiched between two absorbent rubber pads with differing properties. However, in the MC Diamond, the rubber compound has been changed to that developed for the MC Verismo [HFN Mar '22] and is based on what's described as a 'Multi Wall Carbon Nano Tube' material. The manufacturer claims that this allows better control of the relationship between compliance and damping, improving stability of the cantilever and therefore tracking ability.
Ortofon supplies the cartridge in a matt white wooden presentation box that gives plenty of space around it and a generous grip to lift it out of the mounting plate. Pricey cartridges in tiny boxes are the stuff of nightmares, but Ortofon has made the MC Diamond as user-friendly as possible here. Also included in the box are a screwdriver and fixing hardware, a set of headshell leads and a stylus brush, all in a swanky cloth bag.
The MC Diamond's body has tapped mounting holes set into the upper surface and this, combined with the chunky shape, means that fitting it is less scary than you might expect. In addition, the stylus guard is large, solid and easy to fit and remove, which is a great relief. However, that weighty 17.5g body – plus a further 1g or so for the mounting hardware – will be at the very upper end of what most tonearms will accommodate. My trusty SME V only just balanced it and the 12in VPI Fatboy tonearm that I used for most of my listening with the MC Diamond required some extra ballast at the rear. In addition, those rounded sides do make cartridge alignment a little trickier than some.
Don't be tempted to skimp here, though: if you pay proper attention to every aspect of its alignment and setup, then the results are nothing short of astonishing. Mounted on this long 12in version of VPI's Fatboy arm on the VPI Avenger Direct turntable, and after a good hour or so of experimentation, I found its sweet spot to be at 2.7g tracking force with the arm ever so slightly down below horizontal at the rear.
Hair-Raising Hi-Fi
Set up like this, I was in for a big surprise. I'm used to occasional cartridges with big, deep low ends, and others with lithe upper bass offering glorious levels of detail. I can name cartridges that create walk-in soundstages and have the sort of midrange insight that has the hairs on your neck standing on end. I can also recall favourite transducers that offer breathtaking clarity, and the promise they could securely track pretty much anything short of a mangled vinyl disaster. And the Ortofon MC Diamond? Put simply, it does all of the above, and to a level of accomplishment that is quite astonishing.