Naim Audio Unitiqute (£1380)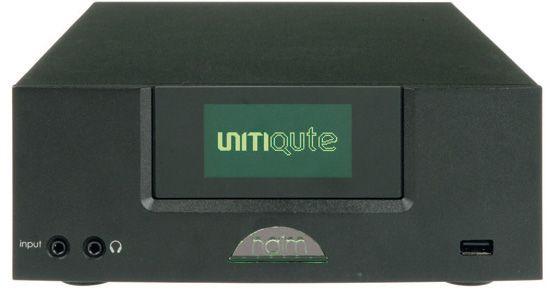 Naim's move towards streaming audio continues with this innovative all-in-one.
Cute by nature, Qute by name. Though there's nothing overtly cuddlyfeely about the Naim Audio UnitiQute (black and angular in the familiar functional Naim manner) this compact box offers so much at an attractive price that you have to regard it with affection.
The award-winning Uniti was Naim's original all-in-one music source with CD replay, network streaming, replay of audio files from USB stick or iPod, radio reception via FM/DAB/internet, analogue and digital inputs, and on-board power amplification. The UnitiQute is the Uniti sans CD player. The 'Qute assumes, then, that optical media have given way in your life to audio files on networked storage, which you wish to access via either wired or wireless ethernet.
But you can still attach a separate CD, SACD or DVD player if you wish, via the four S/PDIF digital inputs (two on phono, two on Toslink). And the single analogue input will allow attachment of, for instance, a turntable via a step-up.
Supported file formats via streaming are WAV, FLAC, AAC, MP3 and Windows Media format. Maximum sampling rate is 96kHz, so to replay 176.4kHz or 192kHz files you have to configure the media server to perform downsampling. The same limit applies via the USB socket which supports WAV, AAC, MP3 and Apple Lossless.
CLEAR DELIVERY
We found the UnitiQute to be sufficiently intuitive to use that no reference to the owner's manual was necessary. We expected the amplifier, in keeping with Naim's long-established concern with pace, rhythm and timing, to be always engaging. It might not be one to seduce SET fans away from their glass envelopes but it has a precision and clarity of delivery that really does inform you about who is playing what, where and how.
For example, Gwyneth Herbert's 'Annie's Yellow Bag', on Naim's own label, thrives on a crisp, impactful drum sound without which much of the track's energy is dissipated. The UnitiQute majored on this, serving up fast leading edges and great separation – both timbral and spatial – of the different percussion sounds, and delivered a tight, tuneful bass. Unamplified music recorded in a natural acoustic fared well too, not for any euphonic bloom adding spurious warmth but because the UnitiQute does a fine job of blowing away fogs that often obfuscate small but telling details of instrumental character and playing style. With FM radio it delivered persuasive sounds from R3.
But what most potential buyers will most want to know is how the UnitiQute sounds when streaming audio. Replaying the same files via USB stick, coaxial S/PDIF (from a Mac mini via a TC Electronic Digital Konnekt x32 pro audio FireWire interface) and ethernet, our sound quality preference was in exactly that order, with network streaming some way behind the other two modes of replay.
Via USB stick Grace Jones' 'Well Well Well', from her latest album Hurricane had all the expected energy. Via coaxial S/PDIF, from the same USB stick now connected to the Mac mini, there was a slight diminution of the rhythmical pulse – although perhaps that shortfall could be addressed, at least in part, by a different digital interconnect cable. These are not, however, huge differences; some might even prefer the restraint of the streamed sound. But if you hear and mind about the sonic difference that the UnitiQute's earthing switch will make, you'll care about these differences too.
VERDICT
The UnitiQute is a fine amplifier, to which signals can be delivered in myriad ways. The streaming option doesn't provide the best sound quality (a USB stick is needed for that), but its flexibility and Naim's neat interface are undeniable.

Originally published in the Yearbook 2011