NAD M33 Streaming DAC/Amp Page 2
Finally, I promise (!), the M33 is effectively futureproofed by the inclusion of NAD's 'Modular Design Construction' architecture, in the form of two blanking plates at the lefthand end of the rear panel. Removing one of these will allow an MDC expansion card to be slotted into place, expanding the functionality of the product – for example some of the company's other models can be upgraded with streaming cards or enhanced DACs.
It's A Blast!
It's usual, with products of this kind, that the first thing to do when unboxing and connecting them up for review is to run a check for any software/firmware updates. Our early sample initially displayed some occasionally erratic behaviour, especially in the volume control and input selection departments, but one firmware update later and the M33 was much better behaved, allowing concentration to switch to the performance on offer. Which is a very good thing, as whether playing analogue or digital sources, streaming from a network store or accessing an online service, this 'BluOS Streaming DAC Amplifier' is nothing short of exceptional.

Yes, it can sound a tad flat at very low volume levels, but as soon as you get up to comfortable settings the sound opens up and begins to involve the listener. And that is as true when using the analogue inputs, the ADC set to its maximum 192kHz, as it is with digital ins or network streaming.
The phono stage is extremely good, as I discovered when I cranked up my Rega turntable to play my 'bought on the day of release' copy of Elvis Costello's Armed Forces [Radar RAD14], and instantly heard the off-kilter 'Accidents Will Happen' played with all its bite, and 'Oliver's Army' blasted out with real solidity and attack. Instant 1979 nostalgia!
Like other recent NAD amps using variations on Class D technology, this all-in-one has two essential components to its sound. It's always crisp and clean, extracting bags of detail from whatever you choose to play and delivering superb dynamics, and it also seems unburstably powerful, allowing you to play it as loud as you like, and into just about any speakers, without any sign of hardening or edginess setting in.
Total Control
I used it with great success into loudspeakers as diverse as the little Focal Chora 860 and Neat's Iota Xplorer [HFN Jul '18], and in each case there was a sense of fine control as the amplifier made the most of the speakers' capabilities. Indeed, as PM notes in his lab report, instead of hitting the end stops abruptly it just softens a bit when you really push it hard.
That ability to 'go loud' and stay in total control is heard with The Orchestra Of The Americas recording of Falla's The Three-Cornered Hat and Nights In The Gardens Of Spain [Linn CKD 625, 192kHz/24-bit], with its explosive opening, thundering percussion and blaring brass giving way to what is sultry, intricate orchestration.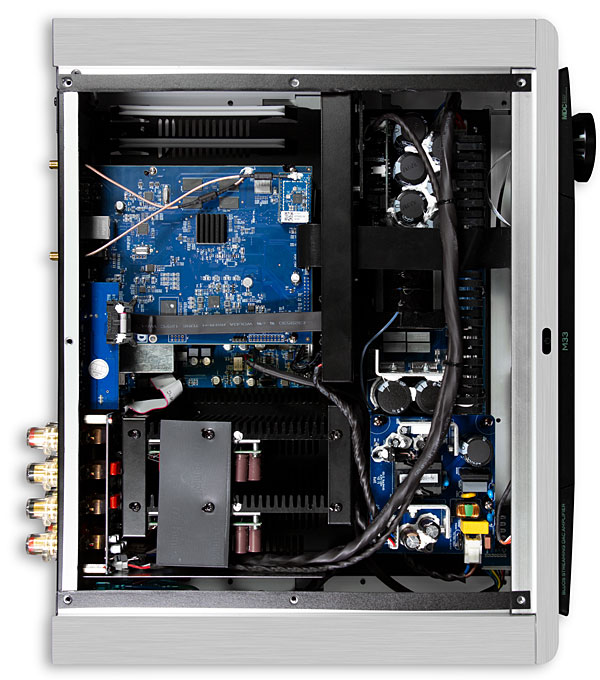 The M33 handles the dynamics and the detail equally well, letting the music flow, especially in the swirling 'Danza de la Molinera'. This whole set is bold, expressive and dramatic, and the M33 laps it up, bringing out the warm glow of the playing as well as the scale of the orchestral forces under conductor Carlos Miguel Prieto, and as striking with the flow of the strings as it is with the punch of the rhythms.
Play an album such as Yo-Yo Ma, Chris Thile and Edgar Meyer's delicious Bach Trios set [Nonesuch 7599 793920], and the M33 delivers a beautifully focused view of this arrangement for double-bass, cello and mandolin, with the two 'big fiddles' having a sonorous yet tightly defined sound, above which Thile's contributions have a wonderfully tight snap.
And when you change pace entirely to bassist Brian Bromberg's 2010 album Bromberg Plays Hendrix [Artistry ART 7030], the M33's combination of slam, with drummer Vinnie Colaiuta, and insight into Bromberg's multi-layered basses is magnificent. At this stage, well into 'having a ball' territory, I loaded up Liam Gallagher's MTV Unplugged set [Warner 0190295279363] for more nostalgia, enjoying the way the M33 revealed the layers of instrumentation, all the way through a glorious singalong 'Champagne Supernova' packed with detail, atmosphere and ambience.
Hi-Fi News Verdict
All the system you could ever want? The M33 has a strong claim to that description, with its wide-ranging flexibility, ease of use and the acclaimed NAD sound, along with the usual 'drive whatever you want' ability. It's as impressive with analogue sources as when doing its streaming thing, and future upgradability courtesy of those MDC slots on the rear furthers confidence in this amp as a long-term buy.