NAD M10 Streaming Amplifier
As a major partner in the BluOS project, it makes sense for NAD to have its own all-in-one network player, and it's aiming very high with this fully-loaded, fine-sounding system
No-one could ever accuse NAD of lacking ambition. Alongside its acclaimed core range, on which the company has built its reputation over the past four decades, it also has its Masters series of high-end components, several of which have been reviewed favourably in these pages in the past, including the EISA Award-winning M32 integrated amp – sorry, 'DirectDigital DAC/Amplifier' – [HFN Jul '18].
What's perhaps more of a surprise is that the company's first all-in-one system supporting parent company Lenbrook's BluOS multiroom audio protocol is not a mainstream NAD product, but sits firmly in the Masters camp. The £2199 M10 may be compact – it's 21.5cm wide, not much deeper and stands 10cm tall – but it carries that 'M' model number rather than the Cs and Ds found further down the range.
It also comes clad in a particularly chic set of minimalist black designer togs, courtesy of New Jersey-based DF-ID, which has also worked on past Lenbrook products carrying the NAD, PSB and Bluesound badges, as well as Altec Lansing and Sony.
Just Add Speakers
The M10, very much in the current fashion, has no actual controls – knobs and buttons are so last century – and can be operated without its owner ever laying a finger on it, courtesy of an app available for iOS, Android and a whole stack of other third-party operating systems.
However, those who like to get up close and personal, and don't mid sullying the designer object by, like, actually touching it, will find the display occupying virtually the whole of the front panel. It lights up, courtesy of a proximity sensor, as your hand approaches the M10, and then allows operation via touch control. And it goes further: when you have music playing and the display is showing what you're enjoying, making a move toward it will have the M10 thinking 'Uh-oh, they want to change something' and it automatically switches into 'control panel' mode.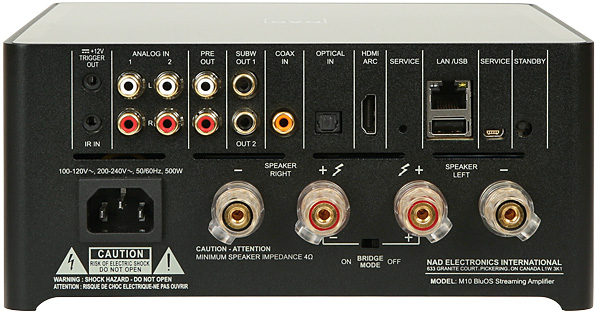 OK, enough of the minutiae – what's the M10 all about? Well, it's officially described as a 'BluOS Streaming Amplifier' but that rather sells it short. As I've already hinted, this is actually an all-in-one 'just add speakers' network audio system, able to play from both UPnP/DLNA music storage and online streaming services including Spotify, Tidal, Qobuz and TuneIn radio, all under app control. It also has Apple AirPlay 2 integration, via which it supports Siri voice commands, will respond to Amazon Alexa voice instructions, and has two-way aptX HD Bluetooth, so it can both receive music wirelessly from computers and portable devices and play out to Bluetooth speakers and headphones.
Bridged Mode
The M10 boasts a simplified version of Dirac Live room correction too, enabling the sound to be optimised to the room in which it's used and the speakers it's driving, with a more comprehensive 'Full Frequency' implementation available at extra cost. On the subject of driving speakers, the amplification here is NAD's familiar choice of Hypex-sourced 'HybridDigital' nCore technology, claimed to deliver 100W per channel into 8 or 4ohm loads. That's not the whole story, as PM's lab report reveals, but don't worry – it's all pretty good news with the M10 able to grapple with any likely partnering speaker. If you really need more power then the M10's two 'red' speaker terminals can be used to drive a speaker with the internal amp in bridged mode – add another NAD amp, also bridged, and you can have a 200W system.
Not that you're likely to need it, for in common with other NAD amplifiers, both from the company's mainstream range and its Masters series, the M10 has that sense of effortless power way beyond its 'paper' output, and shares with the Quad Vena II amp that 'big sound from a small box' thing. It's both rich and full-blooded in its delivery of music, but at the same time delivers impressive levels of detail, heightening musical involvement.
All inputs, both analogue and digital, are handled in the preamp section in the digital domain, before being converted for output via the amp modules. In addition to its internal 'sources', the M10 has two sets of analogue inputs as well as coaxial and optical digital ins, and an HDMI audio input for TV/video sound supporting the ARC (Audio Return Channel) standard.