NAD D 3020 V2 amplifier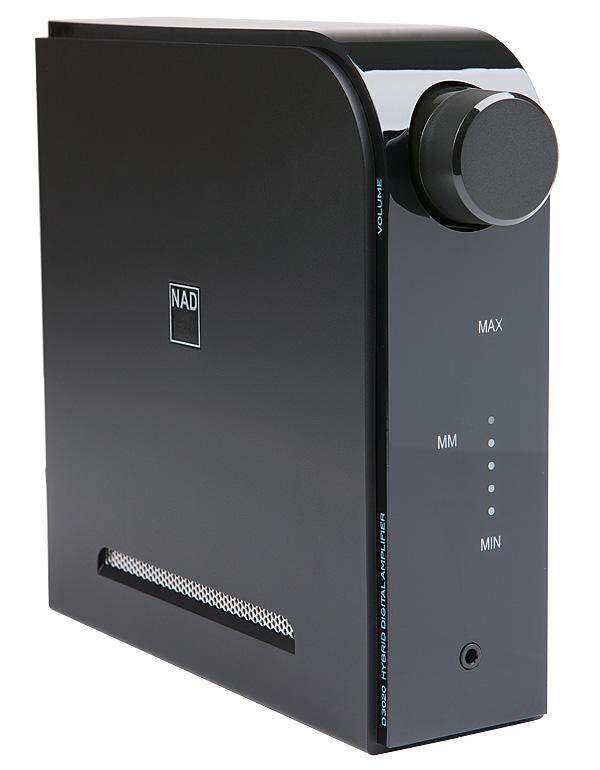 The svelte D 3020 contrasted with the iconic 3020 amp of '78, but this V2 trades-in USB for phono and Bluetooth in a bid to regain its crown as the ultimate 'starter amp'
The original NAD 3020 integrated amplifier of the late '70s was a genre-defining product – a compact integrated full of useful features that cost relatively little and became recognised for bringing high-quality home audio to a much wider audience. I wouldn't mind betting that many readers will have owned one at some point or at the very least be familiar with its reputation as an 'all go, no show' audiophile amp for its remarkably likeable sound but rather retiring 'grey slab' looks.
Forty years on, the classic model number re-emerged in the Canadian brand's lineup. Yet the form factor for today's generation has seen it morph into something that looks and feels dramatically different from the '70s original.
Cool Running
The compact, DAC-equipped D 3020 unveiled at the end of 2013 was aimed squarely at the growing computer audio and music streaming markets [HFN Aug '14]. It was designed to sit upright beside a computer or lie flat on an equipment rack or shelf and had a comprehensive set of digital connection options that included asynchronous USB, Toslink optical and coaxial S/PDIF inputs as well as wireless connectivity via both Bluetooth and AirPlay.
It was a joy to use and great fun for any budget audiophiles looking for a bijou, but high quality, desktop audio integrated amplifier solution. The attractive and versatile form factor was also adopted by its more powerful D 7050 sibling, although at slightly larger dimensions.
The revamped D 3020 V2 stand-up integrated shares the same dimensions and weight as its re-imagined predecessor, and the tactile sides of the unit seem to be just as prone to finger marks as before. A Class D design, it claims 30W into both 8ohm and 4ohm loads and uses the latest implementation of NAD's PowerDrive circuitry with soft clipping to protect speakers from being overdriven. It's a Class D design, so NAD makes much of the amplifier's efficiency – it needs considerably less power than a traditional Class A/B integrated amp, which means that it runs cool and facilitates the compact size. Standby power consumption is rated at a low <0.5W and the auto standby circuit switches in within 30 minutes of there being no source signal detected. There is also an Auto Sense 'wake up' mode when a signal is detected.

The D 3020 V2 offers coaxial and optical S/PDIF digital inputs along with aptX Bluetooth wireless, but unlike the original D 3020 there's no USB port for hooking the amp up to your computer to play stored or networked music files, for example. Instead, NAD has replaced this input with a MM phono stage to appeal to budding vinyl fans. It's a bold move, but one that's entirely understandable given the continuing growth in the turntable market, even if the intended use of the input does seem a little at odds with the amplifier's desktop design aspirations.
Bass Boost
Sources are selected using the touch-sensitive button on top of the amplifier that cycles through each input as indicated on the easy-to-read backlit front panel display. It's straightforward to use, but in an era where the user experience is everything, it has to be said that the process feels a little sluggish while the lack of any reassuring tactile response takes some time to get used to. A small remote control adds a degree of convenience and usefully provides additional functions such as audio mute, display dimming (two levels) source and volume up/down buttons and one labelled Bass. This is said by the company to boost lower frequencies by 6dB for greater bass output when driving small loudspeakers.
A minor gripe is that the front panel display is fixed to its upright position and doesn't re-orientate itself if the unit is placed horizontally on its side. Nevertheless, it's clear and easy to read and I quickly came to terms with this shortcoming.
The volume dial is more user-friendly than before. It has a useful level of weighting and replaces the rubberised version fitted to the amp's predecessor. However, with the D 3020 V2 hooked up to Monitor Audio's fairly benign Silver 1 loudspeakers (£500) the volume indicator was already at over half way before a decent output level was achieved.