NAD C 700 Streaming Amplifier Page 2
For instance, Tony Joe White's mesmerising blues ditty 'Polk Salad Annie' [Black And White; Warner Archives 9362-46364-2] sounded lithe and lean, and its unusual production (drumkit occupying the right channel, the occasional trumpet lick in the left, White on guitar dead-centre) didn't stop the C 700 from drawing me in. There was real intimacy, heightened by the detail it unearthed in White's conspiratorial spoken-word intro, and the brushed snare drums and twanged guitar strings.
This wasn't a one-off: every time I gave the C 700 a rapid rhythm to get to grips with it happily obliged, and the result was music that sounded clear, transparent and brimming with energy. 'Vita Voom', from instrumental band Ozric Tentacles' career-high Jurassic Shift album [Madfish SMACDX1109], raced out of the traps, the C 700 displaying an excellent sense of timing and rhythm, hitting the leading edges of the palm-muted guitar and drummer Merv Pepler's frantic snare work.
The more thoughtful and synthesiser-heavy soundscapes of the same album's 'Sunhair' were given a vibrant, shimmery feel, but still backed up a tight, dynamic delivery of the percussion. And in this instance, using the amp's BluOS module to stream directly from Tidal, there was no loss in quality or, indeed, any playback glitches.
NAD Goes Large
There is impressive power here – more than enough to give Monitor Audio's Silver 500 7G floorstanders [HFN Oct '21] permission to fill my room with the huge-sounding drum beats and multi-layered backing vocals of AC/DC's 'Thunderstruck' [Razor's Edge; EPC 510771 2], and create a nightclub vibe with trance classic Silence [Delerium/Tiesto]. Therefore, even if the C 700's size suggests a partnership with smaller speakers, this is not a necessity.
With the cosseting, disco-esque production of Supertramp's 'Hide In Your Shell' [Crime Of The Century, A&M Recordings; 192kHz/24-bit], the amp did a top-to-tail job, bringing clarity to the reverbed finger-clicks and sounding meaty at the bottom end. It also rose to the occasion when the percussion really slammed, albeit then sounding less composed as the mix thickened with more and more instruments.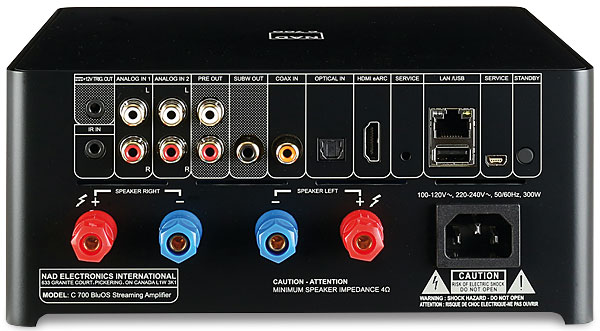 Dial down the pace, however, to something introspective and delicate, in this case Ella Fitzgerald and the LSO's rendition of 'Someone To Watch Over Me' [Verve Records, 44.1kHz/24-bit], and the C 700 sounds wonderfully unflustered. There was a smoothness to the soft strings and piano notes that made up for a slight lack of top-end openness, while Fitzgerald and her breathy pauses sounded in fine fettle.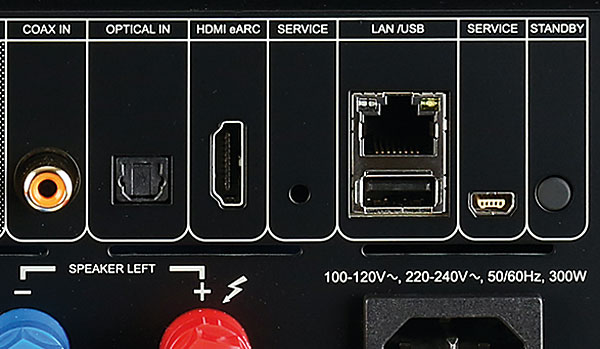 This streaming amp's price tag should tell you that its performance has its limits: you can get more sheer power and a fuller sound in the lowest frequencies from other integrateds, and more of that great hi-fi intangible: musicality. But – and this is vital – try to tally all the C 700's features on two hands and you'll run out of digits, and that's before you consider the compact nature of the box and the dynamism and detail that comes from it. Moreover, this is a device that puts all its feature charms literally at your fingertips. It's fun to use as well as fun to listen to.
Proving The Pudding
Don't believe me? Give Jay-Z's '99 Problems' a spin [The Black Album; Roc-A-Fella Records 060249 8611210] and enjoy how this amp/player jumps onto the forceful riffs and sampled beats of Rick Rubin's production. NAD has given this diminutive streamer a sense of purpose and enthusiasm that suits this track – and many, many others – down to the ground.
Hi-Fi News Verdict
A genuine one-box hi-fi solution, NAD's C 700 bundles wired and wireless connectivity, slick app-based operation and punchy amplification into a pleasingly small enclosure. In that sense it's very much a junior version of the M10, and those who can live without touchscreen control and Dirac Live room correction should grab a listen. There's energy and detail here aplenty. Call it 'the little amp that could'…