Myst TMA3 amplifier


Back in the '80s, several British 'cottage industry' companies made integrated amps for purist customers, but this is surely the most 'mysterious'. How will it sound today?
In hi-fi as in life, the 1980s was a transformative time. From speaker stands and audiophile speaker cable, to mini monitors and expensive, minimalist integrated amps – the 'go for it' decade of Filofaxes, red braces and VW Golf GTis showed us what was to come.
Just ten years earlier, an integrated amplifier was what you bought if you couldn't afford a separate pre/power combination. Indeed, you could almost call it a symbol of hi-fi pauperdom – of one's audiophile inadequacy. That's probably why budget integrateds of the time tended to come festooned with buttons, power meters and shiny fascias – it was a bid to make them look more serious and important than they actually were.
Child In Time
The Myst TMA3 was launched in 1983 with a price tag of £250. By the standards of the day – and indeed now – it was tiny at just 432x55x220mm (whd). Had it been launched even five years earlier, this diminutive one-box amplifier would have been about as fashionable as a pair of drainpipe trousers at the height of the disco era. Yet it was very much a child of its time, perfectly encapsulating the '80s zeitgeist when small was considered beautiful and expensive better than cheap.

'We were trying to do an amplifier that was compact but properly made,' explains Michael Maloney, the man behind Myst. 'At the end of the 1970s the quality of components was pretty poor. They were still using old carbon resistors and electrolytic capacitors in the signal path, printed circuit boards were still made of Bakelite. We were one of the first to use 1% metal film resistors, and polypropylene and polystyrene capacitors. We had glass-fibre printed circuit boards, the latest Japanese transistors and the first MOSFETs, which were state-of-the-art then and paraded as the replacement for valves.'
For Michael, minimalism was key. As a schoolboy he saw an Italian made amplifier called the Galactron and was horrified – the TMA3 was essentially its antithesis. 'I saw its back panel and there must have been upwards of a hundred phono sockets, and that got me going. I thought this is entirely unnecessary. All that we want is something to play records, just a simple input and simple output. We wanted to make it well, make it beautiful and make it last. And that was the start of the thought of going into audio. For ten years, that sat in the back of my mind.' The TMA3 sported just a power switch, volume control knob and three source selection buttons for four inputs, and all of the switchgear was tiny.
Michael started Myst back in 1981. The name was said to have come from part of a Joni Mitchell lyric, although he playfully references the first line of John Keats's To Autumn, 'Season of mists and mellow fruitfulness' too. He was a recent graduate with a degree in perceptual neuropsychology, rather than the more usual one in electronics.
Stepping Stone
The latter had always been his passion, although because he hadn't had a conventional academic education in the subject, Michael had come to think that individual electronic components had their own sound. After graduating from the University of St Andrews, he worked in Norwood making what he calls some of the 'leading valve amplifier output transformers of the time', and this only convinced him that his theory was right.
The very first Myst product – the Stage-Life – was indeed a tube amplifier, something that must have been hugely unfashionable at the time. Finished in two shades of brown, very few were made but it was an important stepping stone to the TMA3 that followed two years later.
The company, Myst Ltd, was started with the help of Michael's partner Mary Guillaume. They set up shop in Weobley, Hereford, within sight of the Brecon Beacons, where the company resides to this day. 'The building was just big enough to have a beautiful listening room with blue velvet drapes, and a big brick pillar that I built to put all the equipment on. At the back were two rooms where we could build equipment, and we got two ladies from the village to come in and assemble things and that was the start of Myst. We love it here. It's absolutely useless for doing anything – anything world-beating or thinking of world domination. All the rest of the industry went off towards Huntingdon and Cambridge, and we ended here in the land that time forgot. Out here in Herefordshire,' quips Michael.
The new factory began producing the G-Ohm in 1982 – possibly, hints Michael, named after an abbreviation of Mary's surname. This small preamplifier/power amplifier combination was finished in brown and champagne gold, and was a striking-looking ultra-minimalist product. It duly built a cult following and received a couple of good reviews, but failed to go mainstream. What was particularly noticeable was its superb build quality, with top-notch components and super-short signal paths used inside. The TMA3 integrated amplifier followed a year later, and was largely a shrunken down, one-box G-Ohm without the sophisticated preamplifier section. Sold as 'not simply another budget amplifier', its lower price point gave it wider appeal.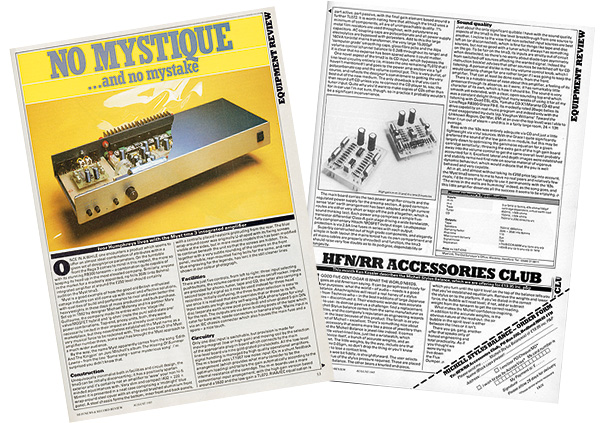 Extra Terrestrial
Michael is deliberately obtuse about the name of the TMA3, first suggesting that it stands for 'the Myst amplifier No.3', and then admitting that he's a big fan of Arthur C Clarke, saying it might be a reference to the Tycho Magnetic Anomalies featured in the movie 2001: A Space Odyssey. It's certainly true that this little integrated – finished with a bright silver brushed aluminium fascia panel and a deep blue painted steel clamshell case – looked rather otherworldly. 'It had a dimension of one-to-three-to-nine, the squares of the first three prime numbers. And they were the dimensions of the Monoliths in Arthur Clarke's 2001 book,' Michael adds…
This little TMA3 is exceptionally neatly laid out inside. The preamp board sits to the left, with the fascia switchgear located at the front and the RCA phono socketry at the back. Signal paths are short and clean, and wiring is notable for its absence – in contrast to the rats' nests of cabling found inside many other amplifiers, specialist and mainstream, of the period.
Meanwhile, the phono board piggy-backs onto the main preamp board, with high-quality components used. The moving-coil card employs LT1007 low-noise input op-amps in a shunt feedback arrangement, with the moving-magnet card using 5532 op-amp ICs for the high gain version, and TL072s for the low gain option.
Star Earthing
The main power board is also laid out beautifully, and closely based on a classic and highly reliable Hitachi circuit with just five transistors and Hitachi 2SK226/2SJ82 MOSFET output devices coupled to the loudspeakers via a 2.5A quick-blow fuse. The heatsink sits neatly out of the main case at the back. To the right, the beefy 160VA toroidal mains transformer gets twin computer-grade smoothing caps, with separate power rails for preamplifier and power amplifier sections.