Musical Fidelity V Dac Ii (£199)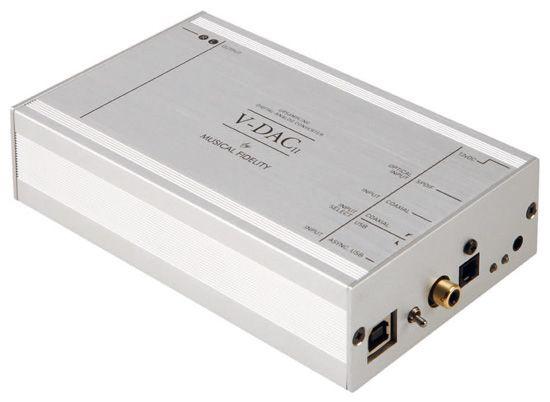 New version of the V-DAC offers asynchronous USB and improved appearance.
The V-DAC II replaces the company's earlier V-DAC [HFN May '09] and comes with a number of updates – as well as a £40 increase. Firstly, the new version replaces the black finish and quirky lettering of the V-DAC with brushed silver aluminium replete with more mature typography and inset grooves. The cigar-box-like dimensions remain the same and the casework feels solid and well made. Countersinking the black screws that hold it all together is also nice touch.
Connections and layout on the V-DAC II are almost identical to the earlier V-DAC, with power provided by a supplied wall wart-type 12V DC transformer and output delivered through a single pair of RCAs. Input options include coaxial and optical S/PDIF connections and, crucially, an asynchronous USB port (replacing the original's standard USB) all of which offer 24-bit/192kHz upsampling. The use of an asynchronous USB allows the audio data transfer to be governed by the V-DAC II rather than the computer it is hooked up to, as its master clock is effectively disconnected from those within the potentially noisier environment of the PC or Mac.
Inside can be foud a Burr-Brown DSD1796 DAC chip and Burr-Brown SRC4392 asynchronous upsampler, reinforcing Musical Fidelity's claims that your money goes on the components under under the lid, rather than what they're housed in. On the other hand, some of the input labeling is potentially confusing. For example, the input selector switch distinguishes between 'USB' and 'coaxial' when it actually switches between USB and both S/PDIF connections (coaxial and optical). Meanwhile, the two LEDs on the input panel show mains power and signal lock from a chosen source.
Timbre!
So, how does it sound? Using a selection of CDs fed from the coaxial output of a Cambridge Audio CD player and files streamed losslessly from a laptop via foobar2000 software, the V-DAC II certainly retrieved extra levels of detail compared to the inbuilt DAC of both sources. The timbre of Michael Stipe's voice on REM's Automatic For The People [Warner 9362-45055-2] was honestly presented with real emotion and appropriate depth, and sounded less hard-edged than we are used to. The sound of this DAC is less upfront than that of similarly-priced rivals, and the delicacy with which it treated more subtle instrument passages reminded us of a top quality, neutral vinyl front end.
With acoustic guitars in particular, the air and space around each simple strum gave the impression of hearing a better quality guitar, rather than a change in the hi-fi replay chain.
Differences between the coaxial and USB input were more challenging to detect, demonstrating how evenly the V-DAC II treats the two. Overall, listening to sources through the coaxial input had a little more impact – the Chopin and Debussy and piano pieces from Piano Music In A Church by Endre Hegedus [Tone-Pearl TPRCD1], for example, suggested that the keys were now being struck with more authority, in contrast with the USB input which presented a more laid-back sound.
Bass was cleanly detailed, and although a touch leaner in this area than with other (more expensive) alternatives, the V-DAC II should bring welcome refinement to boomy sounding digital sources.
VERDICT
First and foremost the V-DAC II offers superb value for money, packing the latest technology into a discrete and compact little unit with looks that do its quality internals justice. For those wanting to bring warmth and detail to an ageing or budget CD player then it may be just the ticket. For those seeking an easy starter package to get decent sounds from PC-based audio, the MF would be a hard act to beat.

Originally published in the Yearbook 2011