Musical Fidelity MX-DAC USB DAC Page 2
This was because 'Up On Cripple Creek' is a track I've known, loved and used as a sound arbiter for a half-century. What the MX-DAC delivered made me question DACs with five-figure price tags, but that would be to wear a particular nouveau pauvre hat I find dehumanising and unattractive. The point of astounding-value hardware is not to undermine the existence of the extreme high-end, but to provide a taste of it for a fraction of the cost. Which this unit does.
Listening through Falcon Acoustics LS3/5As [HFN Dec '18], my choice for assessing vocals given the loudspeaker's original raison d'être, Levon Helm's slight nasality and inimitable drawl suffered no digital artefacts. They had presence and flow, and those who rank sibilance the most egregious of sins will revel in their absence. The smoothness of the 's' in the song title 'Unfaithful Servant' matched the 45rpm LPs in the same box set. This is one refined, 'grown-up' DAC.
On The Air
Before moving on to the streamed or downloaded high-res material, I listened to the new mix of The Grateful Dead's Workingman's Dead [Rhino 603497846986] but was unexpectedly drawn away from the first of its three CDs – the one with the original album – to the sound of the live bonus discs. 'Me And Bobby McGhee' had so much air and space that the sense of a real hall, filled with an audience and living, breathing musicians, was conveyed almost as convincingly as if it were a surround-sound disc.
(Note that this is no endorsement of surround sound. Not all multi-channel recordings, especially old material rendered as 5.1 mixes, work well. And if you were wondering, one of the two surround mixes in the aforementioned Band box set works fabulously, while the other sucks. And neither of them beats the original two-channel mix.)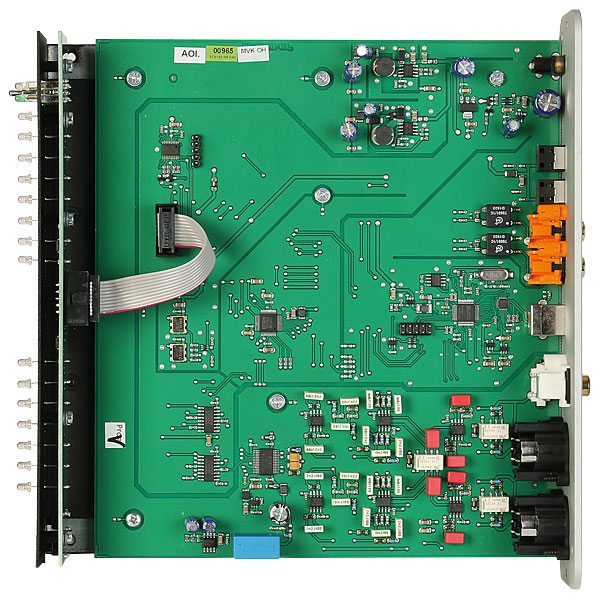 Sadly, for those seeking out one of more of these gems, I am unable to identify catalogue numbers of sources for my hi-res downloads, most of which are bonuses that accompanied vinyl box sets from Marvin Gaye, Little Richard, The Rolling Stones, James Taylor, Paul McCartney and others whose LPs benefited from these perks. Suffice it to say, nearly all of the recordings, whether identified as FLAC or another format, triggered the MX-DAC's 192kHz LED. What surprised me was how 'musical' – if that's the right word – the USB input sounded when I compared these downloads with the equivalent CDs via either Toslink or coaxial inputs.
Amazing Grace
This, too, proved revelatory, as I have never been bowled over by USB, which I find at its worst to be tolerable – rarely objectionable but also rarely dazzling. 'I Fall To Pieces' from The Best Of Linda Ronstadt – The Capitol Years was identified as 44.1kHz/24-bit by Audirvana Plus (I think this was an HDtracks download) and it had a delicious clarity which suited her mellifluous vocals, as distinctive a set of pipes as country rock has ever enjoyed. As with The Band's Blu-ray, it was sibilance-free and as natural-sounding as you could hope for, but it was the liquidity of the pedal steel guitar that floored me.
Whatever the origins of the recording, the MX-DAC behaved impeccably, revealing a gracefulness rarely associated with the rough-and-ready prospects of budget systems. Again, I am desperate not to sound like some granola-crunching Che Guevara worshipper, nor one spoiled by a life surrounded by high-end treasures, but such sophistication is normally the province of systems of a higher pedigree. Once the current craze for deplatforming and cancellation reaches hi-fi, I will no longer be able to make such observations, but for the time being, note that the MX-DAC is, and stated in the most politically incorrect terms, operating 'way above its station'.
This track was a perfect showcase for the MX-DAC's admirable image specificity, stage width and even a hint of depth. What ultimately secured my love for this unassuming component, though, was the free download of Albert King's Born Under A Bad Sign [Stax 088807234344] which amazon.co.uk provides with many CD and LP purchases. (I am constantly and pleasantly surprised on the rare occasions when I log on to find stuff I didn't know had been added.)
'The Very Thought Of You' is one of my all-time references, thanks to moody saxes, tinkly piano stage right, late-night drumming and King in full-on crooner mode. It's mellow, seductive and soothing – cognac for the ears. The MX-DAC did not disturb that mood. In contrast was Sophie Madeleine's 'Bring Me Sunshine' – 1m 39s of ukulele-driven fun from a CD single, also via amazon. Gentle and sweet, the uke's resonance matching the uke next to my desk: she made me want an MX-DAC.
Hi-Fi News Verdict
DACs are the most vivid examples of price-plummeting due to trickle-down technology. Some 30 years after the first standalone models arrived, we're in a golden age, and somewhat used to being impressed by sub-£999 DACs – but I wasn't prepared for the leap that the MX-DAC achieves. The sound is satisfying, seductive and silky while the features and inputs ensure systemic flexibility. It is a no-brainer purchase.