Musical Fidelity Clic (£1250)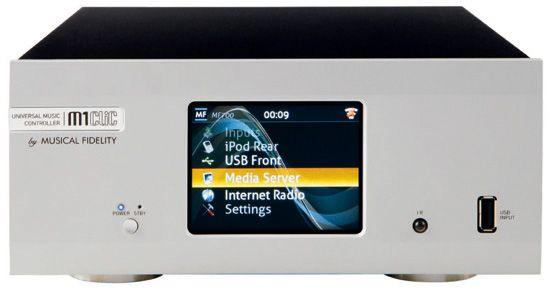 A clever combination of streamer, DAC and pre-amp that ought to win many converts.
What is the CLiC? To describe it as a digital preamp, or a streamer, does not do it full justice. Better to think of it as a unit which selects internet radio, and music files from a variety of sources – including wired and wireless networks and data stores, Red Book CD players and even analogue.
The CLiC uses Musical Fidelity's M1 24-bit/192kHz, re-clocked upsampling DAC. It has five digital inputs: digital iPod/iPhone, front USB stick, two coaxial S/PDIF (up to 24- bit/192kHz), and one optical S/PDIF (24-it/96kHz). There are also three RCA inputs, with analogue signal paths all the way to the output. Oh, and there's an IR remote.
All that's needed to use the CLiC with a computer network is a piece of software called a media server. Download and install the server software on your PC or Mac – Musical Fidelity recommends Twonky – add some music ripped from your own CDs or downloaded from the internet and you're ready.
To connect to a wireless network, just turn on and wait 15 seconds for the display to show a menu list. Select 'Media Server' and the colour screen shows the name of your wireless network. Input your wireless security password and it is remembered by the CLiC. From now on simply select your Media Server from the menu with the OK button and the CLiC connects to your computer-stored music collection.
If you have no wireless system, you can plug the CLiC directly into your router via an Ethernet cable, for which no password is required. Once connected, by wired or wireless, you have access to the music stored on your PC, for playing data files at up to a maximum of 24- bit/96kHz. Plug an iPod into the rear socket and you'll have all your music collection listed and available. For radio, select Internet Radio from the first menu, and lists of stations and podcasts appear. The S/PDIF, USB DAC and analogue sources are all selected from the Inputs menu.
SPOT THE DIFFERENCE
Any network player stands and falls by the quality of its DAC. The one inside the CLiC is MF's M1, so the prospects looked good. Hooked up to a CD player via the coaxial S/PDIF input, and thus used as a pure DAC, with no networking or internet streaming, the CLiC was most impressive. The DAC produced a fresh, open sound, with firm, wellformed bass and clear extended treble. Playing 'On Green Dolphin Street', and 'Thag's Dance' from Oscar Peterson's The Sound Of The Trio [Verve V6 8480] via S/PDIF on coaxial, Oscar's piano sounded vibrant in tone, Ray Brown's bass was rich, deep and resonant, while Ed Thigpen's drums, cymbals and snares were crisp and clear.
Was there a big difference with the CD ripped and stored on a laptop, in uncompressed WAV format? Maybe the S/PDIF sounded a tad clearer and tidier, but any differences faded into insignificance when the CLiC was hard-wired into the network via Ethernet cable. After more experimentation, which saw 24-bit 88.2kHz WAV files played from a USB stick and bit-perfect non-compressed 16-bit/ 44.1kHz WAV files ripped to and played from an iPod, a pattern began to emerge. In short, S/PDIF CD replay, while sounding much better than many stand-alone CD players, was itself outflanked by both the wired network and the front panel USB socket.
VERDICT
The CLiC is a pivotal product, which will bring high-quality digital music streaming to many more audiophile homes, in addition to, or even replacing CD replay. It is not only a superb DAC, but forms the very hub of an audio system, with the colour screen a window on a whole new world of music.

Originally published in the Yearbook 2011