Moonriver Audio Model 404 Reference Integrated Amplifier Page 2
And that thinking pays off in an amplifier with a refreshingly direct sound, shorn of almost any artifice and with solid communication of the music it plays. Connected between my Naim ND555 network player [
HFN
Apr '19] and driving
A Pair Of Big
PMC floorstanders, a task to which it rapidly showed itself to be well-suited, the Model 404 Reference immediately grabbed my attention with the no-nonsense Texas boogie of Hardware, the recent album by ZZ Top guitarist/lead vocalist Billy F Gibbons [Concord Records, 96kHz/24-bit download].
The fuzzy guitars, relentless drive and growled vocals sounded magnificent here, and you could almost sense the spontaneity of the trio involved in making so big a sound in their California desert studio. It's a thick, heavy and rather fabulous album, and from the straight-rockers to the more menacing – the simmering 'Spanish Fly' and the dark closer, 'Desert High' – the Model 404 Reference creates compelling sonic pictures, full of ambience and hot, dusty atmosphere.

New Year's Celebration
So far, then, not much of the Fågelsång (birdsong) the Moonriver amplifier proclaims on its fascia! However, with more intricate recordings, such as the live Vienna Philharmonic/Barenboim 2022 New Year's Concert [Sony Classical 19439962512], that rich yet open presentation, albeit one with a slightly soft top-end that removes brittleness rather than robbing ambience, conveys not only the space of the concert hall but also the internal details of the scoring and playing.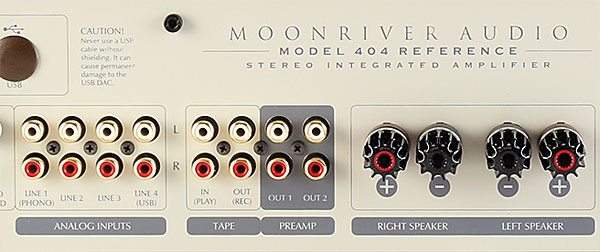 Meanwhile its generally big-boned, fast sound does a fine job with the dynamics of the music, whether with the great sweep of the 'Blue Danube' waltz or the speed and drive of the faster polkas. I've written before about the best amplification being able to get out of the way of the music, and that's what the 404 Reference does – and across a wide range of musical styles, despite offering less than 50W/8ohm per channel – as PM's lab report reveals.
Between The Lines
In practice, there are plenty of ways of getting higher output, and a lot more in the way of facilities, for a much smaller outlay, but the 404 Reference still offers a compelling speaker-driving ability, also revealed in PM's low impedance measurements. So, while it may not have the world's most sonorous or stentorian bass, it's by no means light in the low frequencies, and delivers music with convincing scale and substance, while its speed and dynamics are beyond reproach.
For example, with The Weeknd's superb new set, Dawn FM [XO/Republic Records download], combining fine performances and immaculate production, this Moonriver amp is as at home with the sometimes-introspective lyrics as it is with the exuberant beats and obvious hit single material. It's a totally entertaining experience, but then that's just what this amplifier delivers, in a manner that's sure to win it friends and admirers in equal numbers.
That said, there's still a sense that this design is as much about those retro looks than some of the internals, as evidenced by that off-the shelf output section, which seems somewhat at odds with the rest of the amp's intentions. There's also the slightly 'work in progress' feel of the absent digital section, but the 404 Reference belies any of these doubts with a sound that's never less than entirely entertaining, even when you push the levels up a bit in response to its well-balanced, informative presentation.
Subtlety Wins Out
Play Carmen Gomes, Inc.'s latest album, Ray! [Sound Liaison SL1052A; DXD], and the sheer intimacy of Gomes's voice, accompanied by no more than guitar, bass and drums – or indeed just bass on 'The Sun Is Gonna Shine Again' – makes for a compelling listen, the amp working with source and speakers to give a real 'artists in the room' effect.
There's no overt 'hi-finess' here, but instead an honest, rich and enveloping sound from boogie to sweeping orchestra to sultry jazz. While some will wish for more power, a headphone socket, or even a functioning USB input, the 404 Reference still offers a refreshing alternative to amplifiers with more obvious physical size and swagger.
Hi-Fi News Verdict
What it lacks in stump-pulling power, the 404 Reference makes up for in solidity of build, simplicity of operation and easygoing music-making. You might wonder whether a more hairshirt design could offer a more direct sound, especially if you don't need the basic facilities, but it's hard to argue with the way it serves up a wide range of material, or the ease with which its presentation can be enjoyed.