Monitor Audio Bronze 100 Loudspeaker Page 2
Of course, they're not a genuine 'budget' model, while some consideration when it comes to both placement and port use reaps rewards. Mounting the Bronze 100s on a stand and giving them room to breathe results in a performance at its most refined, with an even handling of bass notes providing a strong foundation. Place them on a cabinet close to a rear wall, and while they certainly acquire more bass energy, they lose a little composure.
With Queen's 'These Are The Days Of Our Lives' [Innuendo; Parlophone CDP 79 5887 2], there's a bump to John Deacon's basslines that makes them sound voluminous and unduly dominant when speakers and rear wall are ignoring social distancing guidelines. Thankfully, the supplied port bungs temper this effectively and reveal more subtlety and inflection to his playing, meaning the Bronze 100s can be put to work in close quarters if required.
And as befits affordable loudspeakers, these are eager to please and easily driven, despite the medium sensitivity. Even paired with a budget – and modestly powered – Marantz NR1710 receiver, they sparked into life and delivered an upbeat performance.
This Queen track also enabled the Bronze 100s to flaunt their imaging ability. With the speakers set about 2m apart and toed in so that their sides receded from view, the various conga-drum hits were precisely located within the soundstage, just as Brian May's lead guitar playing deftly hung in the middle. Even those listening off-axis will enjoy the wide throw of Monitor Audio's C-CAM tweeters.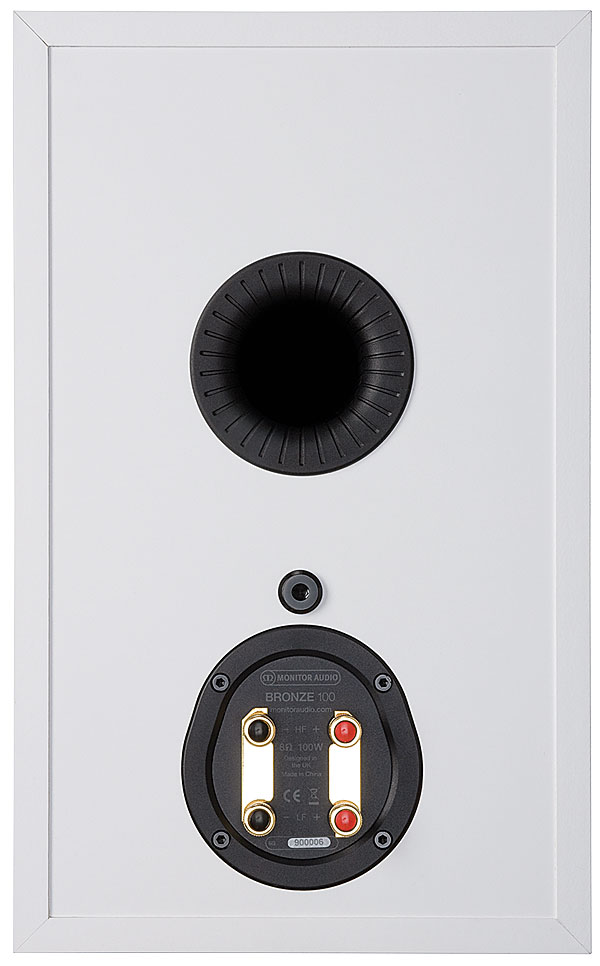 Depth Charge
Some may prefer the extra boost to the low-end that boundary positioning brings, but in truth MA's newly-designed bass/mid driver and the sizeable cabinet that surrounds it don't require assistance when it comes to adding weight and scale to rich-sounding tracks. Black Sabbath's 'God Is Dead?' [13; Vertigo 3735426] is mixed to be cavernous, and that's exactly the effect here, with Tony Iommi's ominous intro riding a wave of bass and percussion that seemed to flood my listening room. As the track progresses, and overdriven guitars join the affray, there's a crunch and drive that is hard to believe is created from these affordable enclosures. OK, to call them compact would be a misnomer, but the Bronze 100s remain small enough to be acceptable in a variety of environments without sounding boxed in or apologetic.
Mood Music
Frankly, there's little here not to like, beyond a tendency for some male vocals to be conveyed with a little shyness as they battle against the speakers' treble purity and low-end heft. For example, Chris Martin's plaintive verses in Coldplay's 'The Scientist' [A Rush Of Blood To The Head; Parlophone 540 5042] didn't project quite as well as the sweet-sounding piano accompaniment. But this was a rare misstep during my time with these standmounts.
As for that open treble, it's everywhere, giving air to the synth motifs and hi-hats in Patti LaBelle's disco anthem 'Stir It Up' [Beverly Hills Cop OST; MCA DMCL 1870], and the rimshot rhythms of The Bee Gees' 'How Deep Is Your Love' [Tidal download, 44kHz/16-bit].
This latter track is about as easy as I like my listening to get, and Monitor Audio's duo perfectly sets the mood, being just the right side of bright and not too ponderous. There's a crisp edge to the vocal harmonies that's enticing rather than fatiguing, yet other elements of the mix are silky smooth.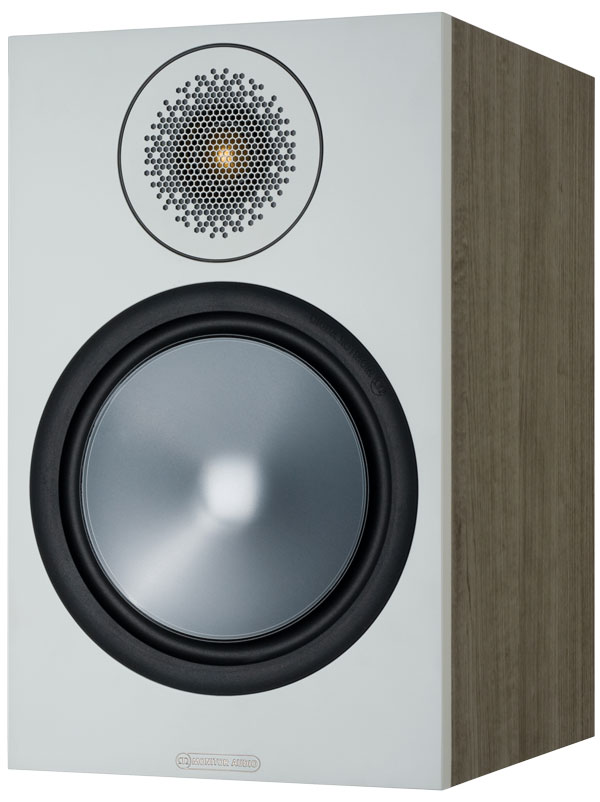 Likewise, with music that's more about aggression and drive, such as The Stone Roses' bluesy 'Driving South' [Second Coming; Geffen Records 24503], the Bronze 100s' low frequency control and energetic approach fits the bill, a mixture of cohesion and devil-may-care attitude. Voicing here doesn't obviously favour one genre over another, or put emphasis on recording quality – which in this market is how it should be. So it would be churlish to make too much of these speakers' deficiencies when the asking price is so appetising and the appearance so attractive.
Mostly, they get so much right that it's impossible not to see them as a bargain. Bronze may not be the most precious of metals, but there are precious few £325 speakers that offer this all-round appeal. Blending sonic charm with statement styling, they're fit for a podium finish.
Hi-Fi News Verdict
Five years after the Bronze 2 set budget buyers' tongues wagging, Monitor Audio has released a replacement that aims for even bigger and better things. Admirable performers whatever you throw at them, the Bronze 100s are always fun to listen to thanks to their killer combination of bass weight and delectable highs, while the contemporary aesthetic and easy-to-drive nature will find them plenty of fans.