Merason DAC1 USB DAC Page 2
While the limited range of files the DAC1 can handle may matter to some – anyone frequenting the NativeDSD store for instance – for many it will be no limitation, and in some ways the very simplicity of this unit will be a plus-point in a still-evolving world of digital music. One can buy an all-in-one network-connected DAC, needing only to be hooked into the home Internet feed and then controlled by an app on smartphone or tablet. However, unless you buy a device with plenty of upgradability built-in, there's always that worry that the arrival of the Next Big Thing in streaming will leave you high and dry.
Smooth Talker
Opt for a dedicated DAC, connecting to it via either a (relatively) inexpensive streaming bridge such as Pro-Ject's Stream Box S2 Ultra [HFN Oct '18], a laptop running suitable software or even one of the many variations on the Raspberry Pi/Asus Tinkerboard/Intel NUC theme, and you are effectively future-proofed. And that's (almost) how I chose to test the DAC1. Admittedly I did feed it from the digital output of a couple of conventional network music players, but mainly it was used fed from one of my Mac computers, on the end of the little Pro-Ject box or via the USB output of the Intel mini-computer I use to run my Roon Core.
What was immediately apparent was that this DAC has a sound that's both best described as 'characterful' and agnostic when it comes to the way digits are delivered to it. Whether fed via S/PDIF connections or USB using a variety of forms of playback software, the DAC1 remained entirely consistent, presenting music in a way not always as hyper-detailed as some DACs can manage, but warm, rich and smooth without submerging what's being played in excessive lushness.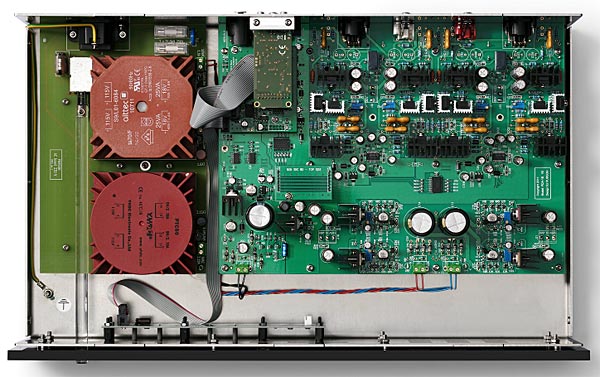 Real Delicacy
The DAC1 could be considered as the 'antidote to digital'. That said, I wouldn't describe it as sounding 'analogue', as that gets into far too many sweeping generalisations regarding the 'sound' of analogue and digital. Instead, I think 'organic' just about covers it, this DAC dispelling any thoughts of the mechanisms behind what's being heard, and instead throwing all the listener's concentration on the music. And even better, it pulls off the same trick with almost any style of music one chooses to play.
Ella Fitzgerald – The Complete Piano Duets compilation [Verve 00602508525803] is a glorious chronological survey of the singer's voice from early sessions with Ellis Larkins to her 1970s recordings with Oscar Peterson, and Merason's DAC1 affords the opportunity to revel in her glorious intonation, diction and phrasing, delivered with both force and delicacy. It's an enchanting sound, with weight in Fitzgerald's lower registers juxtaposed against a featherlight sweetness in the upper, and the effect is entirely captivating.
Hold Your Horses
Come bang up to date with the jazz and blues-infused Lake Street Dive album, Obviously [Nonesuch 075597919585; 48kHz/24-bit], and the DAC1 handles with ease another remarkable voice. In this instance it allowed the vocals of Rachael Price to soar above the beautifully judged playing of the rest of the band on the opening 'Hypotheticals', with its driving beat and tight, clean bassline, while the torchy 'Anymore' retained a wonderful glow about it.
Don't for a moment think that these compelling qualities are only reserved for deliciously recorded tracks, 'audiophile' or otherwise. All that warmth and generosity is still in evidence almost regardless of source or genre. So the DAC1 handles just as well the looser sound of Patti Smith's 2005 Royal Festival Hall take on her Horses album [from Sony/BMG 88697352452], delivering with conviction the rawness and spontaneity of the live performance. And with the murky 'wall of sound' production of Alice Cooper's Detroit Stories set [Ear Music 0215653EMU], the big, powerful bass is a delight, as is the drawl and slur of the lead vocal, showing that this DAC can rock with the best of them.

Some might want for more snarl and bite, even if that was at the cost of a brash or brittle sound, but the Merason DAC1 instead keeps its music big, grown-up and really rather magnificent. Switch to the powerful percussion of drummer Dave Smith's Live At The Vortex 11.11.17 EP [Bandcamp download] and there's no doubting the punch or definition the DAC1 can deliver with this improvised set from the London Jazz Festival.
Similarly, this combination of weight and resolution is just as apparent with large scale orchestral music, such as the beautifully light-of-touch Budapest Festival Orchestra/Iván Fischer recording of Dvorák's Suite In A major [from Channel Classics CCSSA30010] in which the full orchestral weight is deployed deftly and with precision. Indeed, whatever I played, within the 192kHz remit of the DAC1's universe, it never sounded less than passionately committed.
Hi-Fi News Verdict
The richness of the sound won't be to every taste, but it's never cloying or overplayed: instead, Merason's DAC1 backs up its smoothness with power and unforced detail to consistently appealing musical effect. True, the limited format handling may rule the DAC1 out for some – it takes a stand against digital expansionism! – but its singularity of purpose pays off in a sound as appealing as it is easy to enjoy.