McIntosh MA252 Integrated Amplifier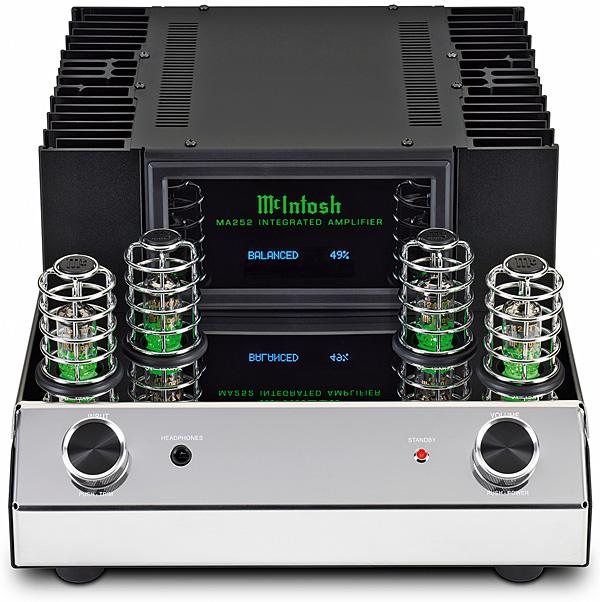 This compact high-end integrated stereo amplifier both looks and sounds special, thanks to its old-meets-new McIntosh styling and hybrid tube/transistor design
And now for something completely different. While McIntosh has been producing big valve amps for decades and, more recently, big transistor amps – including the MA9000 [HFN Sep '18] – it is arguably better known for its use of output 'Autoformers' that manage the power into different speaker loads. Yet this diminutive £4500 MA252 actually turns out to be quite different – a compact half-width integrated amplifier with a twist. It sports a vacuum tube preamplifier section, illuminated from below, making it the company's first ever valve/transistor hybrid amplifier.
The idea is to combine the potential sweetness of a tube preamplifier with the grip and grunt of a solid-stage power amp. Many enthusiasts – myself included – have experimented with this combination in the form of separate tube preamps and transistor power amps, but an integrated combination is a more convenient one-stop shop.
Keeping Sentry
It partners two 12AX7 and two 12AT7 tubes for the preamplifier stage, with a solid-state power amp section putting out a claimed 100W/8ohm and 160W/4ohm. The expensive Autoformers are conspicuous by their absence here, but the MA252 is equipped with Mac's 'Power Guard' technology, which monitors and adjusts the output in real time to prevent the power amp section from over-extending itself.
McIntosh's long-established 'Sentry Monitor' system is also fitted, a circuit that activates in case of accidental short-circuiting of speaker wires, disengaging the output stage before current exceeds safe operating levels. So the MA252 is a compact but powerful integrated that's largely foolproof in operation.
Indeed, the MA252 is an interesting package in a number of ways, as it not only brings tubes and transistors together but is a quirky mix of the old and the new stylistically, too. There's more than a nod to classic McIntosh valve amplifiers like the MC275 [HFN Feb '13], for starters. The lower section of the amplifier is polished metal with distinctive McIntosh-style knobs fitted to its angled fascia. The side sports elaborately profiled 'monogrammed' heatsinks, with the upper casework, housing the power amp and power supply, in black-finished pressed steel. Those four tubes are up-lit by bright green LEDs that may not be to everyone's taste but they're not entirely decorative – they change colour to orange during warm-up or if the Power Guard system kicks in.
There's also a large-ish blue OLED display that sits on the front of the power amp case, showing your chosen source and volume settings. Aesthetically, there is no doubt that some will find the blend of retro and modern styling elements to be rather brutal, but you certainly can't argue with how distinctive the amplifier looks and feels to operate!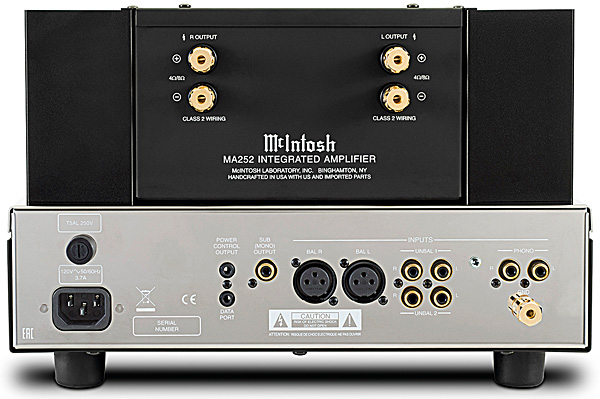 Simple Set-Up
Connect the MA252 to mains power and the red standby LED comes on; switching it on is now but a push of the right volume control knob away. This done, the 'soft' warm-up period begins and a few moments later you're ready to play music. Pressing the left control knob takes you into the menu, where you can adjust bass, treble and balance settings. Set-up options are pretty minimal because this is a simple analogue integrated amplifier, having no digital inputs, for example.
Alongside two RCA line inputs, there's one balanced XLR and a MM phono input which can all be renamed via the set-up menu. Round the back you also find
gold-plated speaker terminals and a separate subwoofer output. I found this little unit never became particularly hot in use, even when running at fairly high levels, although the chromed casework became a ready repository for dust and fingerprints.
Clear To Hear
Once the tubes and transistors are warmed through, it's clear there's much about the MA252's sound that's distinctly high-end. While not a fat or bloated-sounding amp by any means, there's a subtle, buttery smoothness to the presentation that ensures almost every style of music you care to play is a pleasure to hear. And that holds true for all inputs, including the very respectable MM phono stage.