MBL Noble Line N11/N15 Preamp & Monoblock Power Amps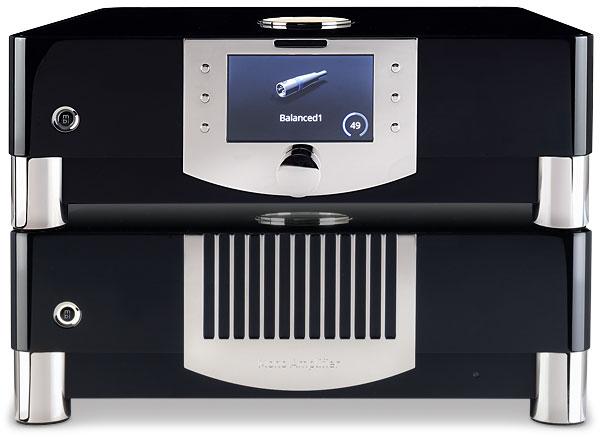 Handbuilt in Berlin, this preamp and monoblock power amp defies the industrial look, favouring instead an exquisite finish. And the sound more than lives up to the style
By any standards, the Noble series from Berlin-based MBL is a looker. The components aren't massive – in place of slabby high-end units wearing their audio prowess on their sleeve, as it were, both the £11,500 N11 preamplifier and the N15 mono power amplifiers, at £13,900 apiece, are relatively slender units. They are also immaculately finished in a choice of gloss black or white, with accents for the control elements available in either polished gold or palinux (silver), with black detailing also offered if you go for the white main colour. A shade wider than the hi-fi norm at 45cm, they stand only 15cm tall, giving them as understated a look as possible given that gold or silver ornamentation.
This Noble line also includes the £13k N21 power amp, the £14k N51 integrated amp and £12k N31 CD player/DAC, the latter combining a slot-loading transport with USB and optical/coaxial inputs (and the option of a Roon module). This ensemble of Noble products looks suitably luxurious, but it's by no means the German brand's flagship range.
MBL's Royalty
That role falls to the Reference line, headlined by the strikingly retro-looking 6010 D preamp, selling for £21,200, with options taking that up to almost £25,000 and carrying the legend 'Der Vorverstärker' (The Preamplifier) emblazoned across its tall faceplate. Its partnering components are the big 9011 amplifiers, switchable between mono and stereo, yours for £41,800 and promising up to 5kW of 'peak dynamic power'.
Like all MBL's products, the Noble series is handbuilt in-house in the company's Berlin factory. As its 'credo' says, 'That is how we are able to warrant the strictly controlled quality of our equipment. It also enables us to react to innovations with great flexibility. We exclusively use trusted high-end technology combined with solid, high-quality materials'.
Slender the N15 power amps here may be, but there's no doubt about their function. The front panel carries just a single button with the MBL Logo, and the words 'Mono Amplifier' on that feature trim, which looks like a (Rolls-Royce) grille but actually isn't – instead the convection cooling airflow is in through the base of the amp, and out via the rear panel. And it still claims an impressive specification, being rated at 560W/4ohm, with a 36A peak current. All this stems from its second-generation LASA (Linear Analogue Switching Amplifier) technology, a development of Class D operation and which is said to deliver a 'frequency response completely speaker-load independent, and low distortion that's independent of frequency'.
Power Station
To that end, rather than use a type of switchmode power supply more commonly seen with Class D designs, this monoblock has a traditional linear PSU with a large toroidal transformer double-shielded in a mu-metal housing. Fast-recovery rectifiers are also employed in the PSU while the amplifier output employs a form of soft-clipping (synonymous with NAD's amplifiers for decades) to 'massage' distortion as the N15 approaches full power.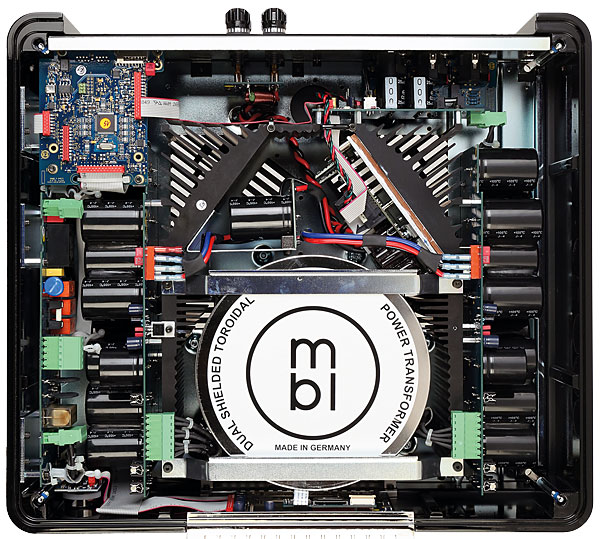 The layout is symmetrical and, in addition to two balanced inputs on XLRs – one for a preamp such as the N11, the other for a second preamp or a network player with its own volume control – there's also an XLR output to allow pairs of amplifiers to be daisy-chained for bi-amping. MBL has also opted for a double set of fellow German-brand WBT's 'vibration-damped' speaker terminals.
Completing the connectivity are MBL's SmartLink v2.0 terminals on RJ45 sockets, allowing control and information exchange between the components, along with an SD card slot for software updates.
Matching facilities are found on the N11 preamp, which is an all-analogue design principally controlled via a large colour display with six 'smart keys', these changing their function according to the mode being accessed. It's not a touchscreen, even though the expectation these days is for large displays to offer such functionality, but it does have a proximity sensor. This detects your hand approaching and switches the display from playback mode, showing volume and the input selected, to control mode, in which the functions of the 'soft keys' are indicated. The illuminated MBL logo on the preamp's top panel doubles as a brightness control for both itself and the display: when turned right off, the display will 'wake up' when that proximity sensor detects you drawing near.
Cartful Of Cleverness
Alternatively, you can control the N11 preamp – and a connected MBL digital player – with the stylish disc-shaped remote. This has a minimal button layout (including a customisable 'option' key) while volume adjustment is achieved via an outer ring that's beautifully smooth and fluid in its operation. If that 'all-analogue' description has you expecting nothing more of the preamp other than input switching and a volume, the N11 still has some surprises up its sleeve.
As standard this MBL preamp has seven inputs – five on RCAs and two on XLRs – the latter prioritised for optimum sound quality, but it's possible to specify it with either a phono input or an additional XLR pair. One of the inputs also offers a bypass option for use with an AV processor. The outputs are equally flexible with a total of five sets configured in two groups, one with two pairs of RCAs, plus one of XLRs, the other one pair of each. Also provided are fixed-level RCA and balanced outputs.