Matrix Audio Element X2 Network-Attached DAC

Matrix Audio's Element X2 introduces design, control and input upgrades to the X's network DAC/headphone amp and preamp. All this and a colour touchscreen to boot
At first glance, one might wonder why Matrix Audio felt any need to update its Element X network DAC [HFN Jan '21], the latter receiving our 'Outstanding Product' tag at £2795. However, look at this new X2 model and – while it's still conceptually the same, with a broad retention of technology from the ESS ES9038PRO DAC to the Crystek clock – it's clear much has also changed.
Not least among the alterations is the price, which is now £4399, a sign of the times as much as the improvements made, given spiralling costs across the globe, the effects of component shortages and so on. The new model is part of a '2' range uplift to the Chinese company's streamer/network player lineup, which kicks off with the I2 entry-level model at £1580, and with this flagship Element X2 sitting above the midrange M2 at £3000.
Dynamo Hub
All three newcomers share the same sharp styling, in nicely-finished aluminium casework, but it's the slimline Element X2, standing just 34cm wide and a smidge less than 6cm tall, that can slip as easily onto a desktop as a main hi-fi system rack. Yes, like the original Element X, the new model has both RCA and XLR outputs switchable between fixed and variable level, these adding to a range of inputs – both digital and analogue – to make this not just a streaming DAC/network player, but also a system hub with preamplifier capabilities.
While there's been some rethinking of priorities, for example a USB-C input instead of the old model's pair of USB-A hub ports, and the deletion of the front-panel XLR headphone output (though there are still 4.4mm Pentaconn balanced and standard 6.3mm unbalanced sockets for headphone listening), this remains an exceptionally flexible digital product. And one designed to perform, with separate audio and processor/streaming sections, each with its own power supply, and isolation between them via optocouplers, to break any circulating interference.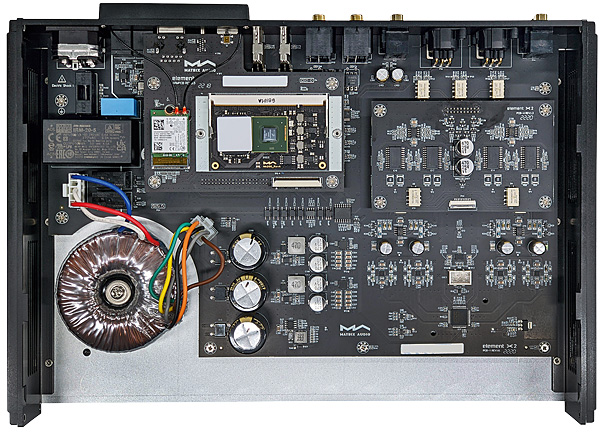 It's more of a looker, too, setting aside the functional styling of the original for something looking much more at home in a domestic environment. That solid, sleek casework helps, backed up by the substantial mass of the unit, 4kg paying testimony to the quality of the build. Also playing its part is the touch-control colour display panel set into the centre of the fascia, which is a major leap forward from the rather prosaic text readout of the older model. This shows playback and volume information as well as album art, the 3.4in colour LCD's touch functionality allowing you to swipe left and right to access its comprehensive menu.
The Element X2 also comes with an improved remote-control handset, with increased functions and a clear, logical layout. Even more fortunately, it is fully compatible with the company's excellent MA Remote app, available for your favourite smartphone.
Neat Touch
There's a high level of integration between hardware and app, starting with their 'pairing' – go into the X2's network settings and the display will show a QR code, which you scan with your phone's camera to link the two – a neat touch.
Not everything is so automated – firmware updates need to be instigated manually for example – but more of a hassle, for me at least, was the time taken for the Element X2 to index my network music. Agreed, my library is massive, but I'm not aware of any product that took quite as long, and it was something of a pain that this process can't run in the background, allowing the user to listen to the radio, or one of the other inputs, while waiting. But we got there in the end.
As an aside, this unit really does need a more comprehensive manual, but then that's a criticism one could level at a number of products these days. I get the whole bit about not shipping heavy books around the world with components, so was heartened when I spotted a 'user manual' link in the MA Remote app, only to have my hopes dashed when all that popped up was an onscreen version of the rather thin leaflet provided in the box. Am I alone in wishing for comprehensive reference manuals with products so complex, even if only in online form? I'd like to think not…
Genius Bar
As a result, it took some time to explore all the listening options on offer here. As well as a single set of RCA analogue inputs, there's a good choice of digital connections including optical and coaxial, I2S LVDS on an HDMI-type connector, a real HDMI with ARC capability for TV sound, USB-B for the connection of a computer and that aforementioned USB-C for external storage devices. Gigabit Ethernet is now standard for wired network connection, and there's a neatly integrated Wi-Fi antenna in the form of a bar mounted on the rear panel – much tidier than those ubiquitous rubber stub antennae sticking up from behind the unit.