MartinLogan Motion XT F200 Loudspeaker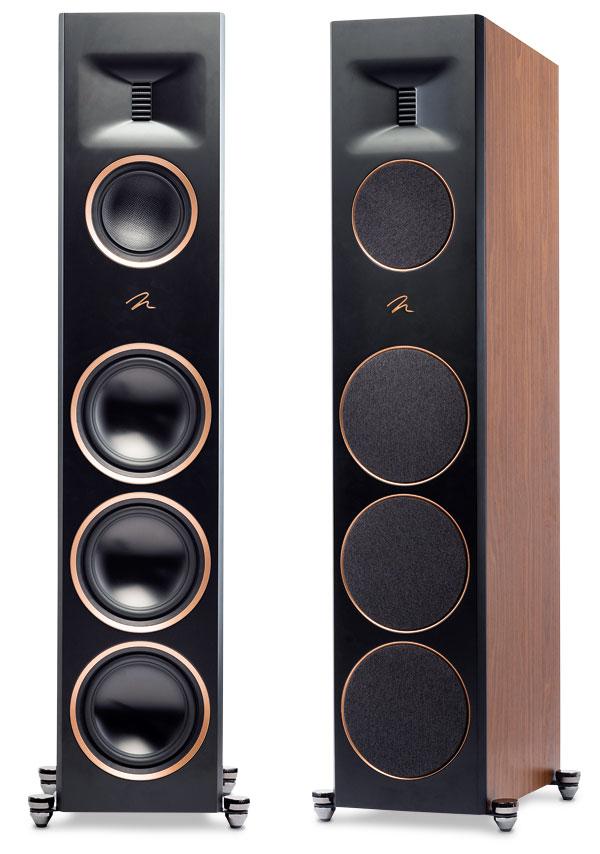 American marque's flagship Motion tower is a three-way that showcases driver upgrades and a bold new aesthetic
Although MartinLogan is known for its electrostatic loudspeakers, culminating in the flagship Neolith [HFN Jul '16], and 'static/moving-coil hybrids [HFN Jan '17, Feb '18 & Nov '21], the Kansas-based brand has, since 2003, ploughed another furrow with conventional cabinet models targeted at a wider audience. And since 2010, MartinLogan's Motion range, now headed by the Motion XT F200 reviewed here, has employed a tweeter technology the company says offers 'electrostatic-like high frequency detail'. There's a strong suggestion that the move from specialist brand to mass-market competitor hasn't extinguished ML's raison d'etre.
This technology takes form in the Obsidian 'Folded Motion Tweeter' (FMT), now in second-generation guise for a 'completely reimagined' lineup of speakers split into two tiers. At the top are four Motion XT models: the £6495 F200 and smaller F100 (£5495) floorstanders, the B100 bookshelf/standmount (£1895) and the C100 centre channel (£1795) for home theatre systems. There are then five more affordable (non-XT) Motion speakers that share some of the same cabinet and driver technologies, not to mention the distinctive aesthetic style, but are equipped with a smaller FMT driver.
Show Time
The F200 is not a speaker for those who want to keep their hi-fi discreet. While the cabinet width is not extravagant at 26cm (excluding feet), the depth of 38.1cm and 1.29m height (plus the enclosure's 39kg bulk) will see it dominate a mid-sized room. Furthermore, on the walnut finish of our review sample, the contrast between the black baffle and the cabinet sides and angled top, plus the copper-coloured metal trim around four of the speaker's five drivers, is striking. Gloss black and satin white options are a little less ostentatious.

The drivers are equally bespoke. MartinLogan's in-house FMT unit works out of a matching waveguide that, it says, is the result of an engineering process that went through close to 50 iterations before the desired dispersion characteristics – and midband integration – were reached. Below it is a 165mm 'unibody cone' midrange driver, made from Nomex-reinforced Kevlar (rather than the woven fibreglass of the step-down Motion speakers), which backs into its own sealed chamber. And below this is the F200's main event – a trio of 203mm aluminium-coned bass drivers.
Port Scanner
These newly designed drivers are port tuned, but don't look around the back of the F200 expecting to see one – all you'll find is a twin set of high-quality five-way binding posts joined by a removable jumper bar to support bi-amping/bi-wiring. Instead, in order to make this large cabinet that little bit easier to install, MartinLogan has used a down-firing system (dubbed Cannon Port) that vents via twin apertures from the speaker's base. The necessary breathing room is provided by the F200's vibration-damping outrigger feet, which can be manually adjusted for levelling via a twist of a knurled knob.
MartinLogan's recommendations when it comes to placement (below a suggestion to run them in at a 'moderate listening level' of 90dB SPL…) are for the cabinets to be toed-in toward the listening position, with a clearance of ~60cm from rear and side walls. Once situated, you'll likely find the FMT tweeter is a little higher than your ear level, and notice that the bottom bass driver is unusually close to the floor. PM's lab report explores the off-axis response of the tweeter, while MartinLogan explains the low-slung bass driver, and its proprietary 'McCracken-Vojtko' crossover, are crafted to deliver something it calls 'floor bounce compensation… taking advantage of a constant [the boundaries] found in all listening rooms'.
With a price tag not too far removed from that of the Motion XT F100, which swaps the 203mm bass drivers for 165mm units and slims the cabinet down, the F200 appears to offer considerable value for money. Reinforcing that impression is the superb build quality and attention to detail on show, from the tool-less feet mechanism to the individual grilles that are supplied for the bass and mid drivers, which lock reassuringly into place without spoiling the speaker's modern styling.
Big Dipper
Although the F200's bass driver triplet means it needs its own space, it seemed less particular about positioning than the ElectroMotion ESL X [HFN Nov '21], a speaker whose finely etched image could by muddied by nudging the cabinet a centimetre or two. The sound here is big and broad, and where it concedes ground to its electrostatically-charged sibling in terms of transparency and top-end smoothness, it compensates with bass extension and energy. This is as it should be, the two speakers catering to different tastes – the F200 a little less haute cuisine.