Luxman D-N150/SQ-N150 CD Player/Amplifier Page 2
Let's deal right away with an issue which I absolutely refuse to allow to detract from the brilliance of the SQ-N150. While this amp will never burst your eardrums, unless you happen to own, say, 1920s Western Electric cinema horns, I actually found myself turning the volume down on occasion, especially with the surprisingly sensitive Tannoys. Admittedly, I am certainly no headbanger and avoid those who think 115dB at 2m is normal, but suffice it to say, our cat, Mr G, was not amused by the surfeit of decibels.

What proved to me how satisfying the pair could be was The Wonders' CD single, 'That Thing You Do' [Play-Tone 664055-2]. This tune just happens to be the greatest Beatles pastiche ever created, even better than The Knickerbockers' 'Lies' or The Rutles canon, and it opens with pounding drums where you can actually hear the skins stretch. With a combination that, on paper, militates against the reproduction of scale, power and weight, I sat there transfixed by the sheer, palpable mass of the playback. Holy cow, I thought, wondering from where came the bass.
Edgy guitars, aggressive, hard-rocking vocals – both the JBL and Tannoy speakers conveyed the necessary room-filling presence which 1) defied their 'mini' design parameters, 2) demonstrated how much more truly satisfying they are than their dimensions suggest and 3) showed how the SQ-N150 cannot be judged by its 10W rating. I must repeat that this is not the amplifier to threaten your WAMMs or Muons with immolation, but by gum, the levels yielded by the Autograph Mini speakers defied belief.
While I was more concerned with CD playback during the listening than the other options offered – the digital inputs were clean yet surprisingly warm, especially pleasing with high-res files via USB – the big shock was the phono stage.
High Flyer
Arriving at the same time for review as the Luxman pairing was the Koetsu Urushi Vermillion cartridge so I couldn't resist feeding it into the SQ-N150's MC stage. Amusingly, this pick-up costs only a grand shy of the entire Luxman duo. My day was made: the results were not just good, but superlative. Playing the soul/funk instrumental album, Eddy Senay's Step By Step [Modern Harmonic/Sundazed MH-8088], the Luxman/Tannoy combination sacrificed little other than absolute bass extension and ultimate snap.
Feeding the D-N150 into my main system, it proved to be a player, which, if purchased on its own, is worthy of a true high-end system, regardless of price. The D-N150 was not humbled by Audio Research electronics nor Wilson Sasha DAW loudspeakers [HFN Mar '19].
Back to CDs via the Luxman amp, I dug out Lou Rawls' At Last [Blue Note CDP 7 91937 2] and Keb' Mo's Peace… Back By Popular Demand [Okeh/Epic EK92687]. In both cases, the vocals were the elements elected to reveal the most, the SQ-N150 proving to possess a neutral midband and an openness that actually kept drawing my attention away from the singers. Like I said, it was a case of surprises.
Golden Keys
With the Rawls tracks, for example, the sound of the piano was so right, so rich, so perfectly dimensioned that I had to refocus my listening to concentrate on Dianne Reeves' responses. Remember: all of this took place through two different mini-speakers of LS3/5a dimensions. And yet at no time was there any sense of dissatisfaction, of something 'missing' – provided one listens with a sense of context. I reiterate: this is a tiny system – a straight-four, not a V-8.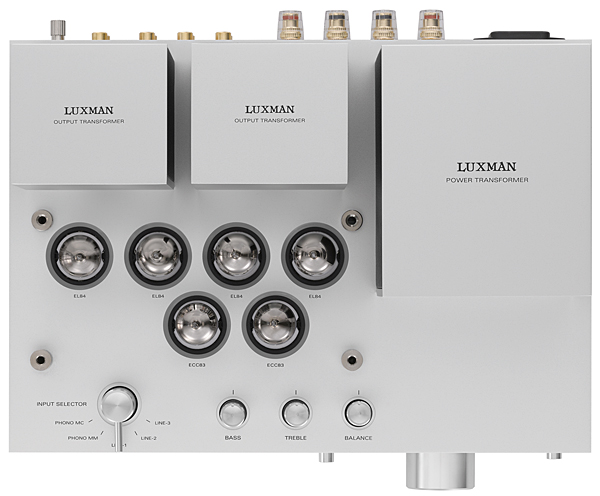 On the tracks from the Keb' Mo set that showcase solo piano, the Luxman duo demonstrated delicacy and finesse to equal their openness and transparency, qualities which play no small part in convincing you it's a much bigger system. Indeed, retailers should demonstrate the Luxman pair with the customers blindfolded. I promise you: nobody will leave unimpressed.
This year has afforded me the privilege of hearing cost-no-object wares made with no concessions to physical size. I've been spoiled by products from Audeze, TechDAS, MSB, Continuum, Air-Tight, Wilson and others, and many of them have been among the best products I've ever experienced. What I never expected was that the products I would most regret returning to the maker would be a 10W amplifier and a CD player the size a stack of a year's worth of HFN.
Yes, the Luxman D-N150 and SQ-N150 are that good. What's more, they're an answer to your prayers if you have either a small room or no penchant for screaming levels. Or both.
Hi-Fi News Verdict
Here is a set-up in which the limitations – the wattage – must be judged in context. This pair will only satisfy as a main system with 95dB+ horn speakers, and is best regarded as a peerless secondary system, or where space is an overriding issue and listening levels are sane. In such a setting, it is thus free of sonic compromise. If I had a spare £5500, this duo wouldn't be going back to Luxman!