Lumin D2 Music Server/DAC Page 2
I know about saving shipping weight and trees and all that, but there are times when a comprehensive manual wouldn't go amiss, for the D2 may be simple on one level, but so much of what it does is hidden away in menus some users may never find.
If, like me, you have a huge stored music collection then you may find the D2 chugs away indexing all the music on your server before it is ready to play, showing 'Analyzing' and a spinning wheel. I suspect it's only a one-time set-up condition but, even after that, when I could start playing some music, it was still spinning and adding albums. It also seemed somewhat ill at ease with the Asset UPnP software on my server, and worked much better with the MinimServer package I run as an alternative. Again, this isn't unknown with players like this, but it confirms my suspicion that UPnP isn't quite as universal as some would have us believe.
By the way, for those who bridle at the thought of a switchmode PSU in an audio product, it's possible to use a third-party kit to attach an external linear supply, such as the Sbooster sold in the UK by Signature Audio Systems. Sbooster makes a kit to adapt the D2 for use with its BOTW P&P ECO 12-13V MKII power supply, and has step by step instructions, but of course this will involve disassembling the D2 and some internal reconfiguration, which is perhaps not consistent with the D2's ease of installation (or hardware guarantee!).
Real Punch
Unsurprisingly, given its balanced design, the D2 sounds best when connected up using its XLR outputs, but even via its unbalanced RCAs it rapidly reveals itself to be a very capable network player, whether with upscaled CDs, hi-res PCM files or those full-fat double-DSD releases. This isn't the most overtly detailed or upfront network player you can buy, but it has a fine sound, with warmth and generosity combined with sweetness in the treble and an entirely natural-sounding midband, making it easy to enjoy and extremely involving, whatever one chooses to play.
There's nothing over-lush or soft about this player, as is clear with rhythm-driven music such as the Victor Wainright And The Train set [Ruf Records RUF1254; 96kHz/24-bit]. The D2 powers the bass and drums along with real punch, while also rendering the instrumental and vocal lines with a wide-open sense of timbre and texture. But most of all, it's a real riot of a listen, of the kind that finds the volume control inching up inexorably.
Jaw Dropping
That's what the Lumin D2 does so well, and what's especially impressive given the price. In common with some of the higher-end network players, it goes further than just delivering a recording, instead getting the listener into the heart of the music. That's readily apparent with the intimacy of David Elias's Crossing album [David Elias Music; DSD64], which is a typically simply-miked, 'straight to recorder' set, here presented with all its vitality and spontaneity intact. If you want the impression of real live musicians plonked in the room in front of you, the D2 delivers.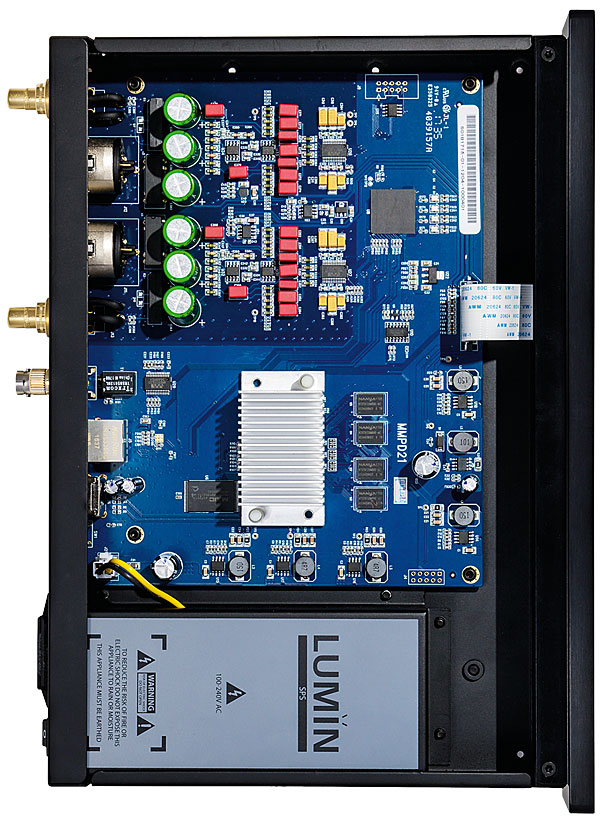 And the same applies to The L.A. Network's Ella On Our Mind album [2xHD 2XHDRE-T1168; DSD128], recorded directly to Nagra hardware with no EQ or compression, then transferred to DSD using custom electronics. Here the Lumin D2 brings out all the atmosphere and ambience of the studio, and really shines with the voices, especially the luminous tone of Aubrey Logan.
So it goes with anything it plays – Alison Krauss and Union Station's Live album [Rounder SARR 515; DSD64] has that real 'in the audience' sense via the Lumin D2, with both the singer's gorgeous voice and her accompanying musicians rendered with bags of emotion and expression. And boy, does Krauss do emotion, with her vocals here frequently jaw-dropping, helped – as if they needed it – by the D2's unforced and totally natural presentation of the music.
But in case you were thinking this player was all about delicate voices and minimal recordings, play the '1941 March' from the Jerry Junkin/Dallas Wind Symphony on John Williams At The Movies [Reference Recordings RR142SACD; DSD64], and you'll hear just how well the Lumin D2 lets the track build from almost inaudible woodwind all the way through to full band and drums bombasts, while at the same time keeping the rhythms tight and crisp.
Rhythms are also to the fore in the Philip Glass score for the opera-ballet The Witches Of Venice [Orange Mountain Music 0031], and the clarity of the Lumin D2 enables it to keep the various instrumental and vocal lines easy to follow, while delivering fine low-end extension of the synths to room-filling effect.
Hi-Fi News Verdict
Good things, small packages – you get the idea: while the D2 may be compact, lightweight and unassuming (albeit in a very classy manner), the sound it delivers is big, rich and dramatic when required, then at the next turn refined and intimate. If you're not swayed by equipment-rack swagger, just want good sound at a very sensible price and can spend some time navigating its flexible app, this is a fine buy.