Lindemann Musicbook Source & Power 1000 Network DAC/Pre and Power Amp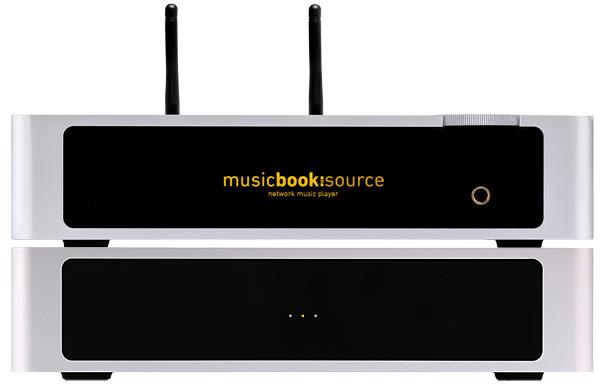 With multiple inputs, streaming functionality and plenty of power, this elegant and compact system promises consummate convenience and super sound. Does it deliver?
Since 1993, Lindemann has been making distinctive products, all with an accent on design and technology. Although the company has also sold loudspeakers in its 27-year history, electronics have formed the staple of the product portfolio – and it has shown a particular interest in digital technology. The D680 of 2001, for example, was the first German SACD player, while the original Musicbook was an early example of a highly advanced streaming front-end [HFN Jun '14]. Lindemann's thinking has been eerily prescient, as other brands have since scrambled to get similarly elegant so-called 'style systems' into their ranges…
Now in 2020, the latest £3250 Musicbook Source is offered alongside the £3000 Musicbook Power 1000 and £2000 Musicbook Power 500 power amps. This review focuses on the first two products, forming a highly versatile streaming/DAC/preamplifier and power amplifier combination for £6250. Indeed it's one of the most flexible options at or around its price, and beautifully built too – the quality of the casework is absolutely top tier and the yellow OLED display is super-crisp.
Well Connected
The Musicbook Source sports one Asahi Kasei AK4493 stereo DAC per channel, working off the optical/coaxial S/PDIF, USB-A and network (including Bluetooth) digital inputs. The latter connects via the wired Ethernet port, or wirelessly using the two mini antennae supplied. There's also the ability to plug in an Apple USB SuperDrive CD-drive, which is a cheap and elegant way to add CD playing capability at £79 (from Apple). In addition to its network streaming functions and dedicated headphone amp, the Source is also a fully-fledged preamp offering three line inputs, one of which may be replaced by an MM phono option. The line outputs also include balanced XLRs.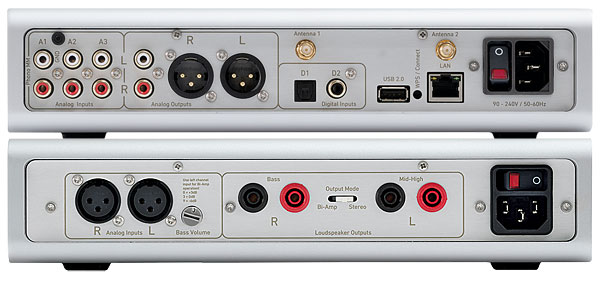 The matching Musicbook Power 1000 power amp sports Hypex's Ncore NC502MP Class D module, which in this guise offers a claimed 2x250W/8ohm and 2x500W/4ohm. I connected it via balanced XLR cables, with the rear toggle switch set to 'Stereo' mode. Confusingly, perhaps, there's also a 'Bi-Amp' mode for those wishing to run twin Power 1000s. No crossovers are built in, but there's a variable gain control to adjust the output level of what is notionally the right channel – if this 'channel' drives the bass arm of a split crossover then it can be used to tweak the loudspeaker's low frequency output.
Work In Progress
The system is controlled by a 'jog wheel' selector mounted to the upper right of the Musicbook Source's fascia, which also functions as a volume control and mute button, depending on the combination of down-clicks and turns – you click/rotate for input selection and menu navigation, or rotate only for volume. It's pretty intuitive to use, but the downside is that it's not possible to fully manage the inputs and facilities this way. Lindemann once offered an IR remote control, but this is now replaced by an iOS/Android app in order to fully configure and drive the Musicbook Source.
If you dive into the Google Play Store or Apple Appstore, then avoid the Lindemann app called 'Musicbook' because this doesn't work with the current version of the Source – instead you should download the Lindemann app with the bass clef icon. At the time of writing there was also an issue with the Android version of the app not reliably 'seeing' the Musicbook Source on the network. Fortunately, the iOS version of the app seemed to work just fine on any number of Apple iDevices.
Via my Apple iPad, the iOS version of the app proved more stable than many I have tried; it didn't freeze or fall off the network, and offers a wide range of features. Most folk will use it for remote control of the input selection – switching between analogue and network inputs – volume control and working the streamer. I connected a Western Digital uPnP NAS drive with no problems, but streaming fans will be happy to know that you can also set up your own Tidal, Deezer, Qobuz and Highresaudio accounts in the app, if you have them – and there's also both podcast and radio functionality.
Big Sound Authority
There are plenty of good looking compact systems around, but not so many that I've been comfortable listening to over a protracted period of time. Happily the Lindemann's Musicbook Source/Power 1000 combination succeeds by serving up an enjoyable and engaging musical performance. It might not match up to some conventional – less attractive and more bulky – hi-fi separates, but still proves genuinely satisfying to listen to. Essentially, it is clean, detailed and articulate – with a good deal of drive and power, too.