Koetsu Coralstone Cartridge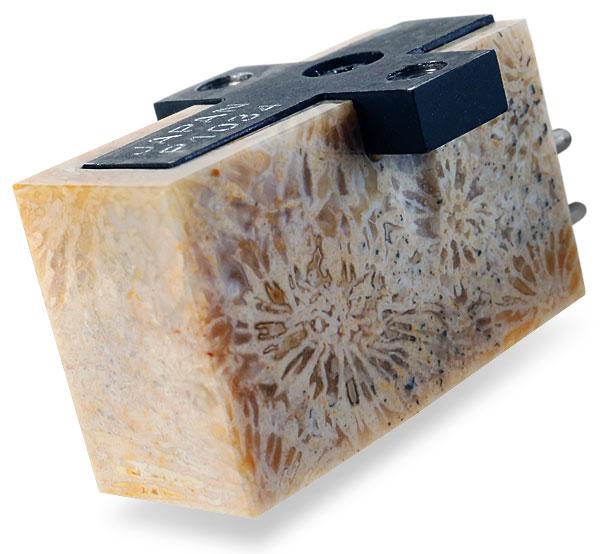 While unmistakably a 'Koetsu', this Coral stone-cloaked MC demonstrates that every one of the brand's mineral/stone-bodied pick-ups brings its own personality to the party
At the high-end of the hi-fi industry, there are companies that, while well-known to the audiophile cognoscenti, still remain something of an enigma. Japanese cartridge brand Koetsu fits that description – its name is often uttered in hushed, reverential tones, but if you're hoping for a quick Google to unleash a thorough technical insight into its products, as you might for Audio-Technica or Ortofon, then you're in for a disappointment. The £8498 Coralstone moving-coil tested here is one of Koetsu's top models, but flies in under the radar with minimal fanfare.
Still, part of the allure of Koetsu's pick-ups is their sense of mystery (I have heard it said that some choose their model through almost spiritual means, rather than poring over datasheets and specifications). The company offers quite a few designs that, at first sight, appear remarkably similar. Indeed, various dealer and distributor websites across the world even seem to disagree on which models are available, and there is no official company website to clarify things. The US website, from MoFi Distribution, states that the Coralstone model was 'retired' in 2022, although Koetsu's UK distributor Absolute Sounds assures us that this is not the case.
Material World
What is certain is that, in the UK at least, there are three basic Koetsu ranges. The Classic Series is the entry point, comprising the Black Goldline, Red T and Red K Signature [HFN Oct '09]. Next comes the Urushi Series [HFN Jul '13 and Nov '19] with six models all based around rosewood bodies, but with different types and finishes of Urushi lacquer. At the top of the tree is the Platinum Series, featuring the Signature Pro IV, Onyx [HFN Nov '17], Bloodstone, Burma Jade Green, Azule, Rhodonite, Tiger Eye and Blue Lace Agate models, as well as the Coralstone. All these distinctive materials will bring their own influence to bear on the appearance, bodyweight and 'sound' of the MC.
Koetsu's Platinum series cartridges are distinguished by their use of a cobalt-platinum alloy magnet, in contrast to the cobalt-samarium type of the company's 'lesser' models. Cobalt-platinum is one of the most powerful permanent magnet materials available, yet is easy to fabricate, and its main applications are in miniaturised circuits where a high flux is required in a limited space, thus making it perfect for use in a cartridge.
The rest of the business end of the Coralstone comprises coils wound from almost 100% pure copper but with an outer plating of silver. The boron cantilever supports a line-contact stylus profile but, as with all the Platinum models, the Coralstone can be supplied with a diamond cantilever and stylus for a £3888 premium. We've not seen or heard one of these upgrades on a Koetsu, but a diamond cantilever can exert a fundamental influence on every aspect of a cartridge's performance [HFN Dec '22].
Fine Finish
The cartridge's body is made from coral stone, which is largely calcium carbonate and often used as an architectural/construction material. The finish of this MC pick-up is exquisite – colourful and detailed, and the closest thing to a piece of jewellery on the end of my tonearm I have ever seen. The body's square shape and captive nuts make fitment a doddle, but the cartridge rides low and the cantilever is difficult to see in use, which makes cueing challenging. In addition, the Coralstone's connection pins are not colour-coded so you might need a magnifying glass handy during installation. For reference: positives are at the top, negatives at the bottom and the left channel is on the right as viewed from the rear.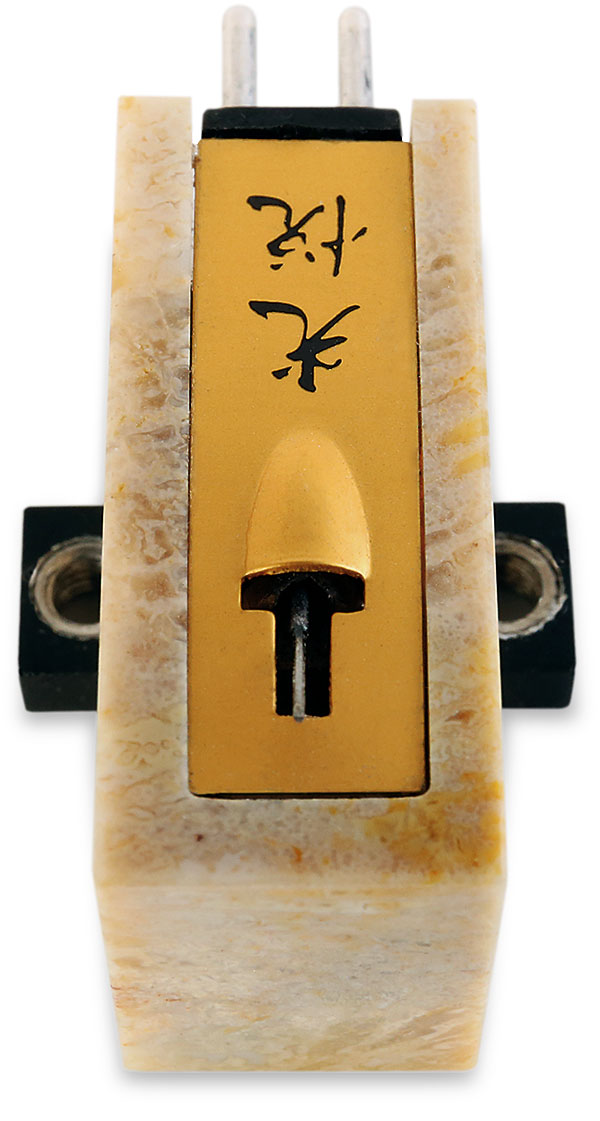 Normally, I would suggest consulting the manual for this sort of information. However, while the Coralstone is supplied in a neat wooden box, this contains the cartridge and nothing else. No manual, no specifications, no frequency response graphs and no screwdriver, stylus brush or mounting hardware.
One thing that is provided for the cartridge is its recommended tracking force, which is 1.8-2.0g. With the Coralstone installed into the SME V on my Michell Gyro SE turntable, I found it performed best at the upper end of this range and so settled on 2.0g. Any lower and there was an occasional sense of insecurity at the top-end when faced with tougher grooves. Specified output level is 0.3mV and Koetsu recommends a load of 30ohm, but some experimentation might be worthwhile here depending on the facilities offered by your phono preamp.
The Way To Go
This review turned out to be something of a trip down memory lane as my first 'Koetsu experience' was a Red Signature in an SME V arm that I selflessly volunteered to babysit for a friend while he was away on holiday. The difference between this and the Audio-Technica AT-1130/AT-OC9MLII [HFN Jul '09] that I was using at the time was a revelation and, from the first bars of music played via the Coralstone, I was back in that very happy place once more.