Klipsch Klipschorn AK6 Loudspeaker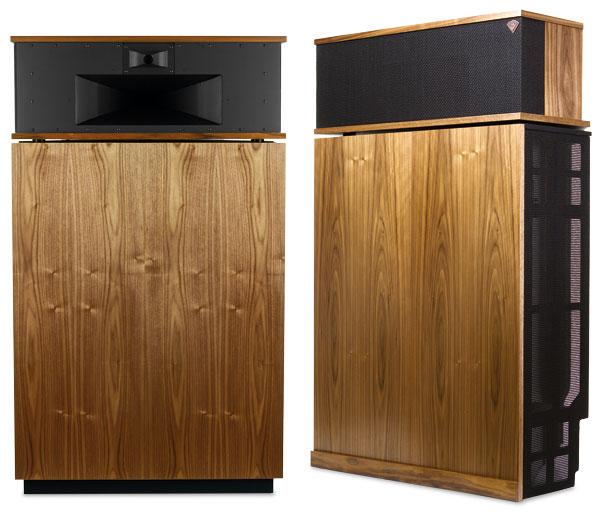 From crude prototype in 1938 to its initial production run in 1947, the Klipschorn was founder Paul W Klipsch's 'cornerstone' horn loudspeaker. How does it fare today?
Viewed from a modern perspective, there's more than an element of 'forget everything you know' about the latest incarnation of the Klipsch Klipschorn AK6, a classic now heading for its 80th birthday. It was designed in 1946 from earlier prototypes by company founder Paul W Klipsch – officially described by the US brand as 'genius, madman and maverick' – in an Arkansas tin shed, and it's been continuously made and refined ever since.
It is genuinely massive, standing 1.3m tall and 80cm wide as a two-part assembly coming in at 100kg a speaker. Then you have to ignore all you thought you understood about setup and positioning: these £21,999/pair speakers, recently 'repositioned' down from £22,599, are so sensitive at what the company calls 'an unbelievable 105dB/1W/1m'that they can be driven by the most emaciated of amps. And that old thing about keeping your speakers away from rear walls, side walls and especially corners? Forget it – the Klipschorn was originally designed to be used in-corner.
Two's Company
Available in a choice of three real-wood finishes – black, cherry and walnut – this is the flagship of Klipsch's Heritage range. The maker says each pair is grain-matched, using 'wood veneer panels that come from the same timber' and cabinets carefully matched 'so that each speaker in the pair is practically identical to the other'. Practically, perhaps, but the grain patterning still sat slightly higher on one of the pair sent for review here. And, symmetrical or not, the Klipschorns dominate your eyeline in a way that today's slender, multi-bass-driver columns do not...
The AK6 is delivered in two parts – a massive bass 'bin' and a no less substantial 'head' containing the midrange and treble horns – which helps with the process of hefting them into place. Once assembled the speakers are brutally retro, so no wonder they're proving popular in hipster commercial applications, from coffee shops to clubs. For the domestic market, they still have a following among those brought up with family Klipschorns over the past decades, as well as those fully signed up to the hi-fi niche of 'single-digit-output valve amps and super-efficient speakers'.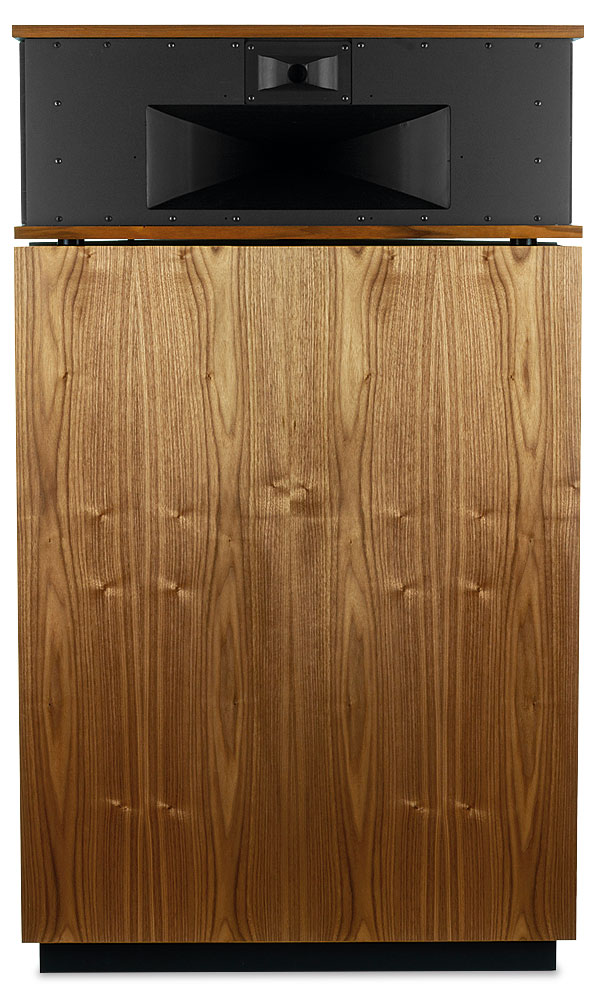 Still handmade in Arkansas – it's hard to imagine how the construction of the speakers, with extensive use of birch ply, could be done any other way – the Klipschorn AK6 might look and operate like the 1946 original, but much has been improved within. The treble section uses an all-new 1in/25.4mm tweeter with a polyamide diaphragm, driven by a 'motor' with neodymium magnet and copper-clad aluminium voice coil. This is coupled to a 90ox40° Tractrix horn, while the midrange is handled by a 2in/5.08cm compression driver with a phenolic diaphragm, combined with a high-efficiency exponential horn. These two drivers can be hidden by a silver metallic grille or left on show, depending how macho you want your AK6s to look.
Meanwhile, the Klipschorn's bass is delivered by a 15in/38.1cm fibre-composite cone driver working into a 'trihedral exponential folded horn', this arrangement being one of the major changes in this latest version. Klipsch's redesign means the speaker no longer needs to be rammed tight into a corner to give of its best, but merely close to a corner, and this allows a little more flexibility when it comes to toeing in the speakers to enhance their stereo imaging.
The cabinet is slightly elevated on wooden feet (no modern spikes here!), with cable management channels to allow your wires to run up out of sight to the input terminals on the 'inner' side of the enclosures. These provide connections for bi-wiring/bi-amping with links for single-wiring, behind which are exposed, colour-coded cables running to each section of the speaker, all internal wiring using AudioQuest's Type 4 speaker cable.
The Good Ol' Days
The AK6 is far from the largest speaker to have graced PM's listening room, but few have had such visual impact, the lack of apparent bass driver, gaping horn-mouths and unusual positioning ensuring they look like no other. However, one must bear in mind these are part of historical hi-fi folklore, so while they're mighty impressive in what they do, they do it in a decidedly vintage style, rather than challenging current designs head-on.