KEF LS50 Meta Loudspeaker Page 2
Most of the heavy listening was with open-reel tapes but vinyl and CD were used, too, and I avoided pairing these loudspeakers with crazily-priced high-end ancillaries as I do not expect anyone to spend £50k on a record deck and listen to it through a pair of speakers at £999. Those days of unbalanced stupidity in funds allocation are over. However, as I found, the LS50 Metas are so good that they will end up not just with £500-£1000 integrated amplifiers but with far more ambitious powerhouses because they will rise to the occasion.
Hungry For Power
My main set-up consisted of the Technics RS1500 tape deck fed directly into a Bob Carver Crimson 275 power amp, as well as bouts with a PMC Cor integrated amplifier and an EAT E-Glo i Integrated [HFN Oct '20]. Vinyl playback was via an EAT B-Sharp deck [HFN Jul '20] with Jo No5 cartridge [HFN Dec '18] with the EAR-Yoshino 834P phono stage [HFN Jun '94] and CDs through the Marantz CD12/DA12. Wires came from YTER and Max Townshend. Note, however, that whatever you expect for sensitivity in a sub-£1000 speaker, the LS50 Meta, like its predecessor, is power-hungry. This will not be happy with a 30W/ch integrated.
Spending a week to 're-learn' the original LS50's sound proved crucial. I had grown accustomed to the surprising amounts of bass, the wide and deep soundstage, and a not-unpleasant 'bloom' to the sound that gave an illusion of added weight or warmth. They certainly do not sound like speakers measuring only 302x200x280mm (hwd) and with essentially a 5.25in woofer. It accounts for the loudspeaker's success if the best selling-point a small speaker can have is that it sounds huge.
Of course, KEF retained all of the LS50's virtues in making the transition to LS50 Meta, and the initial exposure to the latter is one of familiarity mixed with surprise. It's like seeing a friend for the first time after a few years have passed, who, in the interim, lost a stone or spent time in a gym. Recognition is compounded with puzzlement; in this case, it was all positive, and I wisely chose my definitive bass-with-cool-vocals tester to start the proceedings.
Utterly Unexpected
Though I do not claim to understand how sounds are chosen to be sampled by hip-hop producers and engineers, surely Levon Helm's drumming on 'Up On Cripple Creek' on The Band's eponymous second LP from 1969 [Mobile Fidelity MFSL 1-419] deserves to be ripped off by any musicians who want to inject so much funk into their tracks that the beat becomes irresistible. Abetted by Rick Danko's equally commanding bass playing, the track never fails to excite any listener eager to extract every single millisecond of joy. The original LS50 delivered enough of that to tell its audience that this was a recording of peerless worth on every level.
What swapping to the LS50 Meta yielded was utterly unexpected. Keep in mind I remained unsure of what to anticipate, even after reading PM's and KEF's material. Within no more than ten seconds, I had identified a drier, more open upper-bass and airier percussion across the spectrum, a trace more realism in the vocals and something even harder to comprehend, for there was no loss of the warm, ear-cosseting bloom that made the original LS50 undeniably more-ish.
Killer Test
So convincing is the LS50 Meta that I found myself cranking up the volume to levels well above my comfort zone to find that it can fill a room far beyond any expectancy associated with size. Because the bottom octaves of 'Up On Cripple Creek' drive the track as much as anything else, turning up the levels increased the realism. And here I detected another unexpected gain when the decibels increased: the LS50 Meta appears to recreate greater image height than the LS50.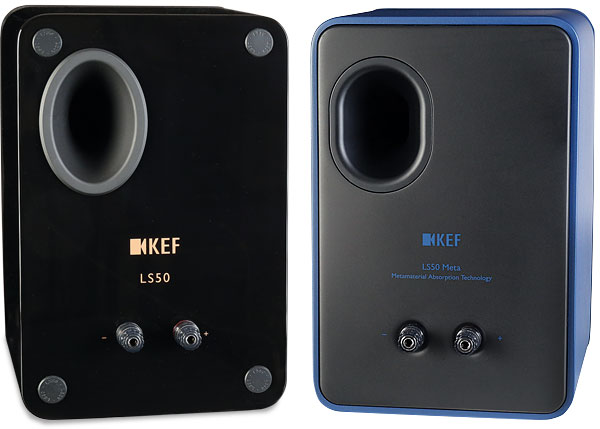 Whether or not that's an illusion, what sold me on the LS50 Meta even more was the curious behaviour from the upper midband through to the top end. Although the track is nauseatingly twee and I would normally fast-forward through it, I was caught unawares by the authenticity of the xylophone on 'Talk To The Animals' from Herb Alpert & The Tijuana Brass' The
Beat Of The Brass [A&M AMC146 open-reel tape]. Ordinarily, I listen to Alpert's superb recordings because the punch of his trumpet is a killer test for transient attack, treble smoothness and other qualities. So explain this one to me... how is the LS50 Meta faster, with crisper transients, smoother in its decay, yet even less likely to show signs of sibilance than the already sweet-sounding LS50?
On to something less cluttered, the luscious-sounding Julie London on Julie Is Her Name [Analogue Productions APP-3006-45], every track sounding 'in the room'. Gears into reverse for the pounding 'Glad All Over' from The Dave Clark Five – All the Hits [BMG BMGCAT408DLP]. No shortage of attack, scale or sheer power. The bottleneck guitar in Keb' Mo's Peace... Back By Popular Demand [Pure Pleasure/Epic/Okeh PPAN92687] as fluid and serpentine as it should be. As you might have gathered, I love this speaker.
Hi-Fi News Verdict
Shocking is not a word to bandy about lightly but the gains over the original LS50 are so obvious, so immediately perceived that one can only shake one's head in disbelief that this was achieved, in part, by a passive internal tweak. The LS50 Meta – especially when you consider its ~£1000 price – ticks every box for a small speaker: huge soundstage, generous bass, terrific imaging. Satisfying? Try 'supernatural'.