Jadis Diapason Luxe Integrated Amplifier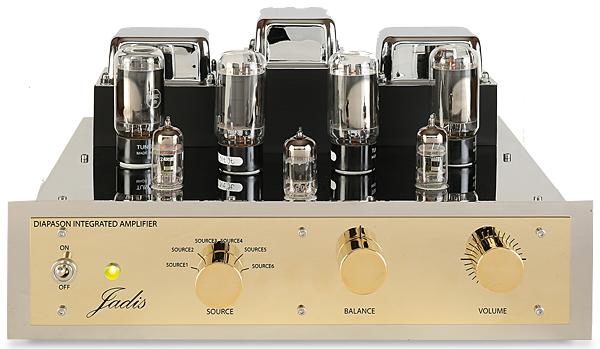 The artisan of high-end tube audio, Jadis, has imbued more than a little Gallic flair into this 'entry level' integrated. Serve with sensitive speakers for a taste of magic...
Until the mid-1990s, valve amplifiers were typically persona non grata. The '80s had been all about solid-state – from tweaky low-powered integrateds to mega powerful monster power amps – and tubes didn't so much as get a look in. By the turn of the millennium however, the pendulum had swung back and tube amps were reinvented as exclusive objects of luxury and desire, famed for their sweet and satisfying sound. How times change!
A raft of new companies surfaced to satisfy the demand, many Far East-based with ersatz classic styling and branding. Jadis is most decidedly not one of these, however. This French marque has been around since the '80s, resolutely focused on high-end pure Class A tube amps such as its iconic JA80. So the £3598 Diapason Luxe you see here was never designed to 'cash in' on the valve revival. Rather, it's an attempt to give a taste of this respected European brand's famously sweet sound, but at a more affordable price.
Something Special
I could not help but be impressed by how well this little integrated is presented, considering its price. This latest Luxe version has a 24-carat gold-plated front fascia plate and non-magnetic stainless steel frame. It's very well screwed together, with none of the usual sharp edges, poor pressed steel folding or ill-fitting switchgear that plague some similarly priced rivals. The gold trim adds visual décor, and the controls feel nice and work well, even if the power toggle switch is like something you'd find inside an old Renault 4.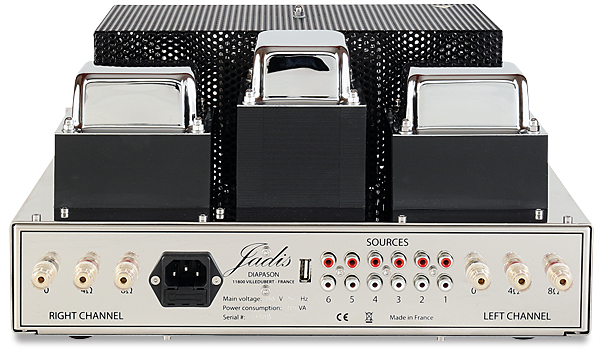 On top, beneath the fitted mesh cover, are seven 'specially selected' valves. There is one Electro Harmonix ECC82 and two Tung-Sol ECC83s for the input stage, plus four Tung-Sol 6L6s (two per channel) in push-pull configuration for the output stage. The latter are mounted on vibration-damping ceramic supports. Behind these are the three transformers, said to be simplified versions of high-end Jadis trannies. They still sport resin to damp down vibrations, however.
Round the back are six line-level RCA analogue inputs. Our sample had the optional USB-A digital input (not the usual USB-B for computer connection), which replaces the sixth RCA line in; if you don't specify this, the amp is £100 cheaper. This is said to be for smartphones, but I couldn't get our example to work with my Apple iPhone or Android-powered Sony. Meanwhile, power output is a modest 15W and Jadis uses what it calls 'semi automatic' tube biasing, which is in effect manual.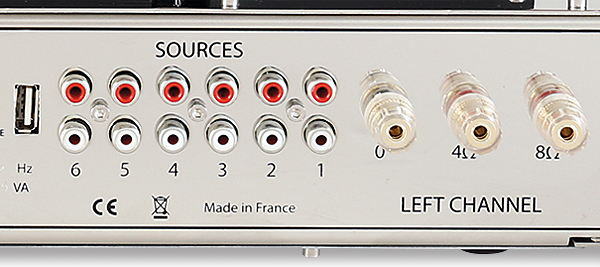 Going Green
For this purpose, two strips of LEDs are fitted; the manual instructing the owner to twiddle the two small potentiometers set into the top plate, normally hidden under small black caps. They need to be turned until all green LEDs are illuminated, but no amber or red ones. It's a simple process but might put off newcomers to valve amplifiers all the same. These LEDs can be switched off by clicking a small switch under a plastic cover just in front of the ECC82.
As with most low-powered tube amps, loudspeaker matching is key. I tried a wide range of speakers from classic Wharfedale E70s (with a claimed sensitivity of 94dB) to the latest German Physiks HRS-130 (87dB) via the 8 and 4ohm taps, respectively. I settled on my pair of Cambridge Audio Aero 6s (90dB/8ohm) which yielded a combination of high quality sound at decent listening levels. Frankly, a home demo of this amp with your choice of speakers will be vital.
Sugar Baby
At this price, it's nigh on impossible to find a valve amplifier that does everything well – so it forces manufacturers to make choices. With the Diapason Luxe, Jadis has opted to focus on the natural charm of music, rather than its raw power and scale. This is not a forensic-sounding design that ekes out every last detail from the recording, and nor can it impact its visceral power. Instead, the emphasis is on the subtle nuances of a piece of music, the gentle rhythmic inflections and the chemistry of the finished product.