iFi Audio ZEN DAC USB DAC/Headphone Amp Page 2
The ZEN DAC also offers two further adjustments, accessed via front-panel buttons. 'Power Match' switches the headphone amp's gain, boosting output for use with more demanding on-ear/over-ear headphones while the lower default setting should be used with in-ear monitors. This is something of a broad-brush recommendation, especially given that the unit can deliver high basic levels – caution should be taken with the volume control when experimenting with this setting.
The same goes for iFi Audio's 'TrueBass' circuit, a development of the company's XBass system. Implemented in the analogue domain, this endeavours to enhance low frequencies without muddying the midband. While it's certainly effective with bass-light headphones being driven at low levels, in my experience it can still become a little overbearing at times, and was left off for most of my listening.
Drive All Night
The term 'small wonder' rather undersells the ZEN DAC for this tiny unit is capable of a startling performance. While I wouldn't recommend it as the only digitally-equipped preamplifier you'll ever need – whether connected to power amps via its RCA outputs or rigged for balanced connection – that it puts up a more than respectable showing when so connected is testament to the engineering within.
As a very good little headphone amp it has much to commend it, despite using a lower-powered output stage than the £399 xDSD, as PM notes in his Lab Report, and as one might expect given the huge price differential. That it's also usable as a line-out DAC for use into a conventional amp or system also does its value for money proposition no damage whatsoever. In fact, during testing I used it as a convenient 'computer DAC', connected into both my desktop and main systems, as much as I did to power a range of headphones.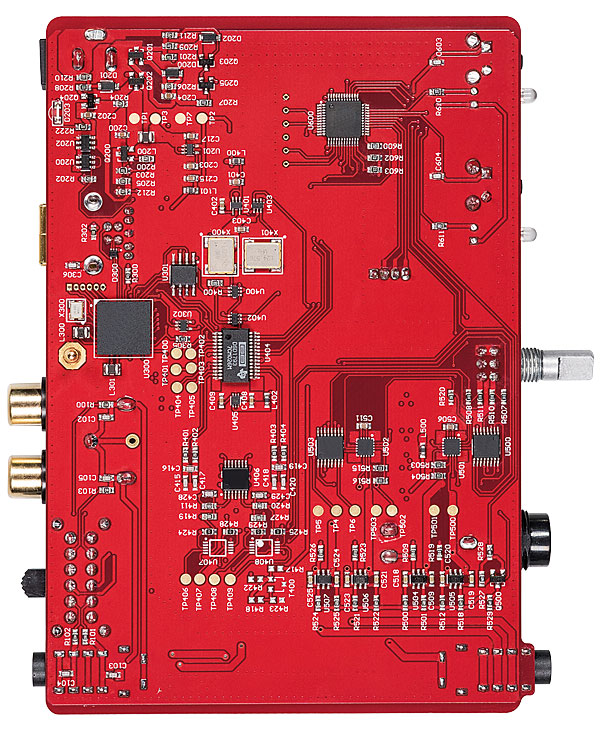 Using earphones including a long-running pair of Phonak Audeos, some inexpensive SoundMagics and a decidedly superior model from Astell & Kern and headphones ranging from B&W P5 to the P9 Signature [HFN Mar '17], Focal Clear [HFN Mar '18] and – to test the balanced output – Oppo's PM-1 [HFN Jul '14], the ZEN DAC proved its worth by driving everything I threw at it. I didn't have to use the 'Power Match' boost, and only with the least expensive models did 'TrueBass' come in useful, and then only at very low levels.
Frankly Amazing
Playing Sam Amidon's often chaotic-sounding The Following Mountain set [Nonesuch 7559793801; 44.1kHz/24-bit], the ZEN DAC does a great job of bringing out the studio atmosphere, complete with its inter-track noise, buzzes and chatter. It all adds to the improvised feel here, from 'Gendel In 5' with its multi-layering to the jam of 'April' closing the set, which just has that vibrancy of free association and interplay. This kind of ambience and immediacy would be impressive in a high-end DAC; that iFi Audio's ZEN manages it for less than many would pay for a digital cable is frankly amazing.
Up the scale of recording to Sa Chen's dramatic, sweeping reading of Rachmaninov's Piano Concerto No 2 with the Orquestra Gulbenkian conducted by Lawrence Foster [Pentatone PTC5186444; DSD64], and the ability of this little DAC/headphone amp to deliver both the scale of the orchestra and the detail of the solo instrument is never in any doubt, whether the music is played through headphones or into an amplifier in DAC mode.
And if you want any more demonstration of its speed, definition and ability with timbral textures, look no further than harpist Claudia Lucia Lamanna's performance of Mchedelov's 'Variations on a theme of Paganini' [from Linn CKD646; 192kHz/24-bit]. Here the sound is appropriately crisp and tight, yet with a wonderful sense of the strings in motion and notes decaying into the acoustic.
Meanwhile, playing the first scene of Mascagni's Cavalleria Rusticana [Dresden Philharmonic/Janowksi; Pentatone PTC5186722, DXD live recording] shows the effortless way in which the ZEN DAC makes music, from the subtle chimes to the rhythm of orchestra and chorus, not to mention a spot of percussive thunder. It's all rather wonderful, and totally involving.
Mind you, the same goes for 'Unbroken Chain' from The Grateful Dead's From The Mars Hotel set [DSD64 from MFSL UDSACD 2196], in which every instrument is allowed to shine without impeding the goodtime flow of the whole piece – but then I could say the same for the way the Zen DAC plays the whole set. What a bargain!
Hi-Fi News Verdict
Yes – a startlingly high sound quality score, but then the ZEN DAC is a remarkably capable, fine-sounding piece of equipment and something very special for just £129. It goes to show that desktop audio doesn't have to be the poor relation of 'proper' hi-fi, and that there are still giantkillers out there. Buy this to boost the sound of your computer, and you may well find you're listening to it most of the time.