Holbo Airbearing Turntable Page 2
I point this out because, as one who rarely uses a cueing lever, you cannot operate the Holbo arm without the lift/lower device. Such a device is mandatory with a free-floating, parallel-tracking arm because it simply doesn't enable you to lift and then park the arm like a conventional pivoting type. You will soon get used to lowering this without haste, but I thought you ought to know.
Something In The Air
As one spoiled for the better part of a year by the spooky silence of an air-bearing turntable, the primary feel of the Holbo Airbearing was instantly familiar. It is the antithesis of idler-drive, which never appealed to me because the lower registers and the noise floor are never as genuinely deep as with an air-bearing solution. I used my newest LP, with pristine surface, to exploit this, admittedly comparing its silences to those of the TechDAS Air Force III Premium [HFN Jun '19] at seven times the cost.
With BB King and Eric Clapton's Riding With The King [Reprise 895206093624], I concentrated on the fluidity of both guitarists' lead breaks, followed by their familiar-yet-contrasting voices. Their epic take on Sam & Dave's 'Hold On I'm Coming' revealed a sonic signature softer than I expected, but it was consistent from cartridge-to-cartridge. As identifying a component's overall 'personality' is the raison d'être of any review, I was eager to learn if this defined the sound.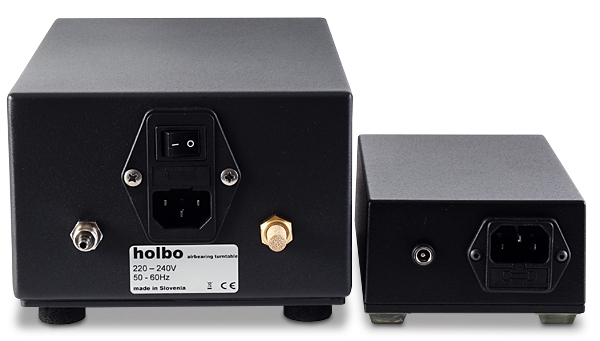 It was smoother than EAT's B-Sharp, but here we have a case of what the listener prefers over what measurements might reveal. King's voice has a nasality which was reproduced with all its near-liquidity, while the mild huskiness of Clapton's was spot-on – this unit has a way with vocals. Comparing it to the admittedly dearer TechDAS, any losses were minor, mainly in terms of warmth.
As for guitar, the Holbo deck excelled in treble extension, with lead notes soaring, but transient attack was dependent on the cartridge. It was curious because, out of the three, the Tsurugi usually provides (to my ears) sharper note termination, but via the Holbo Airbearing, the Ortofon 2M Red was the champion. This reminded me of PM's remarks about compliance – this being a low effective mass arm – and those auditioning the Holbo pairing should take note of this.
Power And Impact
Here we also end up with something a tad ironic: the Holbo Airbearing creates a superbly wide and deep soundstage, but it was less airy than I anticipated, given the absence of bearing contact. I hasten to add that this is a minuscule point, and I was listening hyper-critically through both Wilson Sasha DAW speakers [HFN Mar '19] and a pair of open-backed Audeze LCD-4z headphones.
I returned to The Kinks' Arthur (Or The Decline And Fall Of The British Empire) [BMG BMGCAT407DLP], primarily for the opportunity it affords for observing retrieval of detail. As ever, the most vaudevillian of the tracks, 'She's Bought A Hat Like Princess Marina', provided plenty of material for this purpose, including harpsichord, kazoo and other amusing sounds, as well as stunningly-recorded percussion.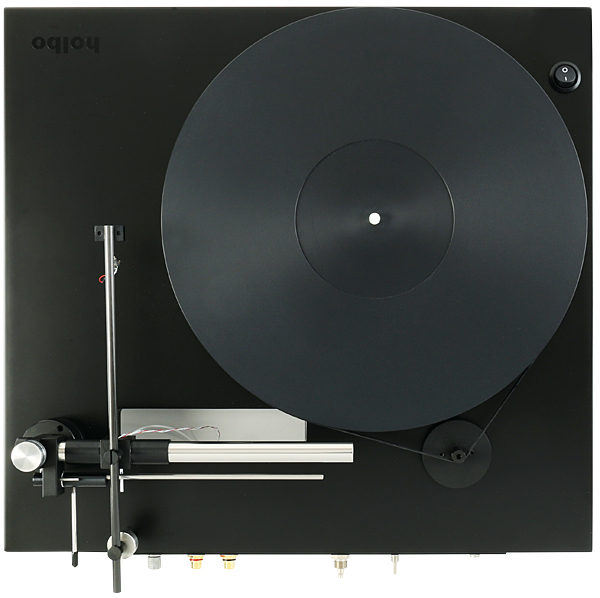 With this LP, the Holbo Airbearing proved a knock-out, especially with low-octave instruments, the drum break at 2m 10s possessing ear-opening power and impact. The percussion, snare-and-cymbals in particular, should be deliberately trashy and splashy, and the Holbo system emulated this music hall experience with aplomb. Vocals were noteworthy, too, a brief sojourn through the Falcon Acoustics LS3/5As [HFN Dec '18] testifying to the deck's natural midband.
Ultimately, it was Al Di Meola's latest Beatles tribute, Across The Universe [E-A-R Music/Edel 0214706EMU], which proved to be the most revealing disc. The sheer clarity of the recording, the atmosphere of acoustic instruments and the overall pristine nature were key tools for learning that the arm is compliance-sensitive and tracking ability will be affected. This, however, suited the Holbo turntable well enough because properly-executed parallel-tracking arms eliminate inner-groove errors.
Whatever my reservations about absolute airiness and transient attack, the Holbo Airbearing has a way with unplugged instruments which complemented the Di Meola album through sheer gracefulness. But to achieve this state of grace, I must reiterate: set-up – however seemingly simple – is the final arbiter. Achieving this superlative consistency and naturalness demands the right cartridge and obsessive attention to levelling.
Hi-Fi News Verdict
Perhaps I am recommending this for what some may consider the wrong reasons – value for money – but there is no denying that getting all this tech, and so well-executed, at this price is irresistible. It's comparable to DS Audio giving you an optical cartridge at a 10th the price of its flagship. For anyone captivated by air-bearing decks and linear-tracking arms, the Holbo Airbearing combo is a gift.