HiFi Rose RA180 Integrated Amplifier Page 2
While the RA180 does partner with an app via an internal Wi-Fi network, this doesn't introduce any streaming options. Instead, it serves purely as a remote control and conduit for firmware updates. Of course, HiFi Rose has a pre-existing range of networked separates to choose from – and the promise of a new streaming amp down the line...
Driving Ability
The out-of-left-field design and feature-rich specification of the RA180 almost hide the fact that this is, at its heart, a punchy, authoritative and thrilling-sounding amplifier. Used initially with a Primare PRE35 [HFN Dec '19] as a digital source – HiFi Rose's RS150 would be an interesting stylistic counterpoint to the RA180 – and Focal Sopra No2s [HFN Sep '15], it revealed a slightly warm character that paired nicely with such revealing loudspeakers, and a strong sense of driving ability. For an integrated design, there's plenty of power on tap, and a sound signature that's somewhat reminiscent of the pre-Hypex Marantz units of yore.
When a manufacturer claims to deliver huge amounts of amplifier grunt, Massive Attack's 'Angel' [Mezzanine; Virgin 7243 8 45599 2 2] and Modeselektor's 'Wake Me Up When It's Over' [Monkeytown Records; 44.1kHz/16-bit] remain favoured tracks to challenge the assertion. The RA180 handled these moody electronic pieces, and their complex deep percussion, without seeming to stress.
And there was certainly no lack of energy when playing Jack White's 'Fear Of The Dawn', on the same-titled album [Third Man Records TMR-752; 96kHz/24-bit]. Featuring fat, overdriven guitars and a relentless drumkit, the temptation is there to crank the volume high and just let the RA180 rock out – which it does, ably. The following track 'The White Raven' is equally rowdy and up-tempo, and found the amplifier again sounding unflustered, this time also displaying an admirable midrange focus ideal for White's exuberant guitar playing.
Quiet And Assured
Spinning up a Pro-Ject X1 [HFN Aug '19] with a mid-output MM pick-up, and utilising the regular RIAA eq (I quietly assume most users of the RA180 will be choosing the same, as only avid vinyl collectors will encounter pressings requiring the legacy equalisations), the amp's phono stage steered the vinyl version of White's album with confidence. Tracks were presented on a quiet background, dynamically and rhythmically assured, with good separation.
Granted, this cacophonic collection of blues stomps, distorted electric guitars and White's characteristic howling isn't the most sophisticated work you can listen to, but having also enjoyed Vivaldi's 'The Four Seasons', as 'recomposed' by Max Richter on a 180g pressing [Deutsche Grammophon 476 5041], I'm not inclined to change my opinion of the RA180's phono preamp.
There was no faulting the rich presentation of Daniel Hope's violin on 'Spring 3' and 'Summer 1', to the point where bettering it would likely require a change on the side of the cartridge, not the amp. Of course, spinning this disc is a bit of a reviewer's cliché nowadays, but that doesn't mean it cannot sound wonderful in the right system. Note that Richter is planning a further re-imagining of the same Vivaldi suite, which begs the question: will the neoclassical composer be 'recomposing' from the original or 'recomposing' the, er, 'recomposition'?
A disadvantage of the otherwise splendid Focal Sopra No2s is that they don't have the terminals for bi-amping. So it was out with one set of floorstanders and in with another in the (large) shape of Canton's Reference 7Ks [HFN May '22]. I'm a bit on the fence concerning the added value of running twice as much loudspeaker cable, so I initially wanted to compare tracks in single and bi-wire mode.
The William Baker Festival Singers & Chamber Orchestra's rendition of 'Requiem: III. Pie Jesu' [Amber Waves Sound Recordings; 44.1kHz/16-bit] is perhaps my favourite version of John Rutter's Requiem. It's captivating and emotional, a perfect mix of soloist and choral singing, with subtle organ playing and the large church space captured in such a way it nearly becomes tangible. It's the very definition of 'well-recorded', and while never likely to push the RA180 in terms of power output – the organ never dives deep into the low Hz – it's a litmus test of resolution and timing, which in turn ensures a good transmission of spatial information.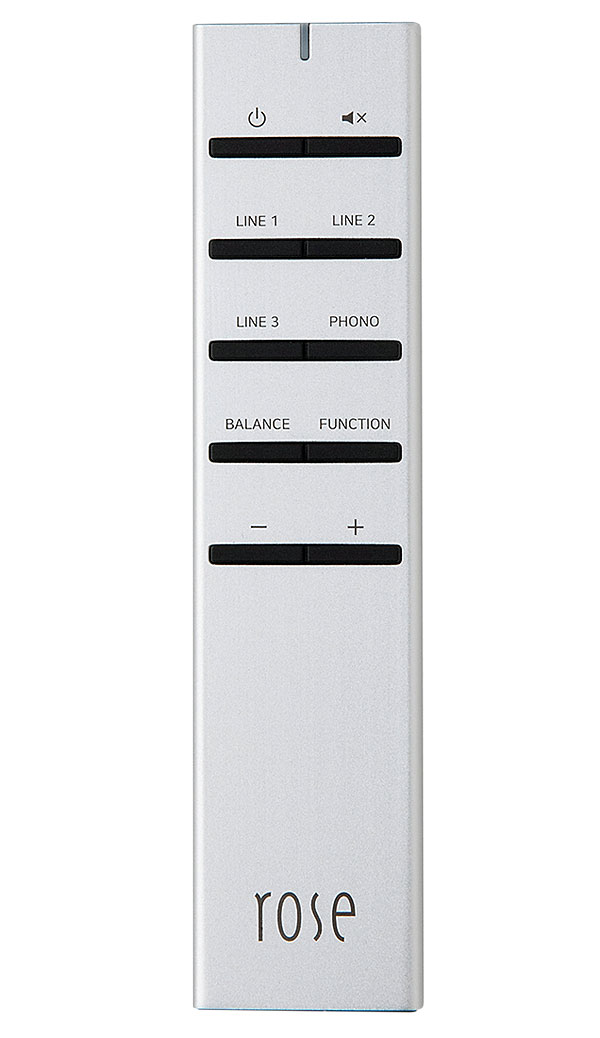 Too muddy or slow, and you lose that sense of 'being there' in the church hall, but thankfully HiFi Rose's integrated rendered the track superbly. There was a real evocation of three dimensionality, even on these Canton speakers that are more about painting a big picture than serving up lashings of fine detail.
The Wright Stuff
Changing over to the discrete, bi-amp (separate bass/treble amp) configuration didn't add very much to my subjective enjoyment of the Requiem pieces, but the difference was more apparent listening to the contemporary folk of Lizz Wright's Grace [Concorde 0888072028654].
Here a full four amps within the RA180 drove the midbass-happy Canton 7Ks with ease, ensuring the bass drum in 'Barley' resounded through the room, while also drawing attention to the singer's gritty but alluring voice. Additionally, the RA180's bi-amp mode also seemed to increase soundstage scale and separation in this case, placing the crisp acoustic guitar playing even more in the limelight. Here at least, HiFi Rose's quest for extreme versatility really paid off.
Hi-Fi News Verdict
It's hard to look past the RA180's outspoken industrial design but many will surely relish the eccentric but well thought-out front fascia. It's not all for show, even if some of the standout features will only be relevant to specific classes of audiophiles. The Class D topology, with four GaN transistor amps, offers oodles of power and an engrossing performance, especially when paired with sympathetic speakers.