Hegel V10 Phono Preamplifier Page 2
Similarly, the pair of MC impedance switches also has a 'Do Not Use' state. Given that it's all too easy to accidentally flick the small switch adjacent to the one you intended, this isn't an ideal arrangement. Furthermore, the left and right banks of DIP switches are mirror-imaged so the MM/MC toggle is number 10 on the right channel but number 1 on the left. Frankly, you'll need a lot patience, a slim flat-blade screwdriver and a good pair of reading glasses to successfully get to grips with the V10's 'user interface'. If you do find your blood pressure rising then turn to Hegel's beautifully presented user manual where the striking pictures of, I presume, the Norwegian countryside should have a suitably calming effect!
Smooth Talk
The moment my Clearaudio MC Essence cartridge [HFN Aug '17] nestled into the groove it was clear Hegel has yet another winner on its hands, the V10 joining a long list of fine-sounding separates from this brand [see HFN Oct '18, Aug '19, Oct '20]. The unit itself is very quiet, with background noise and hum all but absent, just as vinyl roar and surface noise are subtly suppressed, allowing fine detail to shine through without confusion.
Nevertheless, while the V10's overall balance is certainly on the smooth side, it's not short on transparency. So while cymbals and percussion never stray towards hardness or sibilance – sounding slightly softer than I might have expected – they still sound both clean and distinct. In fact, I'd be hard pushed to name another phono stage at this price that manages to sound so smooth in its presentation and yet so insightful at the same time.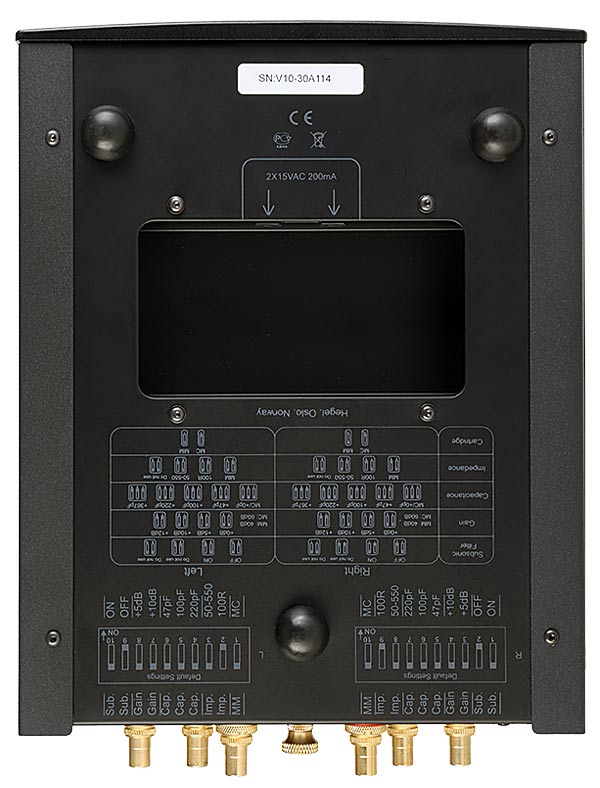 I was also impressed by the sense of space and ambience the V10 revealed in ostensibly familiar recordings. Front-to-back image depth was very good and, no matter whether the material was live or studio-based, each instrument and backing vocalist was well defined within the soundstage and easy to focus on if desired.
That said, I would have preferred a little more solidity centre stage as one or two particularly potent vocalists sounded less edgy, perhaps slightly more diffuse, than usual. 'Raising Venus' From Malia and Boris Blank's Convergence LP [Universal 374 593-2] usually has Malia standing in front of my loudspeakers with unnerving precision. With the V10 as a moderating influence, she was pushed a little further back and I found myself adjusting the location of my listening seat by small amounts in order to restore her immediacy.
Nailed It
Bass freaks, on the other hand, will love the Hegel V10's deep and tuneful lower registers. The backing synth bass to Ava Max's 'Who's Laughing Now' from her Heaven And Hell LP [Atlantic 0075678645921] bounded along with appropriate pace and impact, each note clearly separated from the next. Although this is a seemingly simple pop track, I have heard more than one set-up make a muddle of it. Not so the V10 – it nailed it!
Meanwhile, the bass guitar on 'Haunted Love' from Tal Wilkenfeld's Love Remains LP [BMG 538450142] was rendered with an appealing ease and fluidity that underpinned the vocals masterfully. This particular track can sound a little too stark and uninvolving when heard on some systems, but the V10 knitted the two aspects of the performance together immaculately, and in doing so made for a captivating listen.
Real Strength
Switching to more complex and raucous material proved to have its ups and downs. 'CMFT Must Be Stopped' from Corey Taylor's CMFT album [Roadrunner Records 075678647598] is a riot of guitars, shouty vocals and expletives. While the V10 had no issue in separating all the elements here, the overall effect was a little polite – not an adjective I would usually use to describe the lead singer of Slipknot! However, similar material showed that the V10 is rarely caught out and really is a master of separation and detail. It's just that occasionally it would be nice to hear this phono stage let its hair down and party.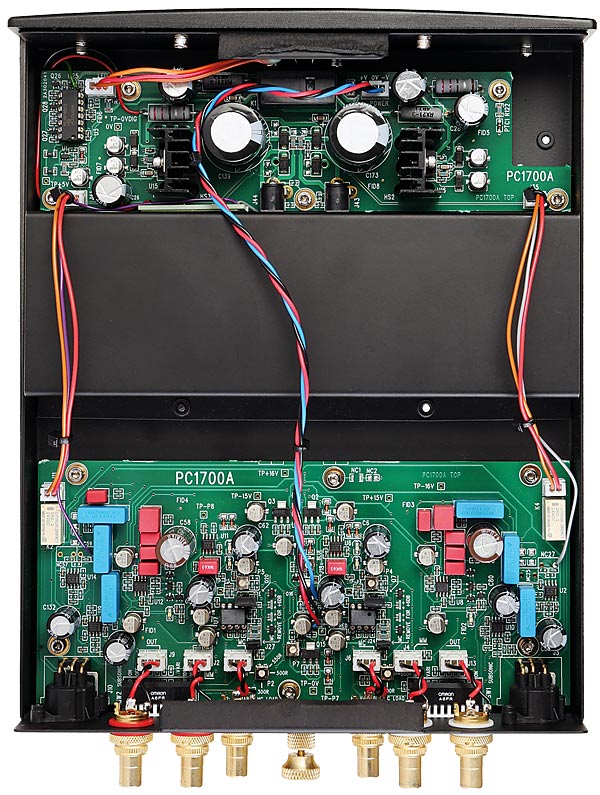 This demeanour is broadly consistent across both MC and MM inputs, the latter tested in earnest with an Ortofon 2M Black cartridge [HFN Mar '11]. Of course, bearing in mind that Hegel's MC headamp feeds directly into the MM/RIAA stage, this continuity might be expected, even if it doesn't always happen that way. In my book this is a real strength, the Hegel V10 having a predictable see-through smoothness that you can rely on to reveal the qualities of both MM and MC cartridge types.
In this case, I heard the superlative top-end clarity of the 2M Black's Shibata stylus, but was also aware of the extra depth and imagining ability of the Clearaudio MC. So, if you have a 'starter phono stage' and are looking for a new MM/MC preamp that reveals more of the positive qualities of your vinyl-spinning front-end, the V10 makes for a very tempting upgrade.
Hi-Fi News Verdict
Hegel may have chosen to bide its time but the company's first phono stage has been well worth the wait. Yes, the DIP switches used to set gain and loading are fiddly and less than intuitive, but the breadth of options offered is very generous, extending the V10's reach across a very wide range of MMs and MCs. Its sound, too, is both smooth and gloriously insightful, and clearly 'voiced' to partner Hegel's other electronics.