George Michael: Faith Alternate Format Discography
Alternate Format Discography
Original LP
Faith was released throughout Europe on LP in October 1987 on the Epic label, a subsidiary of Columbia, with an off-white inner sleeve featuring a monochrome photo of George Michael, and an insert sheet with lyrics and portrait photo of the singer [EPC 460000 1].
The Columbia US release [C 40867] came with a similar insert. Most releases worldwide were on Epic or Columbia, a notable exception being the Zimbabwean LP, which appeared on Epic/Motown with silver and blue Motown record labels [460000 1, KSF 3170].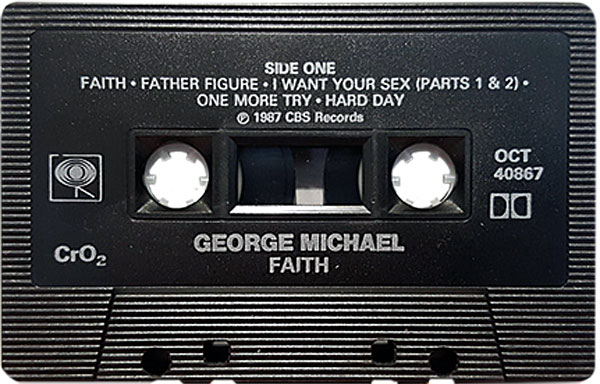 Cassette
The 1987 cassette version included two extra tracks: the Shep Pettibone remix of 'Hard Day' and 'A Last Request (I Want Your Sex Part III)'. A fold-out booklet replicated the LP inner sleeve photo of Michael and lyrics. Meanwhile, the shells were black and carried a blue Epic logo [Epic 460000 4]. In the US and Canada the cassette appeared on CBS with the tracklisting printed directly onto the cream [CT40867] or black [OCT40867] plastic shells.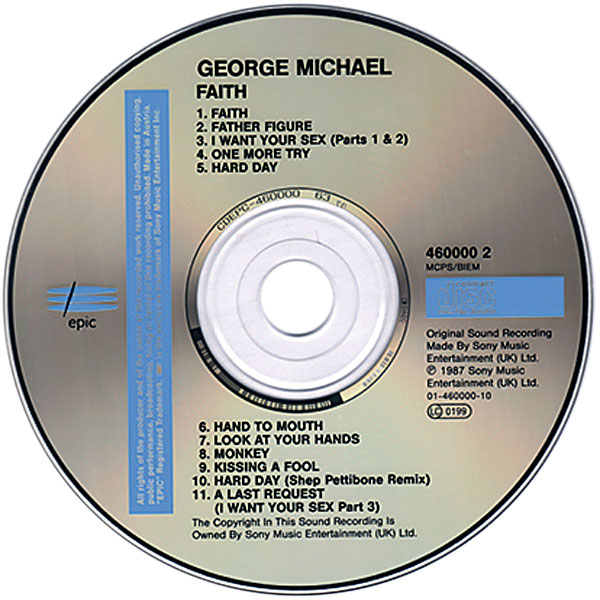 CD and MiniDisc
Also released in 1987, the CD included the extra tracks of the cassette, and in European territories had a booklet with credits, lyrics and a different monochrome photograph to the album inner sleeve [Epic EPC 460000 2]. In the US the CD came out on Columbia in a standard jewel case and in longbox format [CK 40867].
A limited edition picture disc CD was released in Europe on Epic [EPC 460000 9] and in Japan on Epic/Sony [30-8P-241, EPC 460000 9]. Finally, a MiniDisc was released in the UK in 1987 [Epic, 4600003] and on Columbia in the US [40867].
Special Editions
In 2011 Faith was reissued in the US and the UK as a 2CD set remastered by Matt Colton at AIR Studios. The extra tracks on CD 2 include a remix of 'Hard Day' by DJ and producer Shep Pettibone, a cover of Stevie Wonder's 'I Believe When I Fall In Love', and a remix of 'Monkey' by production team Jam & Lewis [Epic/Legacy/Sony Music 88697753192].
There was also a limited edition numbered boxset in the UK and Europe [Epic/Sony 88697628372]. This consisted of the two CDs mentioned above, a DVD with videos of the singles and a 38-minute Channel 4 TV documentary from 1987, plus a vinyl LP (minus Part 3 of 'I Want Your Sex'). This collector's item also includes a 60-page hardbound book with interviews and photos, five art prints, facsimile tickets, a Faith tour pass and a poster reproduced from Michael's own collection. In the US this boxset came out on Epic Legacy [88697753202].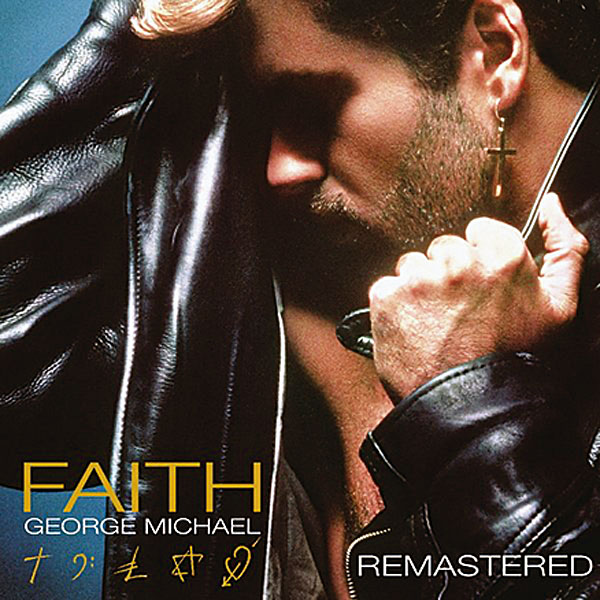 Audiophile Vinyl
Unusual for an album of its stature, Faith was only given a limited edition reissue on 180g vinyl, on the Simply Vinyl series via Epic in 1999 [SVLP141, 460 000 1].