Ferrum ERCO DAC/Headphone Preamp

This Polish hotshot brand broke onto the audiophile scene with its programmable DC PSU, followed by the OOR headphone amp. Now, with DAC onboard, comes the ERCO
The name of this new product from Polish company HEM, selling under its Ferrum brand, is spelt ERCO, but pronounced 'ertso'. Apparently it's Esperanto for 'ore', and so follows on from the mineral-based brand-identity – Ferrum, OOR – you get the idea. What's also not immediately apparent, given that all the Ferrum products basically look the same, is that the £2395 ERCO is perhaps the most comprehensively equipped model the company has made to date.
It combines elements of its all-analogue OOR headphone amp [HFN Dec '21] and may be upgraded with the company's original product, the programmable – and thus very flexible – Hypsos power supply [HFN Mar '21]. So the ERCO is a complete 'just add computer and headphones' solution for desktop audio, including a USB input and onboard DAC. Well, that's the beginnings of what it is…
One Box, Or Two?
It will also function as an analogue headphone amp, having RCA line ins, as well as offering variable-level analogue outs – on RCAs and balanced XLRs – for use as a preamp straight into a power amp or pair of active speakers. The analogue inputs are passed straight through to the outputs via an ALPS volume control, minus the ADC/DAC chain you'll find in most DAC/amps with analogue inputs. It comes with a standard 'wall-wart' PSU which, when funds permit, may be replaced by the slick Hypsos PSU, turning the ERCO into a £3495 two-box device for your desktop – or even your main system.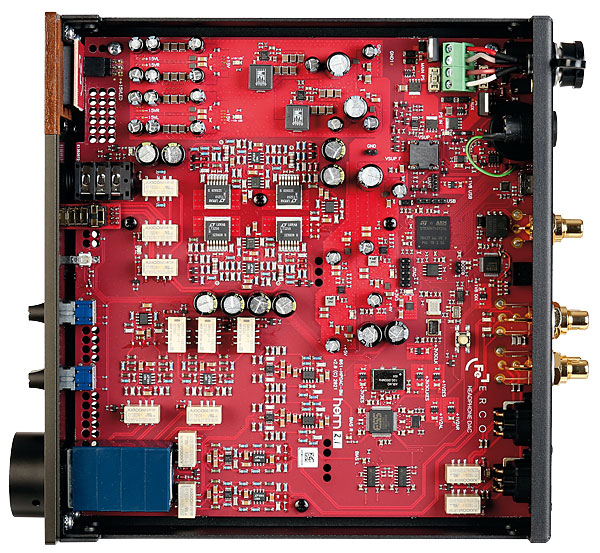 Ferrum says of its ERCO that 'Desktop high-end just became a thing', to which the only sensible response is, 'Nice try, but it's been a thing for some time now'. In practice there's no shortage of variations on the DAC/headphone amplifier theme, from very affordable models like Chord's Mojo 2 [HFN Apr '21] and various iFi Audio models through to the likes of the Naim Uniti Atom Headphone Edition [HFN Aug '21] and the Matrix Audio X-Sabre 3 [HFN Apr '21], those last two also incorporating streaming capability for prices in the same ballpark as the new Ferrum.
Add in the availability of some even more exotic models aimed at the 'head-fi' market, and it's clear desktop high-end is an established 'thingdom' into which the ERCO now pitches itself.
Fortunately, this DAC/headphone amp is decidedly well-equipped by desktop standards. The 'computer audio' input is on a USB-C port, which is very much on-trend – USB-B is so last decade – and for which a USB-A-to-C cable is supplied in the box. Via that input the digital section can accept an admirably wide range of formats, with PCM up to 384kHz/32-bit and DSD to DSD256, while there's also MQA decoding/rendering to suit Tidal surfers. Use the coaxial or optical inputs also provided, and as usual you'll be limited to 96kHz/24-bit and DSD via DoP. Some may consider this to be a limitation, but for many users 96kHz/24-bit will be more than adequate, thank you.
No Pain, Just Gain
Inputs – digital and analogue – are selected by a simple control on a very easy-to-understand front panel. Aside from a large volume control, the only other setting is for headphone amplifier gain, to help you match the ERCO to your chosen headgear. A choice of –5.8dB, +6dB and +17.8dB is provided for the balanced (4.4mm Pentaconn) output and –11.8dB, 0dB and +11.8dB for the unbalanced 6.35mm socket. There's also a brightness setting, for the panel's illuminated logo, located on the rear along with two power inputs – standard coaxial for the plug-top PSU, plus a Power Link connection for use with Ferrum's Hypsos. It's all very ERCO-nomic.
Inside there's the analogue path already mentioned, plus a digital section based around an ESS Sabre ES9028PRO, for which the Ferrum team has drawn on its digital experience to create a custom filter uploaded onto the DAC, rather than giving the user the often mind-boggling choice of filters this converter offers as standard. I've spent too much of my recent life struggling with filter options to no firm conclusion, so I applaud any designer willing to make a choice and stick to it.