Exposure VXN Phono Phono Preamplifier Page 2
The VXN Phono's inputs and outputs are via unbalanced RCA sockets only, with power supply connections through 5-pin XLR plugs. The ground connection is a knurled nut for easy hand adjustment and located right on the edge of the unit – another boon for when the VXN Phono is sat in a rack.
Into The Deep
Using the unit with a Yamaha C-5000 preamp [HFN Aug '20], and fed by a Michell Gyro SE deck with SME 309 arm and Ortofon 2M Black MM, improvements over the already excellent XM3 phono stage were clear. The VXN Phono straightaway made me sit up and take notice. There was no sense of any artificial 'look at me' type of sound balance – my eyebrow was raised simply by the way the VXN Phono dug more deeply into vinyl grooves than any other Exposure design I have heard.
This all adds up to a disarming clarity and insight, but allied to a commanding sense of control and precision, and set in a background that is uncannily quiet. It's a phono stage that can whisper delicately or thunder magnificently as the occasion demands, and all with a sense of effortlessness that marks out the best.
The VXN Phono's soundstage was wide and deep, and pulled performers out into the room, but its real gift in this area was the way it showed the difference between a moderate recording and a really good one. Brandi Carlile, performing 'You And Me On The Rock' from her In These Silent Days LP [Elektra 075678643170], appeared to stand clear of the loudspeakers and in a well-defined space – all good.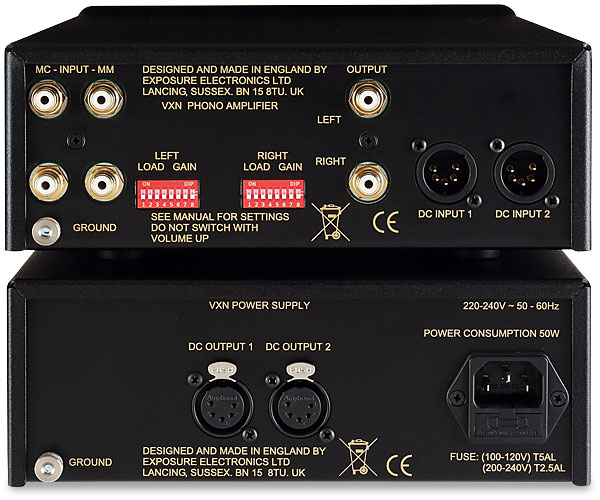 However, switching to the B-side acapella version of Cathy Dennis's 'Too Many Walls' 12in single [Polydor CATHX 4], I found the VXN Phono had managed to effectively zoom right into the essence of this simple and well-recorded performance. Shut my eyes and there appeared to be a face floating in front of me – utterly captivating, if a little uncanny!
Changing from moving-magnet to moving-coil and swapping cartridges to an Ortofon Cadenza Black (loaded to 100ohm) showed that Exposure has done a superb job of keeping the character of the unit essentially neutral. Both Ortofon models have nude Shibata styli and an outwardly similar tonal balance, albeit with the Cadenza and its boron cantilever bringing an extra level of insight and poise. Through the VXN Phono, the cartridges' innate characters shone through with the unit adding very little of its own.
Absolute Riot
Once again, the MC stage is impressively quiet and free from background unpleasantness. One small side effect here is that you might find that it gently points out if your records are less than immaculately clean. I found myself wielding a brush, and turning to a record cleaning machine, a little more often than I normally might. With my records suitably buffed, however, the VXN Phono was untroubled by groove noise, allowing fine detail to shine through.
This meant that the likes of 'Sing Sing Sing' from the direct-to-vinyl cut of The Syd Lawrence Orchestra's Big Band Spectacular! [Chasing The Dragon VALDC002] was an absolute riot to listen to. The performance hammered out joyously, even if I did feel the bass drums lacked the ultimate last ounce of punch to the chest that I am familiar with.
The rasp of brass instruments was truly a delight to behold, however, and the percussion rang out strong and crisp. A track like this should leave you slightly breathless at the end if the system is doing its job properly, and the VXN Phono passed the test with flying colours. Furthermore, slight concerns this track had raised over the VXN Phono's low-end abilities were soon dispelled – the unit is by no means a lightweight-sounding device. Its bass delivery is full, very well controlled and brilliantly detailed.
On a more low-fi modern recording – 'Skeletons' from Easy Life's Life's A Beach album [Island Records 3564081] – the VXN Phono revealed a deliciously 'chewy' bass line with plenty of weight and no sense of bloat or overhang, which is not always a given with this pressing. Yet once again it was those percussive effects leaping around the soundstage that drew attention, making me realise just how much space the VXN Phono was affording them. This is a phono stage that really will open up your listening area like few others at the price.
Hi-Fi News Verdict
Once you add Exposure's PSU, the VXN Phono's total 'working' price of £2800 puts it up against strong competition – yet these black boxes rise to the challenge and turn in a performance that more than justifies the cost. Gain and loading options are well chosen, and its sound with both MM and MC cartridges is superb, thanks to engineering improvements on the already proven, and highly capable, XM3 circuitry.