Exposure 3510 Mono Power Amplifier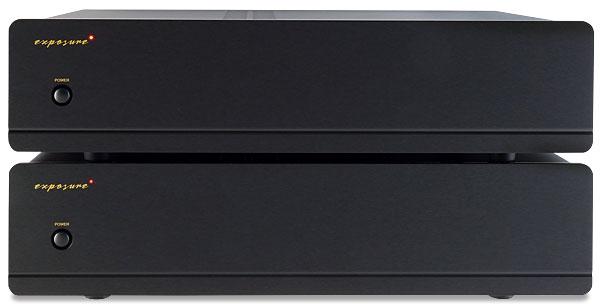 Long-awaited, while the monoblock version of Exposure's 3510 amplifier series looks just like its Stereo and Integrated models, in practice it is a new and highly refined amp
When Exposure launched its 3510 series in 2021, as a replacement for the venerable 3010 range, attention was first given, perhaps unsurprisingly, to the integrated amplifier [HFN Nov '21]. One year later it was joined by a stereo power amp and partnering preamp [HFN Nov '22], and a year after that we witness the arrival of the 3510 Mono, tested here. Such an approach is not unusual for a boutique brand – a fair description of the Sussex-based company – but it's perhaps also indicative of the hidden differences between Exposure's amplifier designs.
As PM highlights in his Lab Report, the 3510 Mono, priced at an affordable £2990 per pair, is not simply a beefier, single-channel implementation of the technology underpinning the equally wallet-friendly, £1590 3510 Stereo. While the 3510 Mono and 3510 Stereo look similar under the bonnet the former includes fundamental revisions, headlined by a balanced line input stage. Moreover, the power amp stage is now DC- rather than AC-coupled and features 'non-invasive' electronic protection. There's a subtle change in specification too, as the 3510 Stereo's 110W rating is 'rounded down' to 100W/8ohm in this monoblock version.
Triple Jump
The 3510 Mono's fully-balanced architecture makes it something of an outlier in the otherwise single-ended-only 3510 series. It's therefore not quite a slam dunk match for the 3510 preamplifier, but you get the feeling there's some trickledown technology from Exposure's flagship 5010 series at play.
The 3510 Mono and Stereo do share the same industrial design, however. Viewed from the front the two amps are identical, with the same aluminium casework and thick extruded front-panel, offered in either discreet black or a more eye-catching titanium. Only a company logo, status light, power button and a cut groove in the fascia prevent its descent into austerity. The back panel is also broadly similar, with Exposure again favouring inset 4mm speaker cable sockets (two sets, enabling bi-wiring) over binding posts. A small push-button, next to the RCA and XLR terminals, handles the selection of the 3510 Mono's balanced or unbalanced output.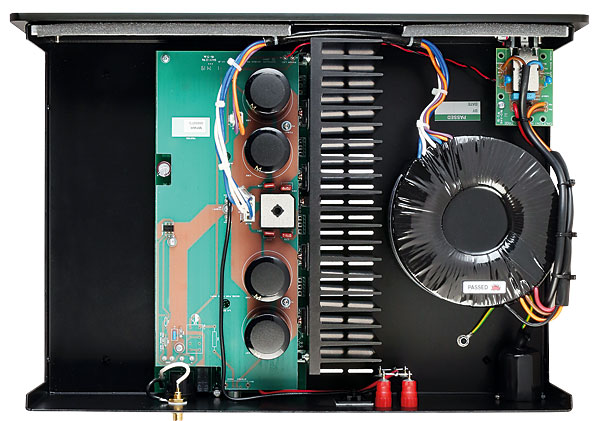 Meanwhile, the amplifier's 440x300mm (wd) footprint is easy to accommodate just as its 12kg weight won't destroy your back. Furthermore, as its feet raise the cases to ensure adequate, cooling airflow, there's nothing to stop you going for a neat and tidy pre/power triple-stack set-up.
You could also apply the phrase 'neat and tidy' to the 3510 Mono's internal layout, where – as with the 3510 Stereo – there's clear division between the large, custom-made toroidal transformer and the bipolar output stage, an internal heatsink separating the two.
Real Deal
The UK manufacturer says all parts, including 'the massive smoothing capacitors', have been carefully selected to deliver an amp offering low distortion at a high power output, conforming to its 'real hi-fi for real music lovers' mission statement.
For anyone unfamiliar with the brand, the 3510 series occupies Exposure's 'upper end', sandwiched between the 2510 range (which currently consists of a lone integrated amplifier) and the 5010 lineup [HFN Nov '18], which features mono, integrated and preamplifier options. All three series employ the same full-width chassis design, leaving its compact XM models [HFN Apr '18 & Nov '19] to entice desktop audio and head-fi enthusiasts, and this means mixing and matching between them is encouraged. It's not unreasonable to assume an upgrade to the flagship 5010 range is next on Exposure's agenda, presumably to 5510 status, although nothing has yet been announced.