Engström ARNE Tube Amplifier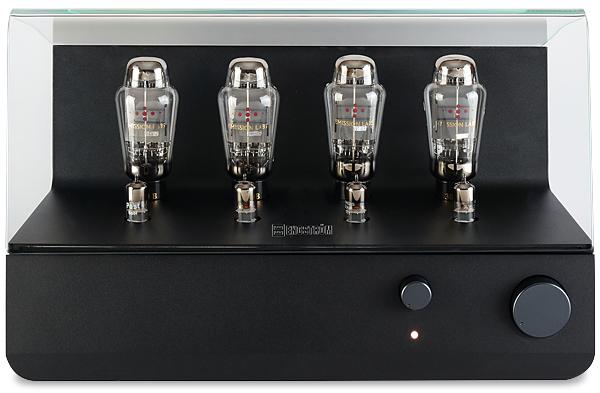 Engström's pursuit of the 'pure Scandinavian Sound' reaches its peak in the ARNE amplifier – a triode tube amplifier that takes aim at solid-state competition
This isn't our first encounter with the valve amplification from Swedish company Engström, the ERIC Encore power amps [HFN Oct '21] lighting our blue touch paper of interest. The ARNE integrated amplifier, its 'entry-level' offering, is quite possibly an amp best suited to what comedy writer Danny Robins made famous as 'The Cold Swedish Winter', it also doubling as potent heat source. The curvaceous glass cover protecting the pairs of power triodes gets very warm indeed, so this amp needs plenty of 'fresh air'.
Entry-level should not be mistaken for 'affordable' at £29,500, however, for what is effectively a 'Mk 2' version of the ARNE. The subject of extensive R&D since its launch, this 300B integrated is now offered in a choice of matt black or white standard finishes, with a wide range of options, both in colours and the complement of valves fitted. Custom powder-coated finishes are available for both the body of the amp and the slanted fascia, at £520 for each, ceramic coatings are available for each area at £1050, and you can even have the front-panel finished in high gloss paint if you want to spend an extra £2100.
No Czech? More Cash
In addition to the quartet of Czech-made Emission Labs EML 300B valves for the power amp section, fitted as standard, you can opt for German Elrog ER300Bs for an extra £1400, or splash out on Japanese-made Takatsuki TA300Bs for a little more than £3000 over the Czech valves here. You can also choose a smoked glass cover instead of the clear casting of the review sample.
Named for Swedish-born jazzman Arne Domnérus, perhaps best-known to audiophiles for his sax work on the Jazz At The Pawnshop release (now celebrating its 45th anniversary and still a mainstay of many a hi-fi demonstration), the ARNE amplifier is about as minimal a design as you can get, despite its substantial dimensions – 480x320x450mm (whd) – and even more taxing 38kg weight. Engström says that its 'thick aluminium chassis and adjustable feet (with ceramic balls inside) root the amplifier firmly to the supporting surface', but then the sheer heft of the thing should ensure that wherever you place it, it'll stay put.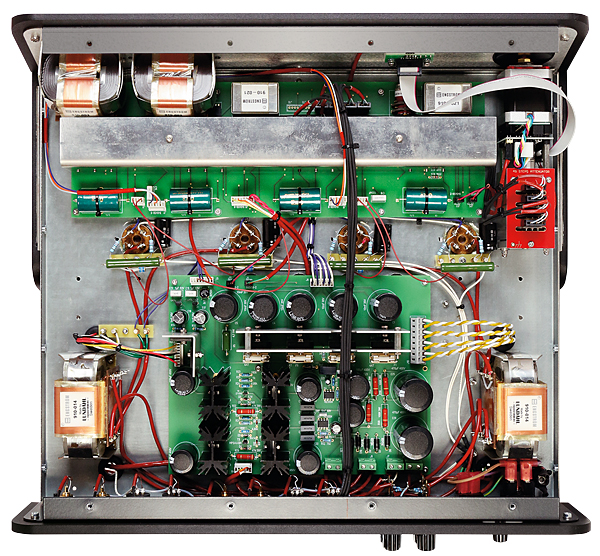 Controls extend to no more than an input selector for the two sets of balanced XLRs and an additional two unbalanced RCA line-ins, and a 48-step volume control, both of which are made slightly awkward to use by the way they're 'cut into' the slanting fascia. Fortunately, remote volume and mute operation is also possible from the 'hot seat' using the supplied handset.
Eager To Please
All the input sockets are high-quality, studio-type fitments from WBT, while a single set of two pairs of combination terminals from the same source allow speakers to be connected. They're fed from 5ohm transformer taps, meaning there's none of that selection of different taps to suit various speaker impedances that's usually a part of living with valve amplification. As PM also makes clear in his Lab Report, this is an amplifier designed to offer valve characteristics plus solid-state-style convenience, not least because it's rated to deliver 30W a side – a figure matched in HFN's independent testing, and raised by almost 25% into a 4ohm load.
Ahead of those 300B power tubes, used in push/pull configuration, is a quartet of D3a driver/ phase-splitter triodes – again two for each channel – which are direct-coupled to the power section. The designer explains that 'the driver stage has a symmetrical ± power supply so the DC level on the output of the driver is zero, making it possible to connect the driver stages directly to the grids of the power tubes which have individual cathode bias'.
The intent of this design, which is entirely in-house Engström thinking, is aimed at extending headroom and reducing distortion without compromising transient performance. Quite apart from the impressive output for a 300B amplifier of this kind, the ARNE promises real speaker-driving capability, without the need to seek out ultra-high-sensitivity 'made for valves' loudspeakers to make the most of usually tiny – often single-digit – power outputs. This is a world away from the 'purist', though not necessarily 'pure', single-ended single-300B amp…
Great Expectations
The ARNE is the company's most affordable model – the original LARS power amps will set you back £63,500 a pair, and a brace of those ERICs £138,950 – but it's no Engström-lite. Founder/designer Lars Engström says the ARNE is 'the closest the company has come in its pursuit of a completely pure Scandinavian Sound, accessible to all'. That sets the bar of ambition high, but this unusual integrated is more than up to that intention.