Emotiva XPA HC-1 Power Amplifier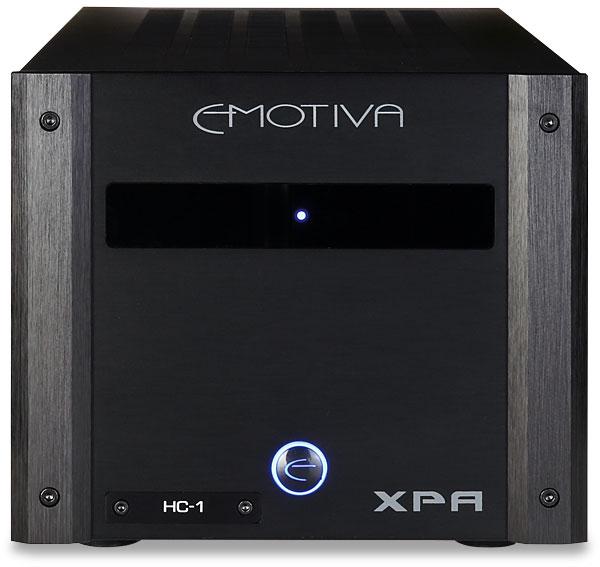 With remarkable power on tap, and very little lost to heat, Emotiva's XPA HC-1 monoblock promises exceptional performance-per-pound. Is it the bargain it seems?
American brand Emotiva's mission statement puts affordability front and centre. Claiming that 'the price of sonic nirvana' had begun to slip out of the reach of many audio fans, it launched in the early 2000s with the goal of dragging it back, using founder Dan Kaufman's previous experience as an OEM supplier as its foundation. This XPA HC-1 monoblock amp is a perfect example of the Emotiva ethos, promising serious power without the serious price. Just £799, in fact.
The company first hit the market with the DMC-1 multichannel preamp/processor, but its full product suite now includes loudspeakers and subwoofers, CD players and AV processors, and preamps and amplifiers ranging from mono to 11-channel. The XPA HC-1, despite the budget ticket, is actually one of its 'high-end' models, designed and manufactured at Emotiva's Tennessee plant, and part of the flagship X series. Those wanting to save even more pennies can investigate Emotiva's BaseX range, which includes the TA-100 integrated [HFN Apr '19].
Generation X
At the heart of any XPA amp, whether here or the Differential Reference units [HFN Oct '18], is the company's third-generation amp module. This represents more than just an incremental technology change from one generation to the next. Emotiva's XPA Gen2 amps were Class AB designs, used a linear power supply and offered a user-selectable, enriched 'Class A mode'. For its current Gen3 models, Emotiva has introduced a switchmode power supply and implemented a substantially more efficient Class H design. And this really does seem to be 'a whole new ball game' – to use Emotiva's own words.
Styling largely matches that of the rest of the X series fleet, although the XPA HC-1 adopts a half-width chassis that gives it an almost square front fascia and the look, perhaps, of a NAS drive. This relatively narrow chassis brings some placement flexibility – Emotiva suggests positioning the amps adjacent to your speakers, which will enable shorter runs of speaker wire – and ventilation is top-mounted, meaning two can be installed side-by-side if desired.
The company also sells an HCRE-1 'Coupler Kit' (£25) to physically secure two XPA HC-1s together, creating a 19in-wide unit ideal for a rack enclosure (rack ears are also available). The depth of 457mm is worth considering if you're planning on placing it on a hi-fi shelf.
Front-panel aesthetics are expectedly minimal, with only a single LED status light (which can be switched off via a button on the rear of the amplifier), power button (which is also illuminated, but – irritatingly – can't be dimmed), and 'Emotiva' and 'XPA' branding.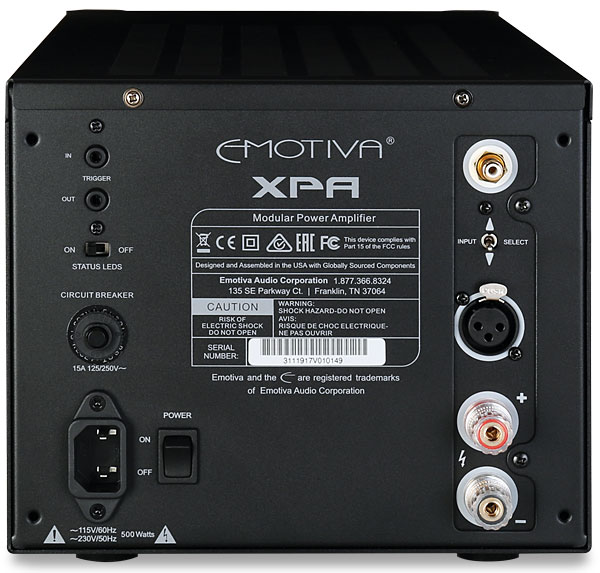 Light On Its Feet
Around the back there are single balanced XLR and unbalanced RCA inputs, with a toggle to switch the amp's operation from one to the other, plus trigger input/output connections for system integration and a set of robust speaker cable binding posts.
Robust is also a term that suits aspects of the XPA HC-1 overall. The chassis, raised by four integrated feet, is pressed steel and fronted by a thick aluminium fascia with hairline finish. Yet anyone used to the monster monoblocks of some rivals, or Emotiva's earlier Gen1 and Gen2 designs, will likely be surprised by how relatively lightweight the XPA HC-1 is at just 10kg, a by-product of that switchmode PSU. Of course, Emotiva suggests this all plays a part in its affordability, as reducing weight by around a third makes it more cost-effective when it comes to shipping.
Pound For Pound
The appeal of a monoblock amplifier comes from its singular purpose – its dedicated power supply, isolation from other channels and the chance to locate it hard up against each loudspeaker, maximising that sense of 'power on tap'. And even while the XPA HC-1 sits firmly in the entry-level camp – both in the wider market and Emotiva's own stable of products – they do justice to the concept. The sound is both grippy and rhythmic, digging deep into the music and engineering a wide, open soundstage. Value for money? Certainly.