ELAC Vela FS 407 Loudspeaker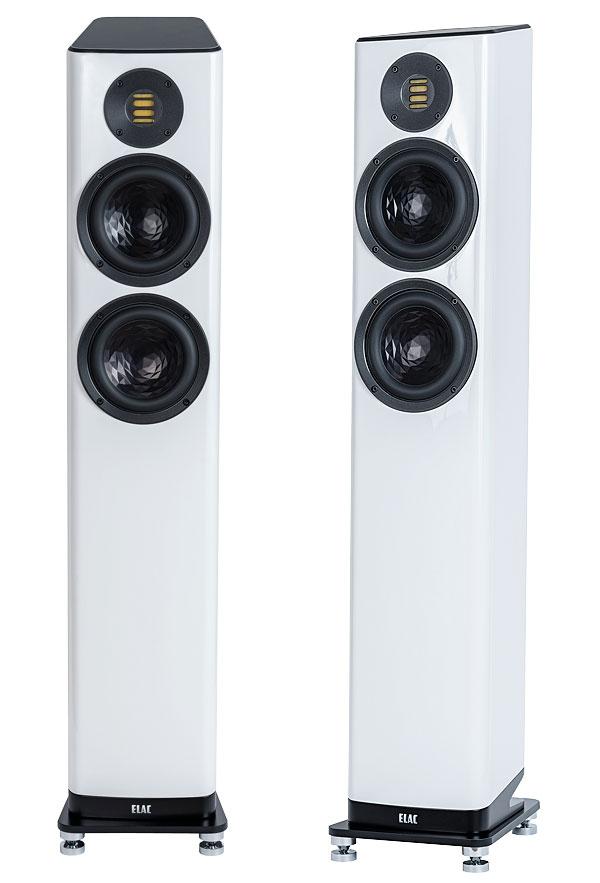 Despite the success of its Debut and Adante models, ELAC retains its traditional designs, complete with JET tweeter
Constant change is here to stay' as the saying goes. And it's certainly true of ELAC – one of Germany's most long-established hi-fi manufacturers – as the brand has spread its wings over the past few years. ELAC began life way back in 1926 in the coastal town of Kiel, where its main focus concerned the development of sonar systems. It was after the Second World War that it began manufacturing turntables and pick-ups.
In 1981 it was acquired by Wolfgang John who built ELAC up to the company we know now, latterly with his son Oliver at the helm. It made its first speakers in 1984, and has never looked back.
With a change of CEO in late 2017 and designer Andrew Jones joining long-time Director of R&D Rolf Janke, the brand has taken on a new lease of life. It now makes a dizzying range of speakers, including the Jones-designed Adante and Navis ranges [HFN Feb/Jul '18 & Aug '19] developed in the USA, plus the more traditional German Vela series with its iconic JET tweeter.
Janke says that, 'as a global brand, we tailor to different markets that have different expectations in terms of pricing, design and sound'. In the case of the £3670 Vela FS 407 loudspeaker we have here, the industrial design was completed in North America while the acoustic engineering was driven from Germany.
Jet Propelled
Retained from its 400-series predecessor is the JET 5 planar tweeter – the highlight of this loudspeaker. It uses a light, folded foil membrane and neodymium magnets to produce an extended frequency response said to go up to 50kHz. This is matched to a pair of conventional moving-coil drivers, 150mm in diameter, with large roll surrounds and cast aluminium baskets.

A two-and-a-half way design, the upper midrange unit takes over from the treble unit at 2.4kHz, and the lower bass driver kicks in at 450Hz. As for the cones, these are made using an aluminium-sandwich technology folded to resemble a large crystal. This, says the company, delivers stiffness with relatively low mass, and good self-damping properties too.
The cabinet's convex shaped baffle extends down to an alloy bottom plate, which has an aperture for the down-firing bass reflex port. This fits into a die-cast plinth that confers impressive stability, as well as looking classy. ELAC says that the rearward angling of the speaker's trapezoidal shape, alongside the JET tweeter's new waveguide, improves stereo image accuracy. The angling of the Vela FS 407 also lends visual drama.
The speaker is supplied with a fabric grille over a wooden frame, attached by magnets hidden beneath the cabinet's front baffle. This pretty looking yet sturdy product is topped off by an inset aluminium plate, black anodised to match the choice of gloss black, gloss white or walnut cabinets.
Placement proved straightforward in my room – possibly aided by the down-firing reflex port – with the speaker working well from around 30cm out from the boundary wall. For optimum stereo imaging, a few degrees of toe-in really helps.
Smooth 'N' Silky
The Vela FS 407's most apparent sonic feature is – perhaps not entirely unexpectedly – its smoothness and evenness. This comes in large part from the JET tweeter, which is as good as I have ever heard it – and indeed it seems to integrate with the other drivers below better than ever. At the same time, the midband is clean and couth yet precisely detailed, and bass is tight and extended. The result is a most pleasing-sounding speaker that, while not totally flawless, is hard not to like. It also shows how far the company's sound has progressed in the past few years.
Detail Study
It's impossible to ignore this speaker's exceptional high frequency performance, regardless of the music being played. It flatters everything. For example, 'London Town' by Wings [from London Town; Parlophone TOCP-65510] is a super sounding Abbey Road studio recording, with George Martin at the controls. It has some beautifully recorded acoustic instruments, from violins to cor anglais.