Edwards Audio IA1 Integrated Amplifier

The high-value Edwards Audio range from Talk Electronics now includes no fewer than four integrated amps, the IA1 also equipped with motorised volume and remote control
While there is a drive to bring (hi-fi) manufacturing back home to Blighty, some brands never left. One such stalwart is Edwards Audio, a sub-brand of the longstanding Talk Electronics range of full-width components. The Edwards Audio IA1 integrated amplifier on these pages is handmade in the UK – yes, designed, engineered and assembled here – and yet costs just £430. Still not convinced? Well, you can have a simpler version of the same amp, shorn of remote control, for £60 less, and you can even buy both versions in red, white or blue – but not all three at once – as part of a range of six acrylic colours in which Edwards Audio offers its full stable of products.
If the Edwards name rings bells for those with long hi-fi memories, then that's because the company takes its inspiration from founder and owner Kevin Edwards. The man, and brand, has never been afraid to tackle the establishment, whether challenging the legendary QED 79-Strand speaker cable with his original Cable Talk wiring, going after the likes of Arcam and Audiolab with those Talk Electronics amplifiers, or taking the fight to Rega and Pro-Ject with the current lineup of no fewer than seven turntables. The latter range starts with the Prodigy model at £300, complete with cartridge, and goes all the way up to the TT6 SC at £1800.
One Of Many
The full Edwards empire follows the same path, as is clear from the entry-level version of the amp tested here: the £350 Apprentice IA is the start of a five-strong amplifier range running up to the £1250 IA6, plus the C6 preamp and P6 power amps, at £750 apiece. There are three standalone MM phono stages, starting with the £100 Apprentice MM, a trio of MC models beginning at £180 for the MC1, a choice of two offboard speed controllers for the turntables, and even a headphone amplifier, the £180 HA1.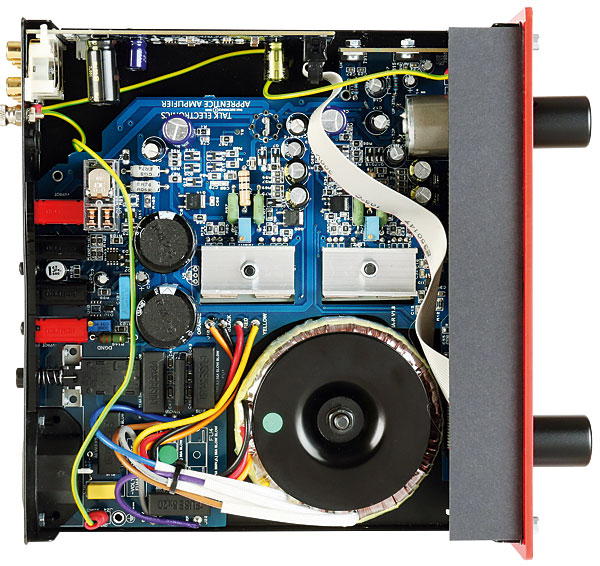 If the HFN abacus isn't letting me down, that's something like 23 models from what is ostensibly one of the UK's smaller hi-fi companies – and that, by any standards, is going some. There are sensible production economies – for example, the entry-level amplifiers share a back panel with the pricier IA4 model, but with unused inputs blanked off. There are also bays for future add-on modules, including a USB DAC, to expand the functionality.
The IA1 amplifier isn't alone at or around its price point, with the likes of the £420 Rega io and Pro-Ject's £539 MaiA S3 being in the same 'compact, frill-free and affordable' arena, but Edwards Audio's amp has a charm of its own. For a start it's very compact, at just 22cm wide, just a little deeper and 7cm tall, and looks attractive whether you go for a sober or colourful choice – both the red and white versions have a definite visual appeal, their striking casework offset with black controls.
Back To Basics
What's more, in the manner of a stripped-down sports car or bike, it's instantly apparent what does what and how to use the amplifier. There's a real sense of back-to-basics purity here, with rotary input and volume controls on the front panel, the latter motorised in this IA1 version for remote control. There's also a 3.5mm line input and a full-size 6.35mm headphone socket. The central 'E' logo lights blue when the amplifier is powered up via a push-button on the rear panel, and turns red when muting is engaged via the remote handset.
That's about all you need to know, beyond the fact that plugging in a pair of headphones will mute the speaker outputs, these offered on 4mm 'banana' sockets rather than the more traditional binding post/socket combination. Inputs to the rear accommodate MM phono and two line sources, the second of which is shared with that front-panel 3.5mm socket, and there are blanks for both optional preamp outputs and the anticipated digital module.
As mentioned, the casework here is acrylic over a metal chassis, but there's nothing 'plasticky' about the build. Edwards Audio has got the measure of working with a material used extensively across its range, and the amplifier feels solidly constructed, this also being borne out by the neat, logical construction within.
Little And Large
The IA1's performance lives up to all that promise, being both quietly confident and surprisingly gutsy – at least provided you don't ask too much of what is, after all, a relatively modest 30W-rated design. As PM's Lab Report reveals, its measured output falls a little shy of that figure, but the IA1 fights back with a generous power supply that lends it more than a little dynamic capability.