Denon DCD-A110/PMA-A110 SACD Player/Amplifier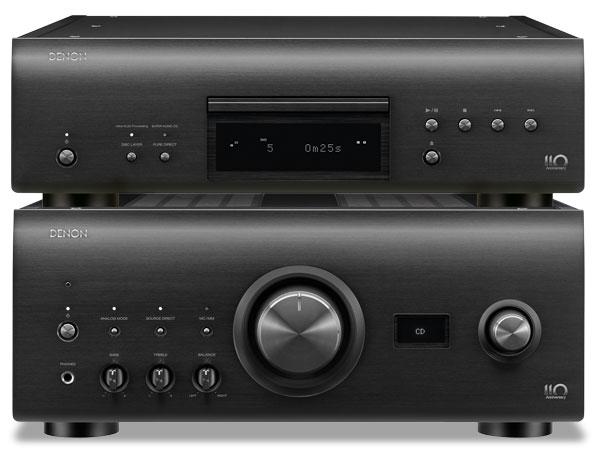 A 110-year history makes Denon a record-holder in the hi-fi industry – and it's marking that landmark with an Anniversary series that includes this very fine disc player and amp
Hi-fi companies marking anniversaries is nothing new – indeed, it seems something crops up almost every month to mark some celebration, from 25 years of the Bowers & Wilkins 600 Series upwards. However, few brands have the history to warrant an anniversary as significant as Denon, for this year the Japanese company marks not merely its centenary, but a full 110 years in business.
It's doing so with a range of products, all carrying '110' model numbers, from an AV amplifier and a phono cartridge to the £2799 DCD-A110 SACD/CD player and £3199 PMA-A110 stereo amp we have here. Incidentally, the £499 DL-A110 moving-coil can trace its lineage all the way back to the DL-103 of the 1960s!
Approval Rating
The specially 'tuned' 110th anniversary series draws on existing models, notably the DCD-2500NE [HFN Jul '16] and PMA-2500NE [HFN Aug '16] – and some items made for the Japanese domestic market, in the form of the DCD/PMA-SX11 and DCD/ PMA-SX1 'Limited' models. The premium silver-grey graphite finish sets them apart from the mainstream lineup, as does the '110 Anniversary' logo, and each unit comes with a certificate of authenticity stamped with the approval of Denon's head engineer. Made in Denon's factory in Shirakawa, Japan, these are not 'limited edition' models, but are available for a limited time.
Unlike stablemate Marantz, which believes in having all the digital work done by its disc players at this level, leaving its amplifiers as purely analogue devices, Denon's DCD-A110 player is just that – a player – with outputs on analogue RCAs and optical/coax digital. There's no sign of any digital inputs here, let alone streaming capability, as there is on the Marantz SACD 30n [review in HFN Jan '21]. What you get is a player able to handle either SACDs or CDs, plus CD-R/RW discs carrying files up to 48kHz, or DVD±R/RW media with files at up to 192kHz, and DSD64/128.
Beyond that, there's not much to using the DCD-A110 player, aside from its 'Pure Direct' mode which switches off the digital outputs and display in the quest for better sound via less interference. However, there's a lot of heavyweight engineering under the bonnet here. The player uses Denon's SVH (Suppress Vibration Hybrid) transport mechanism, mounted low in the player, featuring a die-cast aluminium loader, hefty mounting brackets and an additional copper top plate to add rigidity. There are separate power supplies too, deployed for the digital and analogue stages, all the way back to dual transformers.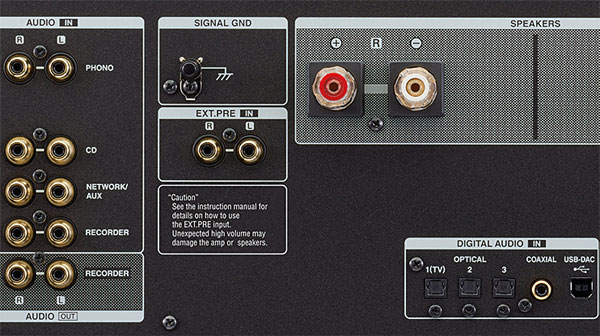 Talking Clocks
Meanwhile, conversion is in the hands of four Burr-Brown/TI PCM1795 DAC chips, with two per channel operating in differential mode, fed by the latest version of the company's sophisticated Ultra AL32 digital processing, interpolating and upsampling incoming PCM up to 32x. The player also uses separate clock oscillators for 44.1kHz and 48kHz-centric inputs to suppress jitter, and dispenses with the DACs' onboard analogue filtering in favour of a fully-discrete stage of in-house design.
Like the player, the PMA-A110 amplifier also uses Ultra AL32 processing and the quad-DAC configuration, though here it supports digital inputs running to three optical and one coaxial, plus a galvanically-isolated USB-B port through which it can handle data at up to 384kHz/32-bit PCM, or DSD256/11.2MHz. There's a MM/MC phono input too plus three sets of line-ins, and a direct connection to the power amp for an external preamp or AV processor.
Outputs run to just a single set of speaker sockets and a line output for – well, whatever 'record out' is for these days – plus a front-panel headphone socket. Tone/balance controls are also provided, with a novel two-stage system to deliver the shortest possible signal paths and reduce interference. 'Source Direct' bypasses the tone and balance settings, while 'Analogue Mode' allows the digital section to be powered down, as well as the small front-panel display if required.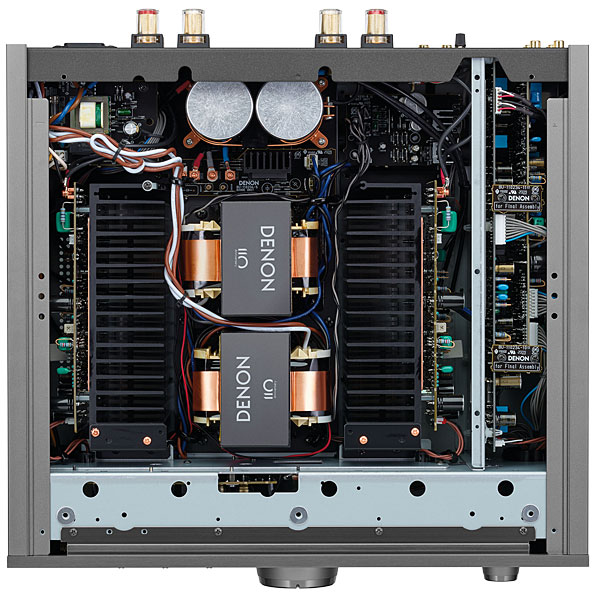 Dual Mono
The interior of the amplifier is dominated by two transformers, also feeding separate PSUs for the preamp and power amp sections, with two large capacitors mounted to the rear of the chassis and the power amp being of symmetrical dual mono construction. It follows Denon's familiar Ultra-High Current design, using just a pair of push/pull devices in place of the multiple power transistors more common in amps of this kind, and is derived from the SX-series amplifiers.
The power output here is quoted as 80W/8ohm, rising to 160W/4ohm, which may not seem massive in the great scheme of things, but it certainly proves more than adequate in use. Meanwhile the design avoids running audio signals through the front panel control circuitboard. Rather, the PMA-A110's preamp section is located down the righthand side of the chassis, directly behind the input sockets on the rear panel, with control signals sent to it remotely from the fascia.