dCS Bartók Network DAC/Headphone Amp Page 2
There's also a separate fascia button to switch the headphone section on or off, with sockets for both balanced and unbalanced 'phones to the left of the volume control. The optional headphone preamp is mounted onto the rear of the Bartók's fascia.
Before And After
Given that the Bartók shares much of its hardware with its illustrious bigger brothers, its performance is very close. It has the same clean, ultra-detailed and expansive sound for which the brand is famous and, like both the Rossini and Vivaldi, offers excellent rhythmic flow and dynamic shading. By way of context, I had its Debussy predecessor alongside during the listening, and it's remarkable how far things have come in the past decade, the latter sounding slightly vague, flat and leaden by comparison.
Seasoned dCS followers might expect the Bartók's standout characteristic to be clarity and insight, but I'd highlight its fluidity when it comes to rhythms. Caravan's 'Nine Feet Underground' [In The Land Of Grey And Pink; Deram 8829832] is by no means an audiophile recording, yet the track is packed with brilliantly tight playing from this English prog rock band.
Even via its legacy S/PDIF input, the Bartók delivered the sensation of real musicians playing in perfect time with one another. This feeling of suppleness – the sense they were all relaxing into the groove – was uncanny. While perfectly syncopated, the drummer and bassist could be heard playing off one another, rather than holding to a click track. Such a fluid feel is the mark of a top-flight digital converter.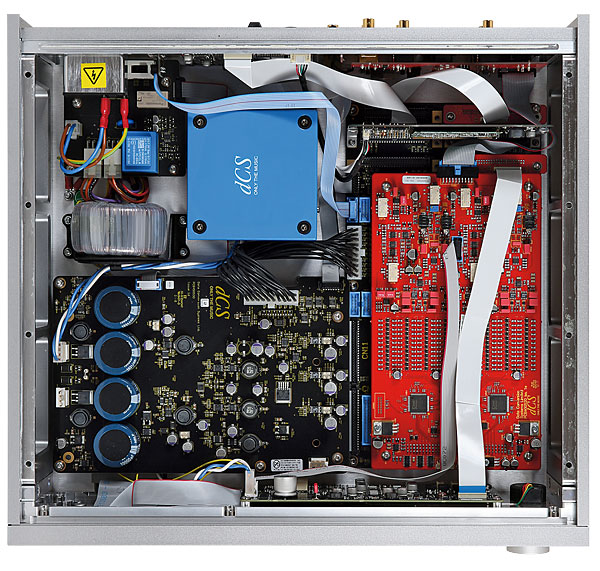 Then there's the Bartók's sheer resolution – shining a clean white light on all the individual strands of a mix without glare, coldness or excessive brightness. Believing a DAC's mettle is really tested by lo-fi tracks, rather than audiophile favourites, I played Manix's 'Oblivion' [Reinforced Records RIVET 1212 CD] – a crudely recorded early '90s techno track worked up using an old Akai sampler. In the event, it proved a pleasure to listen to (via USB) as this dCS converter dug deep into the minutiae of the mix.
I was struck by the contrast between the grimy-sounding female vocal sample used on the track and the thick, rich, sumptuous house-style lead keyboard riff, as well as the sparkling harmonics emanating from the synthesised flute voice. This patchwork quilt of samples of widely differing quality was revealed in no uncertain terms, yet it was all strung together in a pleasingly coherent way.
This superb resolution is complemented by almost cathedral-like soundstaging. It's one of those source components that makes your loudspeakers wake up and pay attention, as stereo images are forced far left and right.
This has always been a dCS forte, but streaming Kate Bush's 'Snowflake' [50 Words For Snow; Fish People TOCP-71202] over the wired network, felt as if I was in the studio with her! It was almost as if I was intruding into someone's personal space. Meanwhile, the deliciously rich and resonant piano playing stretched out wide to my left and right, its harmonics ringing all around me – and slap-bang in-between was Kate's icy vocal sounding as pure as I've heard it.
Can Opener
The partnering headphone preamp was no less impressive, my Oppo PM-1 headphones [HFN Jul '14] relishing some classic late '70s rock from Dire Straits in the shape of 'Sultans Of Swing' [Dire Straits; Vertigo 800 051-2], ably driven by the Bartók. Although not quite serving up the sort of rich, rum-soaked sound that some valve headphone stages deliver, the presentation was still surprisingly smooth and, perhaps, ever-so-slightly on the sweet side.
The track's low-end enjoyed excellent control, with a bouncy and propulsive bass guitar sound that pushed the song along with heady abandon. Indeed, the normally quite matter-of-fact PM-1s actually appeared to be enjoying themselves, turning in a vibrant and tactile sound. The midband sound mimicked the line outputs, with a bright light pushing through the mix, illuminating everything without dazzling you back. The signature Rickenbacker guitar was instantly recognisable, and Mark Knopfler's vocals had their correct 'sawdusty' texture, adding so much to the feel of the track.
The Bartók's preamp also has serious reserves of grunt to convey musical crescendos. With a tenacious grip and no hint of breathlessness as the levels increased, Kraftwerk's 'Tour De France Étape 3' [Tour De France Soundtracks; EMI 72435 91710 2 9] developed with shocking force as its closing dynamic peak was reached.
This new DAC is especially adept at tracking subtle dynamic changes – heard here in the way the backing keyboard patterns gently counterpointed the drum machine without falling away as larger waves of sound washed over them. Via the new Bartók at least, your headphones will never play second fiddle to your loudspeakers.
Hi-Fi News Verdict
Given its price relative to its more expensive dCS brothers, the new Bartók delivers superb sound quality for the money. The latest generation of dCS's Ring DAC continues to deliver an enormously detailed yet immersive sound that's high on both emotion and entertainment. Factor in this new DAC's great functionality, versatility, build quality and finish – and it's hard not to be mightily impressed.