Clearaudio Aurum Beta (£360)
Some setup curiosities don't detract from a very fine cartridge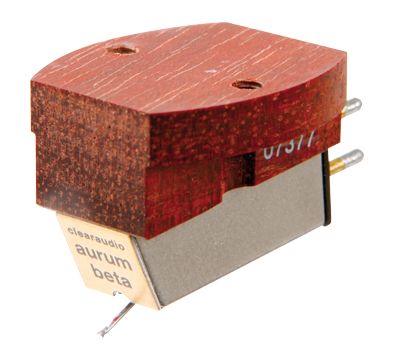 Handcrafted in its Erlangen factory in Germany, Clearaudio's products stem from founder Peter Suchy's aim to offer 'a complete range of all the necessary things in the reproduction of analogue music'… tonearms, turntables, amps, plugs, cables, records, racks and, of course, phono cartridges.
Clearaudio offers an extensive selection of both moving-magnet and moving-coil models, with the reference Goldfinder MC cartridge costing in excess of £7k. Its MM types sit at the other end of the price scale and the Aurum Beta occupies the middle rung of a seven-strong range.
Each is offered with a choice of aluminium or satiné wood body materials. The latter, on review here, weighs 4g less than the aluminium variant (at 10g), so Clearaudio includes a machined 2mm-thick stainless plate to attach under the headshell. At 18mm from stylus to top the Aurum was already the tallest in the group test, so those considering this option are likely to need an arm with adjustable height.
Spec is typical for the majority of the models on test here with an elliptical stylus and aluminium cantilever. Set-up was relatively straightforward thanks to the threaded holes, although not without worry as the long cantilever sits 2mm proud of the front of the cartridge body, aiding aligning and inspection – although being so exposed it's also vulnerable, especially as the stylus guard needs to be removed entirely.
GOOD MANNERS
With nerves calmed I dialled in a tracking weight of a 2.2g, well under the hefty 2.5g Clearaudio specifies as the upper extreme. I immediately noticed just how well-mannered its musical delivery was, flowing forth courtesy of the Mahler LP. The Aurum Beta allowed the drama to build by pushing the performers further out and allowing space between them. The lower notes were clearly distinguished as those of a harp, rather than a double-bass (which the harp imitates). By contrast the harp's higher notes sounded buried within the soundstage. Focusing on the violins, the changing direction of the bow was distinct, reminding me of how some of the other cartridges had muddied the changes.
The Clearaudio's bass was vibrant with a meaningful punch, although it didn't extend as low as that of the Grado or Ortofon models. Vocals were articulate and well rounded, even if Buckley's voice didn't have the room-filling realism of the Ortofon or Benz, with the top octaves sounding thinner.
More positively, the starting and stopping of P J Harvey's piano notes were more convincing, which highlighted how the Clearaudio's attention was drawn to accurately reproducing the body of any given instrument. Indeed, the strumming guitar of the title track was possibly one of the most 'complete' sounds I'd heard across the test.

Originally published in the September 2011 issue