Classé Audio Delta PRE/MONO DAC/Preamp & Monoblocks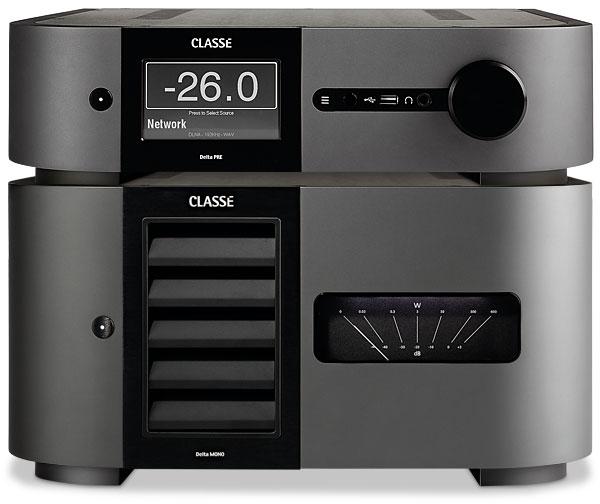 Classé is back with a bang – its third-generation Delta amplification carrying 'does what it says on the tin' model designations, and sounding as thrillingly no-nonsense as ever
When it comes to prosaic model naming, Classé has it nailed: its latest Delta series preamp, selling for £9999, is called 'PRE', and the matching monoblock power amps at £10,999 apiece, are called 'MONO'. The only other model in the lineup is the Delta stereo power amp, at £11,999, which is unsurprisingly called 'STEREO'.
Long anticipated this preamp/monoblock combo share a sculpted metal look, with a hefty wraparound fascia running into the side panels – and incidentally aren't as huge as they may look. Well at least the preamp isn't, standing just over 12cm tall and a shade under 44.5cm wide, it will fit into just about any hi-fi rack.
The power amps, however, are a different matter, for they may share the same width as the PRE, but have a bigger footprint, being 49.2cm deep rather than 44.9cm, and stand just over 22cm tall. Not vast, but it's the weight of the MONO amps that will limit your positioning options: while the PRE is chunky enough at 13.5kg, the power amps are a hefty 44.3kg each. Even the custom mains leads are weighty!
Power User
In return for all that weight, you get an amp rated at 300W/8ohm, doubling into 4ohm, with the first 35W of that output delivered in Class A, all powered by a custom toroidal transformer – accounting for almost a third of the all-up weight – and what Classé calls, with some modesty, a 'massive, high-quality power supply'. PM explains more in his boxout, but Classé claims additional benefits for its efficient temperature regulation, not least a speedy warm-up and the option to 'stack and rack' pairs of MONOs.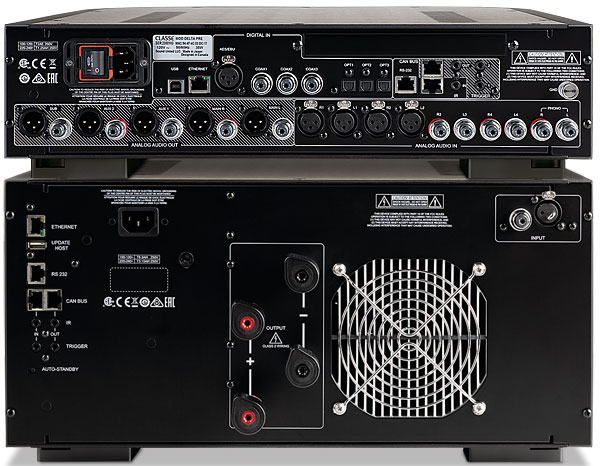 Inputs on the power amps are on both unbalanced RCAs and balanced XLRs, partnered by two sets of Furutech Torque Guard speaker terminals, designed to protect against over-tightening. There's also a range of remote connections, including 12V trigger and IR in and out; and Ethernet, RS232 and Classé's own CAN-Bus remote system. A USB-A port services updates. A series of LED signals on the front panel provide status and warning information, and the power meter display can be dimmed or turned off, with Classé providing the helpful hint that when the needle is to the left of vertical, the amp is working in Class A. With so many meters these days having mere decorative value, this digitally-governed display is exceptionally accurate.
On test, the power amp was fed from the PRE using balanced connections, the preamp having not just main outputs on RCAs and XLRs, but also a further pair of 'Aux' outs, and a subwoofer out. This second pair can be configured to duplicate the main preouts or act as line outputs, or one of them can be assigned as a second sub out, the two outputs then able to drive two mono or stereo subs. All of this is configured in the preamp's extensive menu system, controlled by the front-panel touchscreen display, which even allows different subwoofer crossover points and slopes to be selected. Five output presets can be set and stored, including adjustable distance/delay settings when a sub is used.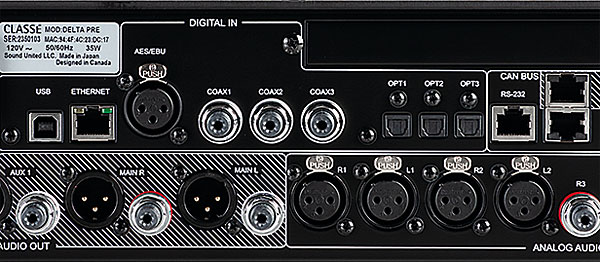 Input Data
Evidence of this flexibility is apparent in the fact the PRE hosts no fewer than 15 inputs! On the digital side these run to an Ethernet port for DLNA streaming and AirPlay via a home network; a USB-B for computer connection up to 384kHz/32-bit and native DSD up to DSD256; plus one AES/EBU, three coaxial and three optical. There's also a USB host port on the front panel, curiously only for the connection of iOS (iPhone) devices, although it does also allow firmware updates.
There are two sets of XLR balanced analogue inputs and two on RCAs, plus a dedicated phono input, with the option of reconfiguring one of the line-ins to accommodate another turntable. There's also an extensive range of gain/loading adjustments in the phono menu. Each of the amp's inputs can also be set-up with its own level trim – or as bypass for use in home cinema set-up – along with tone controls either as conventional bass and treble or as a tilt control, a parametric equaliser, plus mono summing and bass management, all implemented in DSP. It's also possible, when using the analogue inputs, to set the PRE into 'Digital Bypass' mode, at which point it becomes a pure analogue preamp, with all its digital circuitry powered down.