Chord Ultima Pre 2/Ultima 2 Pre/Power Amplifier Page 2
Confused yet? If not, the layout of the power amp's rear-panel connections should sort that. This is a mono power amp, yet at first glance it appears to have two sets of inputs, on both RCA and XLRs, along with two sets of 4mm speaker outputs. OK, so the latter is hardly unusual – many mono power amps have two sets of speaker outs to simplify bi-wiring of suitable speakers. Here, however, the twin inputs allow the connection of the power amp with either normal (left hand inputs/4mm outputs) or inverted phase (right hand ins/outs). By all accounts, Chord errs in favour of the inverted input, which is just how Editor
PM
kicked-off his listening tests.
Chord's New Ultimate?
Driving my favoured B&W 800 D3 speakers [HFN Oct '16], and fed from a dCS Vivaldi ONE/Melco front-end [HFN Feb '18], these new Ultima 2s quickly got into their stride, writes PM. They filled the room with an impressively broad and deep sound, but one also possessed of an easy tranquility that hinted at a vast pool of untapped power just ready to pounce. But don't crank up Chord's volume control to get your speakers jumping – the gain of these monos is higher than usual at 30dB, so the Ultima Pre 2 should be set to 'x0.5' to get a useful range out of that bulbous dial.

Warm-up is very swift indeed – 20 minutes tops – and neither do the Ultima 2s soak up too much juice when idling (90W each), so you have the easy option of leaving them on or off between sessions. I should say at the outset that these Ultima 2s lay to rest any suggestion that Chord's switchmode-driven amplifiers may sound a little chilly about the edges. Living with the flagship Ultimas for a month back in 2019 convinced me of this, but the Ultima 2s take this refinement to another level – the Ultima Pre 2 is significantly quieter and, thus, so is the combination.
Turn Up The Heat
Take the poignant 'In The Winter I Returned' [Dear River; Linn AKD505, 96kHz/24-bit] where Emily Barker's voice nudges insistently ahead of Ted Barnes' very deliberately plucked strings, all rising from a very dark and yet eerily spacious acoustic. As her natural sibilance builds and other performers in The Red Clay Halo join the piece, there's still that sense of both volume and intensity growing harmoniously, all of a piece without a suggestion of raggedness.
Turning up the heat with Logan Richardson's debut for Blue Note [Shift; Blue Note 00600406671585, 96kHz/24-bit] and there was no pause for breath as this Chord combo revealed the beautiful but challenging melodies. Here were the twists, turns and obvious improvisation traded between saxophonist Richardson and guest star Pat Metheny on guitar, all underpinned by an oh-so-tight engine-room fuelled by bassist Harish Raghavan and Nasheet Waits on drums.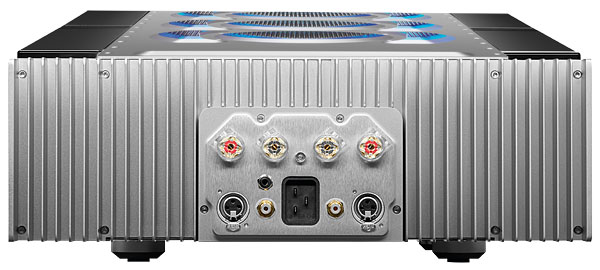 The sound was rich, the performance compelling as the Ultima 2s provided just the urgency required, and no more, to fill the room on command. So there's certainly a 'technicality' about the sound of this duo, but there's sophistication and passion too.
And can they rock? You bet! Advancing the volume way short of '11' ('3' would be closer to the mark) was more than sufficient to roll out the 2014 remix of Deep Purple's classic live Made In Japan [Universal Music Group UNI285], originally captured on an 8-track machine. Sure enough, this '96kHz/24-bit Deluxe Edition' looks more like a 48kHz upsample, but there's no gainsaying the additional see-through clarity and comprehensive tightening-up of what is surely one of the world's most visceral and energetic rock bands captured, on stage, at the apex of their collective talent.
'Child In Time' (Osaka) sounded positively haunting through the Ultima 2/802 D3s as the distinctive, tremulous quality of Jon Lord's Hammond organ hung in the night air, punctuated by Gillan's unique vocals swinging from intimate to wild dervish in a few beats. And the bass? Firm, deep and palpable without ever sounding excessive.
I still have the original gatefold 2LP set issued in 1972 but, to really savour the atmosphere, the remaster beats it hands down. This ability to expand the scope of its sound, to render an intricate and also realistically physical performance in a decently-sized space, remains a key quality of the Ultima 2 combination.
There are other big amps that bring a slightly more velvety texture to grand classical and rock performances, but few that walk the line between incisiveness and envelopment with the confidence of the Ultima 2s.
Audio Iconoclasts
These amps – the Ultima 2 monos in particular – are poster childs for the technology within. So they are not particularly 'like' any competing solutions. They tread their own path, and demand to be heard. Non-conformists the world over will, quite rightly, love them to bits.
Hi-Fi News Verdict
If the Ultima flagship is a costly 'technology demonstrator' then these Ultima 2 offsprings are a textbook illustration of trickledown in action. Frankly, if you were enthralled by the debut Ultimas and have been saving ever since then cash in your chips now, buy the Ultima 2s instead and spend the excess £40k on new floorstanders and music. Yes, the Ultima Pre 2 and Ultima 2 really are that good.