Chord Mojo 2 USB DAC/Headphone Amp Page 2
Stupid me: I should have expected the Mojo 2 to be at full gain when I first fired it up. Who knew that Johnny Mathis could have the ear-shattering power of Metallica? Wow, can this go loud! Once regaining my senses, I dialled down the level and worked my way through material on a Huawei P30 Pro smartphone and Pioneer XDP-100R DAP [
HFN
Aug '16].
Sources included lossless rips from CDs via assorted programmes, as well as high-res downloads. Among them was the complete Beatles library in the unusual 44.1kHz/24-bit FLAC format from the 2009 remastering [HFN Yearbook '09], supplied in a metal Apple USB stick. It took, oh, maybe 15 seconds to decide emphatically that the Mojo 2 does everything better than the original Mojo.
I don't write that to disturb you, because Chord's mould-breaking Mojo is still better than just about anything out there. Also, I can't see too many people schlepping around one of the larger, heavier, dearer Chord Hugos [HFN Aug '18], even for those who think they want more than a Mojo. Trust me: through the highest-resolution headphones in my arsenal, both Mojos did something wonderful, as Peggy Lee once sang. But the Mojo 2 further opened the sound to a degree I can liken only to going from sealed-back to open-back headphones. And it did this while avoiding the one sacrifice you expect to make with that transition: the loss of bass.
Lost In Head Space
With the opening notes of The Beatles' 'Come Together', I heard deep, extended, solid lower octaves, in a sound space – or should that be a head space? – which seemed to have no boundaries. Remember, all the new menu/tone settings were flat, as pure and unadulterated as I could manage. Unfortunately, I didn't have the same tracks on the same player in two different formats, and Apple has yet to reissue The Beatles' canon at higher resolution, so I turned to other material which I did have in more than one form.
How I ended up with Mink Deville's '"A" Train Lady' in both AAC 44.1kHz/16-bit and FLAC at 192kHz/24-bit I'm not sure, but here the Mojo 2 showed its mettle.Listening straight off the Pioneer DAP, it was possible with just a bit of effort to hear the difference between such widely varying encodings. From the Pioneer player's USB output first into the Mojo and then the Mojo 2, I heard progressively better sound in terms of smoothness and air.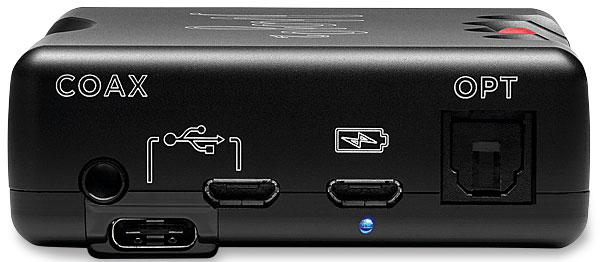 To be fair to the Mojo – and don't ditch yours just because the Mojo 2 has arrived – it so improved on the Pioneer DAP's headphone output that this little A/B comparison alone was sufficient to recommend either Chord device. The main areas of improvement were retrieval of fine, low-level detail and dynamic swings, the latter due in no small part to a more powerful headphone amplifier in both Mojos. I must stress, too, that moving from Mojo to Mojo 2 delivered fewer gains that moving to either Mojo from the Pioneer player.
As for the switch from Mojo to Mojo 2, the most readily discernible gain came in the vocal textures, Willy Deville's voice a challenging mix of the gravelly and the nasal. The Mojo 2 was slightly less sibilant and a hint warmer, but almost as startling an improvement, to my ears, was the extension of the soundstage. The presentation really did appear wider, certainly outside of the headphone cups.
Freak Show
Perhaps it's a little freakish to talk about a perceived soundstage when it's in one's skull. That's why I only listen to headphones when I have to, for testing or in transit, because I still find cans unsettling, even 54 years after buying my first proper pair to use when the old man didn't want to hear me rocking away upstairs. However, and despite my apparent reluctance, I still seem to be donning headphones on a surprisingly frequent basis...
Nevertheless I was also keen to hear the Mojo 2 as just a DAC, with a Toslink connection from a universal player and the analogue out into my regular system. Fed with George Harrison's All Things Must Pass 50th Anniversary [Capitol/Dark Horse/Apple 02435 65238], I ran it alongside a couple of highly-regarded DACs which I'm choosing not to embarrass. Chord's Mojo 2 delivered such smooth, silky, open, transparent and undigital sound that it's now a reference in my system.
Downsides? The Mojo 2 begs for a tiny touchscreen, as does the Poly, to make it usable for those of us who cannot tell the difference between, say, Pantone 290CS and 291CS colours regardless of ambient lighting. But, ergonomics aside, as both a DAC and a headphone amp, the Mojo 2 is amazing.
Hi-Fi News Verdict
For one who adores dual-purpose items which do more than they need to, the Mojo 2 is a little miracle. You want to know how it serves as a portable DAC and headphone amp: I cannot name a better one. The real surprise, though, is using it in a home sound system. This isn't just a great mobile DAC/amp, it's a red-hot (metaphorically) bargain DAC for any use. I absolutely love it, despite the sadistic ergonomics.