Centrance Dacmini (£720)
Designed to mimic the design of the Mac Mini, the CEntrance has wider appeal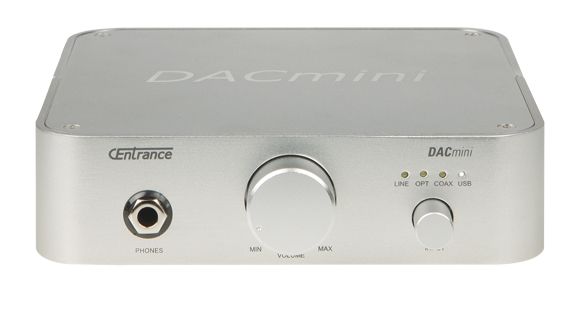 If you're planning to use a Mac mini as your audio computer (and it's a good choice given that it is small, smart, quiet and you can always use a Windows OS if you prefer) then why not have a DAC of similar appearance? That's the USP of the CEntrance DACmini CX, which doesn't quite pull off the imitation (there are joins in the case at either side) but even without a Mac mini as partner has the benefit of being likewise compact and sleek.
That volume control knob on the front panel might suggest that the DACmini, like the Benchmark, Electrocompaniet and Antelope models, offers variable output level but it's deceptive. The volume control actually adjusts the level of the headphone output only, via the nearby 1⁄4in jack. The rear panel analogue outputs are fixed.
USB, coax S/PDIF and Toslink digital inputs are provided, along with a line-level analogue input. Selection is via the smaller control knob on the fascia, white LEDs above it showing which input is active but giving no indication of digital lock, nor is there any display of input sampling rate. S/PDIF coax and optical inputs support up to 24-bit/192kHz input, although the lab test indicates poor quality downsampling to 96kHz. The USB input is limited to 24/96.
CLEAN AND SPACIOUS
As the DACmini features a headphone output so prominently, I listened to this as well as the phono outputs. It gave good results with the two Audio-Technica medium impedance 'phones I tried, albeit lacking the exceptional clarity of the Benchmark's headphone outputs. At least in part this reflects the nature of the DACmini's converter performance.
As you'd hope, given its price premium, it offers resolution that's a step up from the rDAC's, but not of an order to challenge the best, and costlier, DACs in this group. For instance, when the burst of noise, odd vocalisations and thunderclap that open 'Perfect Sense, Part 1' die away, what's left is a simple, calming piano melody with percussion and guitar background preceding the vocal entry. Compared to the mayhem that opens the track, not much is happening and yet this is quite a telling passage. The best DACs here were able to imbue it with a cohesiveness and gently insistent rhythmic pulse that the lesser DACs somehow missed – including the DACmini, which delivered a clean and spacious but slightly less compelling sound.
A similar effect was heard in the delicate Kodály cello pieces, and the energetic Tippett orchestral item didn't have quite the attack and sense of acoustic space that it should. So, the DACmini isn't destined to set the world alight but it yields sound quality commensurate with its price and has a unique take on product styling.

Originally published in the August 2011 issue