Canton Reference 7K Loudspeaker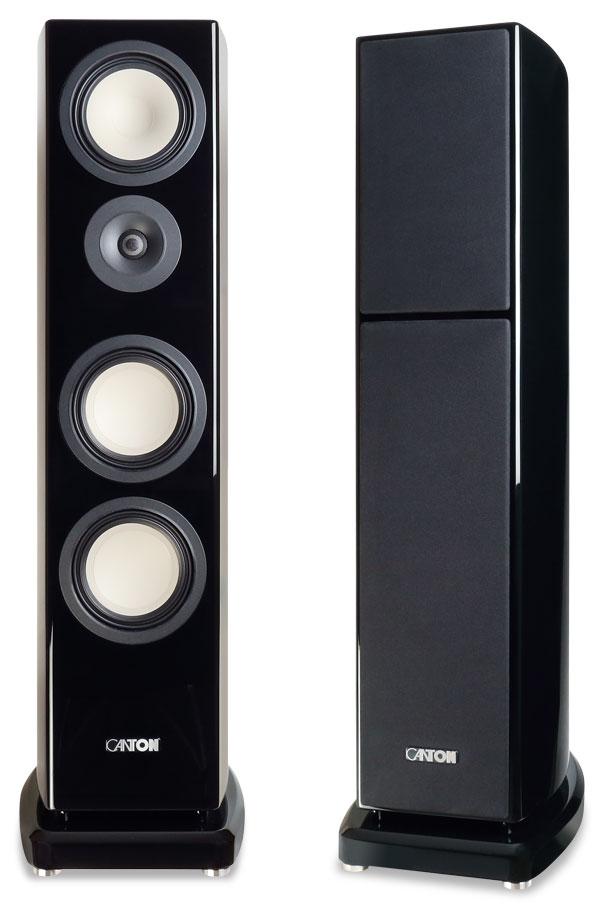 For 50 years and two generations Germany's Canton has been building 'audiophile' loudspeakers. We catch up...
The Reference lineup from Canton marks the apex of its engineering thinking, combining years of experience with new computer modelling software and a freshly built testing laboratory. Given 'free rein', its designers came up with no fewer than nine separate models for the new Reference K series, including six floorstanders, one standmount, a centre channel speaker and a 750W-rated active subwoofer for home theatre applications.
In common with B&W's 800 D4 series [HFN Nov '21 & Feb '22], Canton has adopted a two-tier approach with its 'crown jewel' models – the £24,000 1K, £15,750 2K and £11,500 3K – featuring a complex cabinet construction with a tapered baffle that grows wider towards the base. The 5K, 8K and £5700 7K we have here all sport more traditional, but still very attractively curved, cabinets.
Small Is Relative
The 7K is 'slender' compared to the very muscular-looking Reference 3K, but standing a little over 1m tall, this three-way loudspeaker's 42cm depth and 33kg weight (including base) ensures it will still need manoeuvring with some caution. In practice, the cabinet depth and weight are informed by design decisions, Canton's engineers starting with the premise that the enclosure should be as rigid as possible, which has led to the use of a stiff, 50mm multilayer composite wood material for the monocoque cabinet construction.
This composite can be formed into curvy (or as Canton puts it, 'organic') but sturdy shapes that afford both a high degree of self-damping and an asymmetry that dissuades internal standing waves. Hence the 7K's depth, bringing with it a visual advantage. Sitting in the listening area, the Reference 7K doesn't look its size, even though the interior cabinet volume is a roomy 49.5 litres.

This is also a vented loudspeaker design, not that you'll detect a traditional port on either the baffle or cabinet rear. Instead, the dual woofers output via a downward-firing port across the top front and rear surface of the speakers' plinth. This diffused port output not only minimises chuffing but also confers a little more freedom if you need to site the speakers close to side or rear room boundaries. In addition, the heavy plinth not only lowers the 7K's centre of gravity, improving stability, but comes with a choice of spikes and 'decoupling' polymer feet.
Internally the 7K is divided into two chambers, although the configuration isn't necessarily what you might expect, with the top-of-the-baffle 174mm midrange driver isolated from the lightweight 25mm ceramic (aluminium oxide) tweeter and pair of 174mm woofers below. These mid and bass drivers are newly designed and mark an evolution over Canton's hallmark aluminium-coned units. Here the outer surface of the alloy cone is oxidised into a ceramic and 'dusted' with tungsten (a rare but hard and dense metal).
As is the trend these days, the composite alloy Canton uses to create its midrange and low-frequency drivers is therefore both light and rigid. Ceramic also 'stiffens' the ADT-25 dome tweeter, optimised here to improve bandwidth and dispersion. Finally, the three-way 220Hz/3kHz crossover network features custom-made internal wiring and passive components that are tested to 'reference-grade tolerance guidelines'.
Breathtaking Beauty
Although I'm not particularly fond of high-gloss finishes that leave you having to break out the duster every few days, the quality of the multi-layer piano-lacquer applied to the Reference 7K is worth the occasional gentle buffing… Canton states its lacquering technique involves no fewer than 12 layers of varnish, each applied while the previous layer is still wet. Considering the price tag of the Reference 7K, and the less elaborate finishes of some notable rivals, it's all very impressive and pleasing to the eye.