Cambridge Audio Edge NQ/M Streamer/Monoblocks Page 2
For those tweed-clad, mustard-waistcoated and red and spluttering of face, two points to note: 1) The Edge range is designed and engineered in London, and built in China; 2) these components are not just built to a standard to shame many an 'establishment' high-end rival (many of whom are also assembling offshore), but deliver a level of performance that's up there with the very best. What's more, they're a delight to install and use, with logical set-up and operation right down to that upside-down-repeated connection-labelling for those peering over the back of the units, and a wonderfully tweak-free speedy process from unboxing to listening.
Passion Play
High-end hi-fi without the high-falutin' installation? You bet – these substantial separates just work, and how! Whether running in network mode, fed via USB from a Mac computer, or in analogue using my Naim ND555 [HFN Apr '19] as a source, this Cambridge combination is just about all the amplifier one could ever want.
Playing the recently-released recording of Handel's lesser-known Brockes-Passion [Alpha Classics ALPHA644], the Cambridge NQ/Ms do a fabulous job with the work's near-operatic scale, with glorious detailing on the voices plus speed and definition with the accompanying ensemble. There's drama, persuasive soundstaging and imaging and, if you don't mind the pun, no shortage of passion. It's a fabulous experience, both sonic and musical.
From the off, this is a playback/amplification system to connect the listener with a performance, as is abundantly clear with the raw, but lovingly recorded, Lucinda Williams Live @ The Fillmore double album [Lost Highway B0002368-02]. It captures the nuances of Williams's voice, from gentle folky introspection to snarling rock, while the musicianship of her band is well served by both the massive slam these amps can deliver and their ability with the finest detail of tonality and technique. Then there's the multilayer, multi-instrumental Help! set [2xHD 2XHDRL1198], the Cambridge trio bringing out all the details of what is a certainly complex recording, on which composer Robert Len plays every instrument from brass and woodwind to percussion.
Light Industry
This album is all beautifully recorded, originally in DXD, so that despite the sheer density of the sound every instrument is given space to breathe. This sings through via the Edge NQ's streaming section and the powerful Edge M monoblocks, creating an enthralling sonic picture in which every performance can be appreciated.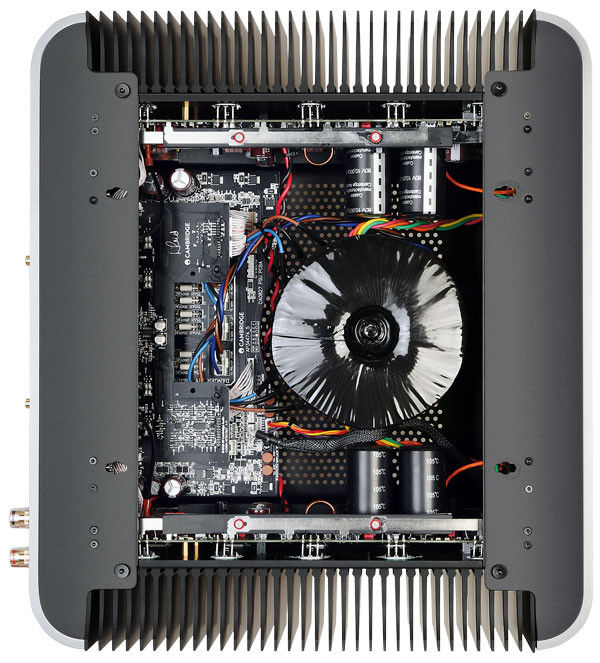 What the Cambridge combination does so well – and this is as true whether using digital or analogue inputs, or the onboard network streaming – is carry its massive power lightly. There's a lot on tap here, but the combination is equally at ease with a delicate solo instrument or accompanied voice as it is when charging through a big rock or orchestral piece. There's never any harshness or excessive brightness here, despite the levels of detail the DAC/preamp can extract from everything from BBC AAC radio streams upwards. Even the odd track streamed from a phone via Bluetooth sounds more than reasonable – yes, they give away detail and extension to 'full-fat' content at CD quality and above, but they're none too shabby.
Master Class
What's more, the amplification keeps a ruthless grip on speakers, but does so without trading any exuberance. One gets the feeling the Cambridge combo is always in command, but knows how to party, even when thrashing through the full-on live title track of the Patti Smith Group's Radio Ethiopia [Arista/BMG 07822 18825 2] or alternatively – very alternatively! – the chugging, thundering space-rock of peak-era Hawkwind on 'Master Of The Universe' from the ever-so-dense Space Ritual [EMI Premier 7243 8 35487 2 9].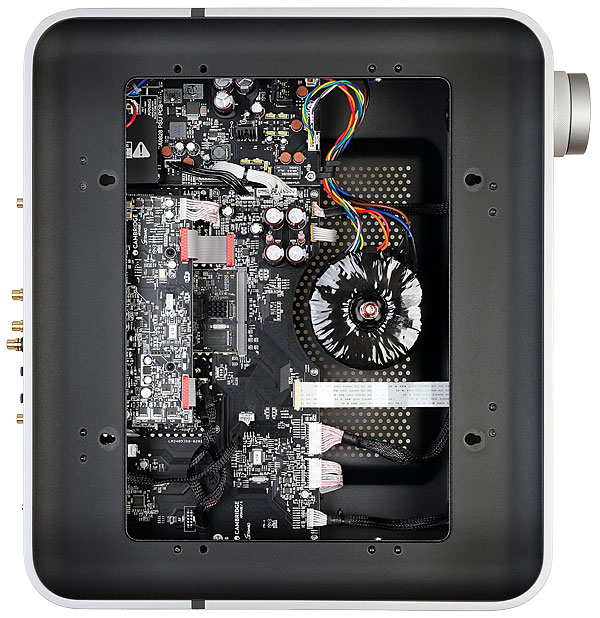 I tried to wrongfoot this combo – I really did, with everything from podcasts to spikey atonal modern classical music – but every time, this system came up trumps, driving everything from a 'light but tight' pair of Scansonic mini-floorstanders to my usual Neat Iota Xplorers [HFN Jul '18] and aged PMC OB1s, both of which benefit from being grabbed by the whatsits and made to work.
In the end I gave up trying to catch the amps out, and was instead thinking this would make a fine minimalist set-up, with just the NQ on display and the Ms out of sight behind the speakers. But it would be a shame to hide them away!
Hi-Fi News Verdict
This streaming DAC/power amp combination has a lot going for it – gorgeous looks and a sound and build quality to match. It's simple both to install and use, and you won't need any tweakery to tease out their best. Cambridge Audio has got its 'no limits' series pretty much bang-on, and anyone who still thinks the brand is just about 'budget hi-fi' needs to know it's playing with the big boys now – with great success.