Boulder 1110/1160 Pre/Power Amplifier Page 2
There's massive power on offer here, and the 1110/1160 just loves to unleash it – so make sure you stick to the preamp's default 0.5dB volume increments, not the optional 1dB, and you might want to program the maximum volume limit, too.
That understood, it's immediately evident that the 1110/1160 has some remarkable sonic qualities, not least in its ability to seemingly deconstruct very busy, dense and/or musically complex recordings before, in some instances, reimagining a once-familiar acoustic space and the position of instruments within. More than a few times it caused us to re-evaluate our understanding of a well-worn test track and album. So this is not only a 'big picture' amplifier but one that has its own ideas about the scene itself.
Again, we were never in doubt of the power available, even when playing at relatively low levels, as the leading edge of notes remained especially sharp and articulate. Play a piece with jangly guitars or a prominent bassline, such as The Ox's grumbling figures in The Who's 'Won't Get Fooled Again' [Who's Next; Geffen Records, 96kHz/24-bit download], and the 1110/1160 latches cleanly onto those elements. I'm not sure I've ever heard that bassline sound quite so obvious, set as it is against a mix that's otherwise 'all of a piece'.
Big Screen
Turn things up to let the music fly and that 'hair-trigger' volume effect comes into play, the entire perspective of the track changing like a movie shot pulling focus from one plane of the subject to another. Definitely these amplifiers have a view of what they're playing, and are in their true element when working hard, even though that may well mean you'll be playing music louder than you might otherwise be accustomed to. This amp does not run out of steam!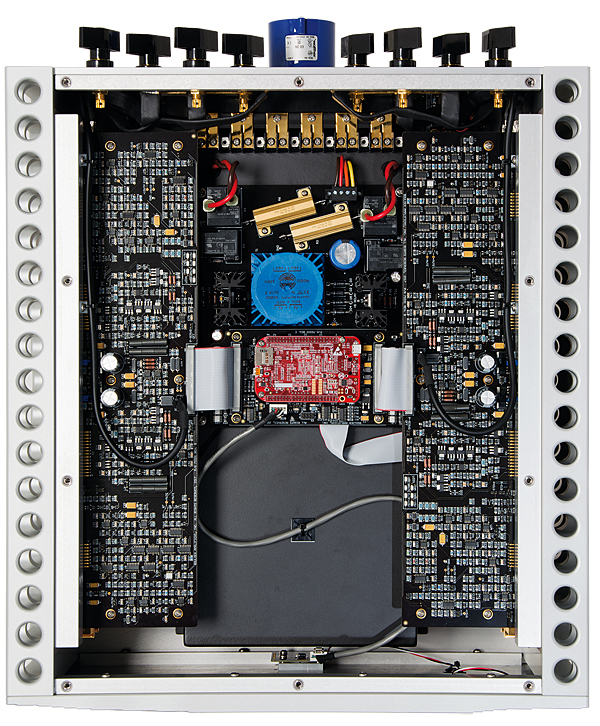 Frankly, they're an absolute riot when running at full pelt. The Brothers' take on 'Whipping Post' from last year's Allman Brothers Madison Square Garden tribute concert [Nugs.net download] is full-on and hard-charging, and while it might be argued there's less of some fine detail than with some other high-end amplifiers, the overall presentation remains infectiously involving.
But while that live recording has all the sense of musicians working together, if a track is built on artifice, the 1110/1160 can be ruthless in revealing it. Playing The Three Fates from the eponymous ELP debut album [BMG/Manticore BMGCAT2CD1], the disparity between the recorded environment of the opening organ, Emerson's piano and Palmer's percussion is laid bare. Even the upper and lower manuals of the Newcastle
City Hall organ sound like they're in different places, while the piano, recorded in the studio, has a strangely muted, slightly distant sound. Professional to the core, these Boulder amplifiers can be unsympathetic witnesses.

So, moving on to the 'jazz section', and you segue into a more intense sound with the sizzle and sting of Palmer's cymbals revealed in all their spiky glory. If you have a bright-sounding source or loudspeakers then the 1110/1160s will let you know all about it!
All That Jazz
Play Iiro Rantala's take on 'Caravan', from My History Of Jazz [ACT 9531-2], and the dense mix is punctuated, illuminated even, by the attack of the violin pushing the instruments forward, sounding large and confident. Stick with jazz and another favourite tester, the Espen Eriksen Trio's 'In The Mountains', from Never Ending January [Rune Grammofon RCD 2173], and the sound is initially slightly claustrophobic, the opening drums deep and ponderous, before Eriksen's spritely piano brings light to the scene and, once again, the 'big picture' is revealed.
Without doubt, what the Boulder 1110/1160 does well, it does very well indeed. Even with orchestral works such as the testing, but superbly recorded and mastered, Britten 'Young Person's Guide To The Orchestra' [Reference Recordings RR-120SACD] there's just no denying the sense of orchestral scale and weight on offer.
The 1160 is a big amplifier that begs for big loudspeakers. So, yes, in tandem this amplifier combination is insightful almost to the point of being idiosyncratic at times. But if you like the way they do what they do, and have a penchant for playing your music at adventurous levels, chances are you'll love them.
Hi-Fi News Verdict
The brand-name could almost have been written without the 'u', so big and bold is the sound delivered by this preamp/power amp combination. There's little to match their sheer musical brio, especially when driving at high levels. While they have a remarkable ability to 'reimagine' complex recordings, majoring on the attack of instruments, it's hard not to find much to enjoy in this exciting-sounding, dynamic duo.