B&O Beomaster 2400-2 Page 2
There isn't an input for a CD player but for some years B&O marketed a little box called the 'CD-Tape Adaptor'. This adds a pair of correctly matched RCA inputs while still making it easy to switch back to tape when needed. Choosing a source by touching the panel turns the unit on with a gentle 'click' from a relay inside. One of B&O's ideals of this time was that after only one touch you should hear music and this is elegantly achieved by this design when using the tuner section.
Tim Listens
The company's '70s signature sound of luxurious (Danish?) butter-smooth bass and soft, shimmering treble is not exactly what you hear from the Beomaster 2400-2. While these traits are certainly at the core of its sound, bass and treble extremes are not especially explicit. The result is a tighter but perhaps less beguiling sound than serial B&O owners may have come to expect. Every now and again B&O voiced one of its designs in this manner, both the Beomaster 4000 and 6000 '4channel' sounding similar. Hence, the presentation here was a deliberate choice and not the result of penny-pinching. All the same, the Beomaster 2400-2 lacks some of the indulgent appeal of the Beomaster 4400 [HFN Jun '12] and Beolab 5000 [HFN Dec '13]. It's a bit like drinking Diet Coke compared to the 'full calorie' original.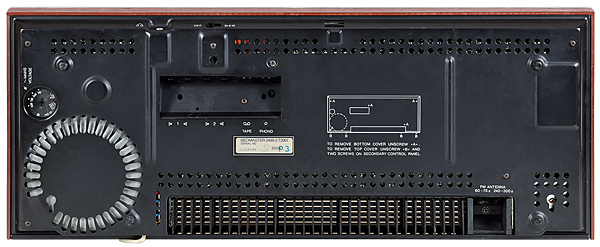 In the 2400-2's favour, its sound is notably precise and architectural. The soundstage it delivers is deep and three-dimensional, there being no obvious gaps or pools of music concentrated only around the loudspeakers. It will play loudly too without falling to pieces (either sonically or electrically – B&O were well aware of the popularity of its equipment with the party set), but without a pounding bassline it can sometimes feel like this receiver is simply making a lot of noise for no real purpose.
Not all music is bass-driven of course, and when it comes to Classical and orchestral pieces the 2400-2 comes into its own. Playing a CD of Grieg's 'Morning Mood' [DG 439 010-2] through the tape input revealed a natural and fluid texture to the 2400-2's sound that it was easy to become lost in. What was especially impressive was the sense of space around various instruments and the level of detail the amp was capable of resolving. Moving up in tempo and energy, Rossini's La Gazza Ladra overture [DG 431 653-2] retained much of its excitement and drama, although a little more sparkle around the percussion would not have gone amiss.
On Target
Pop and rock music suited the 2400-2 less well. Level 42's World Machine [Polydor 827 487-2] sounded blander than I would have liked. Power-packed pieces such as 'Physical Presence' and 'Dream Crazy' lacked some of their expected punch, although with most of the album's remaining tracks and sweeter-sounding pop and well-produced rock recordings generally, the sound quality was of a high standard.
As for the Beomaster 2400-2's FM tuner section, I found this to be excellent. Good sensitivity made noise-free BBC Radio 3 easy to receive and a live evening concert by the BBC SO of pieces by Britten and Mahler was subjectively no less enjoyable than listening to the same selections played directly from a turntable or CD player connected to the 2400-2. Correct tuning, a vital part of quality radio listening, was simple to achieve thanks to the green balance indicator and the powerful AFC system. And once set, the tuning stayed spot on target for the whole evening.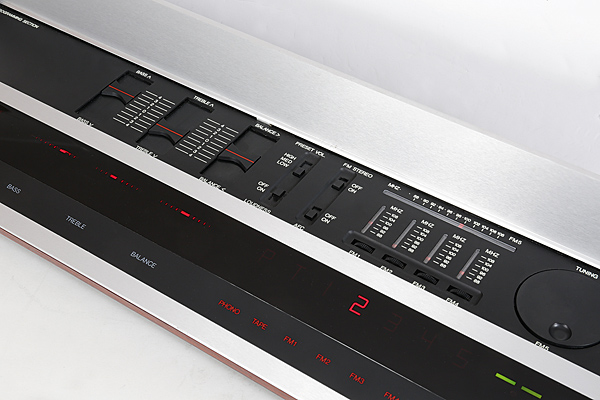 Overall the Beomaster 2400-2 is something of a mixed bag. It is stunning to look at and delightful to use but with some genres of music it can sound a tad too polite and restrained. Throughout most of the 2400-2's life B&O also offered the similarly-priced Beomaster 2200, which lacked remote control, the touch sensors and some of the 2400-2's visual drama but instead offered an extra 10W of power and a lot more fire in its belly. For serious listening this is the one I would choose, assuming your budget will not stretch to a 4400, of course.
Buying Secondhand
When buying a Beomaster 2400-2 it is important to remember that it may have spent the first few decades of its life on standby when not in use. This can take its toll due to heat build-up inside the cabinet, leaving a well used example looking a bit sorry for itself internally. As well as the notorious red moulded electrolytic capacitors (of which there are many), potential trouble spots include the 15V regulator and the voltage doubler for the FM tuning, both of which will cause hum or erratic operation if faulty.
The various indicator lamps may also fail: replacements have to be of exactly the correct rating or the function selector will not work properly. The preset resistors which set the bias current in the output stage can change value, causing poor audio performance and the amplifier to run hot. In extreme cases this can deform the black plastic vent grille at the back.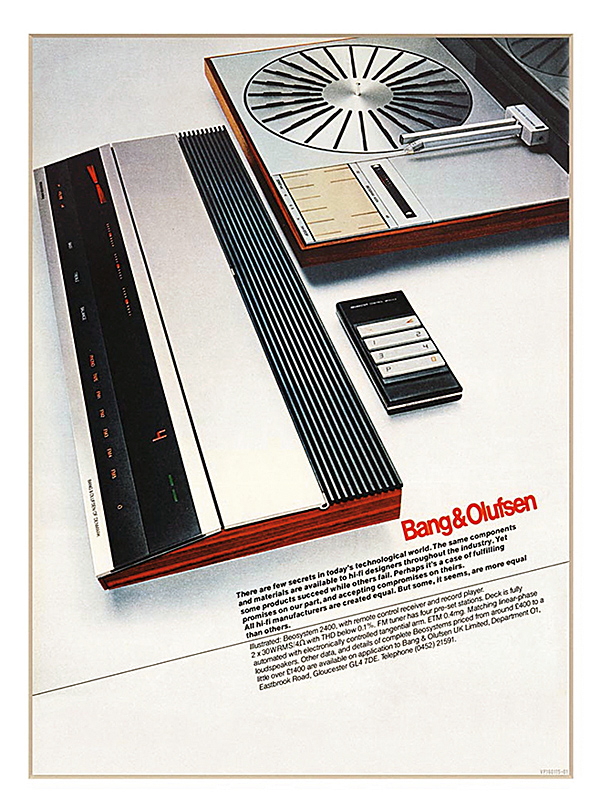 Loss of one channel, as well as the tone controls not working properly, is normally due to the slide potentiometers coming apart inside. They are special types that are no longer available, but with care the originals can usually be repaired. Finally, the remote control unit uses a battery that is now difficult to obtain. Smaller modern alternatives can be fitted into the holder with a bit of ingenuity however, and once in place should last a long time.
Hi-Fi News Verdict
There can be no doubt that the Beomaster 2400-2 is a design classic, it is a beautiful object whose impact has not dimmed in the four decades since it was first released. Performance-wise its sound is of a high standard, even if in some areas it falls short of the 'best in class' level that one would expect from B&O. A great collector's piece, but keen listeners will surely prefer the Beomaster 2200 model.