Benchmark Dac1 Usb (£1260)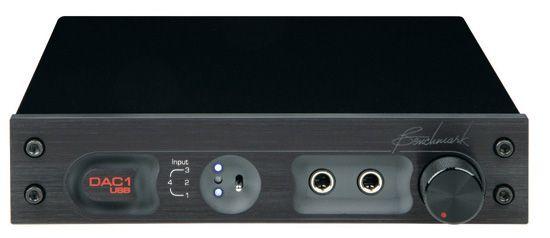 USB adds to the already useful feature set of this capable design
So successful has the outboard DAC's renaissance been that there are now more models available than you can shake a stick at. One company that offers a wide range of both professional and consumer models is New York-based Benchmark Media Systems.
Benchmark's reputation for making fine compact DACs goes before it. But in case you missed the good reviews, the DAC1 USB comes with no fewer than13 sides of US Letter covered in words of praise from satisfied users.
More usefully, another sheet points out that while the DAC1 USB can easily be used without reference to the instruction manual, there are various jumper settings inside which enhance its versatility.
The most important of these vary the output level on the balanced analogue outputs. Unbalanced output on the usual phono sockets is unaffected but both outputs offer the option of either fixed level or variable level, controlled by the volume knob to the right of the fascia. If fixed output is selected, via a switch on the back panel, then the volume control adjusts the output from the twin 1⁄4in headphone jacks only. Using the variable output allows you to eliminate a preamp from your system which, Benchmark points out, can bring sound quality benefits. This is how it was used for the listening here.
A recessed toggle switch on the fascia cycles through the four inputs (coaxial S/PDIF, Toslink, AES/ EBU and USB), the selected input being indicated by adjacent LEDs which flash if no digital signal is found or light continuously when locked. There is no indication of sample rate however. Although the S/PDIF input supports up to 192kHz our lab report showed that this is downsampled to 96kHz. The USB input supports up to 24/96.
REAL PUNCH
We thoroughly enjoyed listening to the DAC1 USB, which justified much of the praise Benchmark DACs have garnered. It offers fine powers of analysis along with a sense of spaciousness and dynamic punch that betters some costlier alternatives. And while its sound is not as airy or as creamy as those more expensive units, the payback is a little more excitement and dynamic clout.
This was obvious with Grace Jones' sassy 'Well Well Well' from her recent Hurricane CD [Wall of Sound]. This is a squashed but expertly crafted modern recording that demands rhythmic grip and drive. The Benchmark ensured the track had an edge and a snap to it that really brought the music to life.
Similarly, there was a heightened sense of insight into the various elements of Roger Waters' 'Perfect Sense, Part 1', ripped from the CD Amused To Death [Sony]. This is a meticulously constructed track whose QSound-enhanced spatial effects crave a high degree of detail retrieval. Once again, the Benchmark did not dissapoint.
Switching to some classical, nobody was going to nod off during Sir Michael Tippett's impactful The Rose Lake. This spacious recording [24-bit/88.2kHz Chandos download] requires clarity, dynamic snap and rhythmic dexterity and again the Benchmark delivered in spades. The Benchmark's built-in headphone amplifier is also an asset, delivering excellent results when it came to sheer clarity of sound via the two models of heaphone I tried it with.
VERDICT
The Benchmark's small dimensions are an attraction in themselves. In terms of sound, it offers fine resolution along with a good helping of dynamic heft, melding these qualities with more than a soupçon of the air and spaciousness one associates with many a more expensive unit on the market. The fact that it offers a variable output and has a high quality headphone amplifier justifies declaring it a bargain at the price.

Originally published in the Yearbook 2011