AVM Ovation PA 8.2/SA 8.2 pre/power amplifier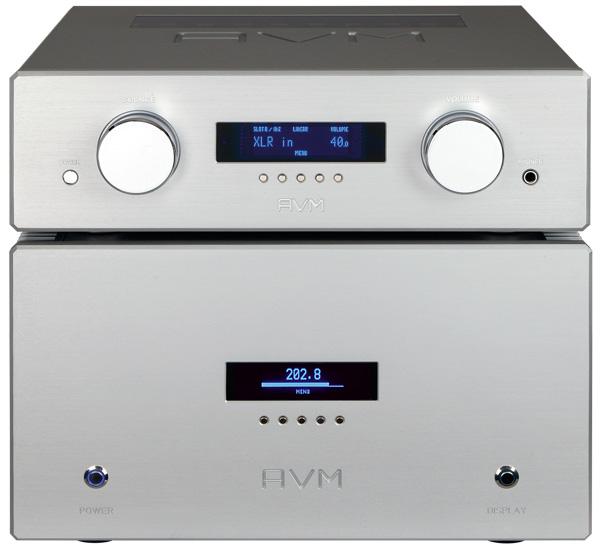 Sitting at the top of the German company's range, this flexible pre and hefty stereo power amp are designed to take on the high-end's big names, and take no prisoners
The PA 8.2 preamplifier and SA 8.2 stereo power amp sit at the top of the German company's Ovation range, although there's also the option of buying its MA 8.2 monoblock amps in place of the SA 8.2. These are essentially the SA 8.2 bridged internally to give even greater power – rated at 600W/8ohm in place of the stereo amp's 250W a side. However, despite the commonality, there's no bridging option on the stereo model reviewed here.
Not that a lack of power is ever realistically going to be a problem with the £12,450 SA 8.2: it's rated at 500W/4ohm, and 750W/2ohm, and like the basic 250W/8ohm figure, all these are quoted as 'greater than' figures. PM's Lab Report shows that it broadly meets these claims under dynamic conditions, and goes on to deliver almost 1.5kW into 1ohm.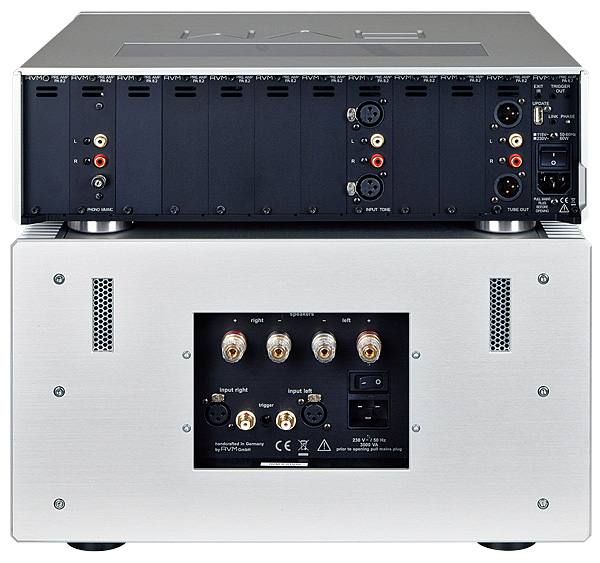 Putting On The Glitz
That ability is perhaps no surprise when you start to heft the amps into place. Like all AVM products, the amps are delivered in hefty flight cases, and while the preamp is a substantial 12kg without the packaging, the power amp is no less than 45kg (without its travelling box), not least due to the use of four hefty transformers. There are a pair of 120VA toroids in there, plus a brace of 1000VAs for the power output stages, all mounted in a shielded enclosure to keep hum and noise away from the audio circuitry. There's also capacitor provision one could probably describe as 'more than adequate' – two banks, each of 200,000µF, supply the two power amp channels individually.
All of that mass made me very grateful I'd brought a folding trolley to ease the very short journey from the back of the car to my front door, PM and I having toiled hard to load the boxes after his lab testing! Solidly built doesn't even cover it... Instead, both the preamp and the power amp have that 'carved from solid' feel that typifies the entire AVM range, not least due to the use of 8mm anodised aluminium for the casework panels. And, like all the models in the AVM range, these Ovation models are made available in 'natural' silver or in a striking two-tone finish, with black casework and silver control buttons. I'd initially thought the latter might look a bit glitzy, given the polished controls, but I think it's growing on me! Mind you, if you do want glitzy, there's also the option of polished chrome front panels.
While the preamp will just about slot into a conventional equipment rack – provided you have one able to give you at least 15-16cm between shelves to give some room for airflow – the power amp is best thought of as a unit requiring its own floorspace. I sited the SA 8.2 on a single layer of Quadraspire's Sunoko-Vent T slotted Bamboo racking to give extra breathing space under the amplifier.
While both units look simple and pretty fuss-free, the clean looks belie the sophistication within, which is a hallmark of the entire AVM range, and in particular the top-notch Ovation models, which run to no fewer than 13 units. As well as the amps we have here and the monoblocks, plus the CS 8.2 all-in-one [HFN May '17] and its slightly simpler CS 6.2 sibling, there are three integrated amps, two CD player/DACs, a brace of media players complete with CD playback, two streaming preamps and even an SSD-based CD ripper/store.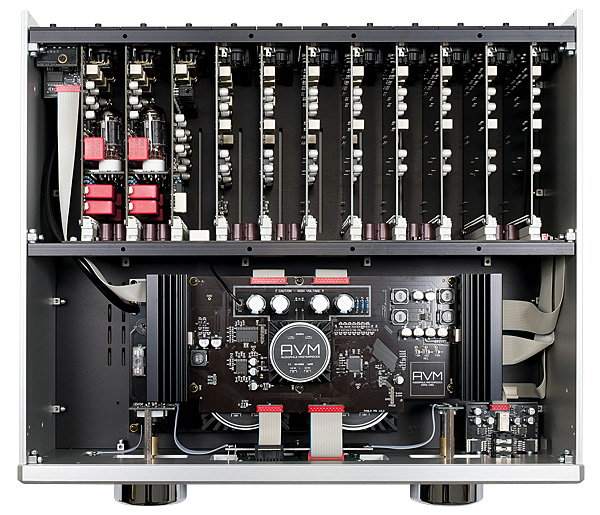 Customising To Suit
You can safely say the German company has its bases covered just with this sector of a catalogue currently running to just over 30 models. But even within the models there's room for more customisation to suit the user, and that's definitely the case with the PA 8.2 which costs £6500 in its most basic form. While it may be described as an Analogue Modular preamplifier, don't be fooled into thinking there's anything hairshirt going on here. Yes, the design is that of a purist analogue preamp, but a range of add-on modules can be selected both to expand the input selection and offer a choice between solid-state and valve output stages [see PM's Sidebar].
The clever stuff is that the preamp's control module reconfigures itself to take account of the options installed, without the user having to do anything. However, beyond that there's a whole load of further customisation options, including the ability to name inputs, adjust sensitivity, set up fixed gains for use in home cinema systems, and so on. The standard £9995 'UK package' sees the PA 8.2 with a line input module, including tone controls, and a valve-powered output module.
Wakey-Wakey!
The power amp, for all its scale, is similarly simple. In the relatively compact connection panel there's a single set of high-quality speaker output terminals, plus inputs on RCAs and XLRs, plus a 12V trigger socket to allow remote switch-on/standby from the preamp. Or you can set the SA 8.2 to respond to inaudible digital signals sent over the signal cables from the preamp, this also allowing the display to be dimmed, for example, in sync with that on the preamp. Or you can set it to wake up when it 'hears' a signal, and sleep when there has been no signal for 5-10 minutes.